In the category of culture-driven documentaries that focus on film history, a particularly enjoyable subset of that subset is the kind made by noteworthy artists themselves. There's Martin Scorsese waxing luxuriously on Italian cinema ("My Voyage to Italy"), Noah Baumbach and Jake Paltrow fanboy-interviewing Brian DePalma for "DePalma," and now, German filmmaker Margarethe von Trotta ("Hannah Arendt") taking us on a personal tour of her lifelong admiration for Sweden's hallowed grandmaster in the playfully inquisitive "Searching for Ingmar Bergman."
Von Trotta's connection to Bergman started when she was a young, New Wave-enamored film lover who responded deeply to his 1957 chess-with-Death masterpiece "The Seventh Seal"; she even opens her valentine of a documentary visiting its famed rocky beach setting, narrating the impact of its establishing shots.
When she blossomed as an artist herself as part of West Germany's own exciting crush of post-war filmmaking talent alongside Rainer Werner Fassbinder (for whom she acted) and then-husband Volker Schlöndorff (they made "The Lost Honor of Katharina Blum" together), von Trotta found herself personally acquainted with Bergman after he decamped to Munich in the mid-'70s following a tax evasion charge.
Bergman even became a fan of her work, including her 1981 feature "Marianne and Juliane" in a list of his favorite movies commissioned by a film festival, the program book for which von Trotta thumbs through for the camera like a kid still in awe of being recognized by so key an influence. (Hey, you would, too, if your movie kept company in a film legend's consciousness with "Rashomon" and "The Passion of Joan of Arc.")
Also Read: 'Minding the Gap' Leads All Films in Nominations for Cinema Eye Honors
It's von Trotta's onscreen enthusiasm, too, as she interviews key Bergman collaborators (notable leading ladies Liv Ullmann, Gunnel Lindblom), family (sons Daniel and Ingmar, Jr.), contemporaries (Carlos Saura, Jean-Claude Carrière), and next-generation admirers (Olivier Assayas, Ruben Ostlund, Mia Hansen-Løve), that gives "Searching" its gently thrumming cineaste heart.
Between the excerpts and analyses, the remembrances, and the honesty that swings from brutal to touching but that is nearly always illuminating, you'll surely be dipping into the gloom-meister's oeuvre afterward. (Or maybe shelling out for Criterion's 39-film Bergman box set, available starting November 20 if you're likely to be in mourning over the streaming service FilmStruck going away.)
Also Read: 'RBG' and 'Won't You Be My Neighbor?' Among 166 Documentaries Submitted for Oscars
Bergman's abiding gift over a career that spanned sixty years — and included successes from "Wild Strawberries" and "Winter Light" through "Scenes from a Marriage" and "Fanny & Alexander" — was a penetrative inventory of the soul as it's plagued by doubt, loneliness, the existence of God, the vicissitudes of love, and the facing of mortality.
But to hear those closest to him tell it, Bergman was at heart a wide-eyed child in thrall to the creative process, consumed by the innocence of curiosity and experimentation that keeps all artists in a state of turmoil and evolution. It's what Ullmann says could turn his being introduced to her, alongside actress/former flame Bibi Andersson on a beach, into the likeness-driven experimental hallmark "Persona," a life-defining work.
But at the same time, that ever-nurtured connection to his inner child made Bergman view his own offspring (nine in all, with six women, including Ullmann) as competitors to his creativity. Daniel Bergman, who would direct his father's screenplay "Sunday's Children," jovially notes how dad preferred his own childhood to his own children. In the presence of his kids, we learn, he would openly miss the company of his actors.
Also Read: Terrence Malick to Executive Produce Documentary on Late Rapper Lil Peep
Elsewhere, his longstanding script supervisor-turned-producer Katinka Farago describes the Bergman who worried he was never good enough, while Assayas succinctly captures how he was a game-changer regarding the psychological, subconscious, and female-centric.
The most amusing anecdote comes from Bergman's grandson, who recounts a movie night of "Pearl Harbor" in the home theater in which granddad insisted the projectionist skip anything that wasn't an action scene. It's like backhanded proof that with any kind of film, whether an existential drama or slick Hollywood package, Bergman preferred intensity over everything else.
That von Trotta's documentary isn't simply hagiographic keeps it refreshing, although the emphasis on Bergman's later years, whether lesser works like "The Serpent's Egg" or his stage directing, also prevents it from potentially satisfying any need to see most of his undisputed classics gone over in detail.
But with so many documentaries on Bergman already in existence, that von Trotta has made her own uniquely inviting tour of his triumphs, anguishes, and longstanding themes — in essence a roomy portrait of the artist as an engaged, fallible searcher — is its own gift of sorts, from one acolyte of cinema to another.
Related stories from TheWrap:
Stephen Curry and Viola Davis Partner on Charleston Church Shooting Documentary
Ava DuVernay to Direct Prince Documentary for Netflix
Sorry, Oscar Documentary Voters: Your Workload Just Doubled
'Free Solo,' 'Minding the Gap,' 'Won't You Be My Neighbor?' Land IDA Documentary Nominations
"Isn't art always, to a certain extent, therapy for the artist?" Oscilloscope Labs has debuted an official US trailer for the cinema documentary Searching for Ingmar Bergman, which first premiered as a Cannes Classic at the Cannes Film Festival earlier this year. The documentary celebrates Swedish filmmaker Ingmar Bergman's 100th birthday, by taking an extensive and fascinating look at his life and creative inspiration. The doc presents key scenes and recurring themes in his films and his life, and journeys to the places at the center of Bergman's creative achievement and the focal points of his life such as the Royal Dramatic Theatre in Stockholm, locations and landscapes from his masterpieces, and his stations in Sweden, Germany, Spain, and France. This looks like a profound, entrancing, wonderful look at the life of a true master filmmaker. US trailer (+ posters) for Margarethe von Trotta's doc Searching for Ingmar Bergman, from YouTube: On the 100th anniversary of his birth, internationally renowned director Margarethe ...
The NHL Network is allowing fans to get up close and personal with players in a way they never have before with a new four-part, all-access series "Behind the Glass: New Jersey Devils Training Camp."
Following the franchise through the tribulations of training camp leading up to the 2018 season opener against the Edmonton Oilers on Oct. 6, the reality TV-style docuseries has been compared to the HBO's hit "Hard Knocks" for its drama and authenticity as players struggle to make the final team roster.
While "Behind the Glass" is not the NHL's first venture into all-access TV — they capture teams during the season on "Road to the Winter Classic" and "All Access: Quest for the Stanley Cup" — it is the first time they've drawn back the curtain to reveal the inner workings of training camp and preseason.
Also Read: How the NHL Has Turned the Stanley Cup Finals Into a Must-Watch Entertainment Experience
"When we look at evolutions and the next steps, we always end up coming back to training camp when the foundation for the entire year starts to be discussed," Steve Mayer EVP, Chief Content Officer at the NHL told TheWrap.
As to why the spotlight was aimed on the Devils out of the 31 teams in the league for Season 1, "New Jersey has always been a team that wanted to do more all-access programming, they like their players to get more exposure and had always been asking us as a league to do more," Mayer said.
Also Read: Washington Capitals Beat Vegas Golden Knights to Hoist 2018 Stanley Cup
"This team has really opened up their doors, and there are a lot of compelling personalities to uncover," he explained. "They have got the reigning Hart Memorial Trophy for most valuable player in Taylor Hall (pictured above), they have the Bill Masterton Memorial Trophy recipient Brian Boyle coming back from battling leukemia. Then they've got a lot of young dynamic players who are passionate in the program."
Just as the head coach is a driving force once the players hit the ice, he also has to be the star of the show in any behind-the-scenes series — and, fortunately, John Hynes is up for the role. "He is one of those characters you want the guy at the helm to be — big, boisterous and have a huge personality," Mayer said. "You could see from day one that it was all about him establishing and showing the Devils culture to the world. Not all coaches and not all teams are as open to doing these types of shows as he is.
Also Read: 2018 NHL Winter Classic: 14 Things You Didn't See on TV
A television veteran who was an executive producer at IMG for 23 years before joining the NHL, Mayer is no stranger to reality TV and what it takes for a series to work.
"There is an art to these shows … it has got to be real and feel real," he explained. "I don't care if you're doing a reality show on Bravo like 'Real Housewives' or you're doing an all-access program like ours on NHL Network. Your camera crew and producers have to build a rapport with the cast so much that they don't even notice the cameras are around so that people can be themselves and they aren't conscious of being filmed.
Also Read: Justin Bieber 'Finally' Scores in NHL All-Star Celebrity Shootout, Cuba Gooding Jr Says
"That is what New Jersey has done really early in the process, and that makes for a better television show for sure," he added.
"We are flies on the wall, there to capture the reality of what goes on every day and be in places where our audiences can't normally go — whether it's the coaches' room for meetings or walking the streets of Hoboken with Taylor Hall to get a feel for who he is."
Like with "Hard Knocks," which followed NFL underdogs the Cleveland Browns this summer, the climax of "Behind the Glass" is who makes the final roster for when the season begins.
"We will have roster spots that are decided on the very last episode and it is unbelievably compelling for the audience to be dragged into that decision," Mayer said. "You learn and start to appreciate these personalities as they are all vying for the same thing. It is a great way to raise the awareness and brand of one of our teams. People are really going to like the Devils by the time this series is over," he predicted.
The show will end with their trip to Switzerland for a preseason game and then to Sweden for the opening game vs. the Oilers as part of the NHL Global Series. "That was another really big part of why the Devils made sense this year," Mayer said. "Nico Hischier — one of their best players and the future of their franchise — is from Switzerland so we get to go home with him and travel around his country, and to have their first game oversees in a very unique setting is a pretty cool way to end the show."
Produced by NHL Network in association with NHL Original Productions, "Behind the Glass" airs Mondays at 7:30 p.m. ET on NHL Network.
Related stories from TheWrap:
How the NHL Has Turned the Stanley Cup Finals Into a Must-Watch Entertainment Experience
2018 NHL Winter Classic: 14 Things You Didn't See on TV
NY Rangers, Buffalo Sabres Prepare to Brave the Cold for NHL Winter Classic
Students from the University of Southern California have been named recipients of four Student Academy Awards for 2018, the Academy of Motion Picture Arts and Sciences announced on Wednesday.
The four USC wins make it the only school to take more than one award. The school was recognized by one nomination in the animation category, one in the documentary category and two in the narrative category.
The other American films schools that won awards were Florida State, CalArts, Ringling College of Art and Design, NYU, the University of California at Berkeley and Chapman University.
Also Read: 'The Driver Is Red,' 'Magic Alps' Take Top Prizes at TheWrap's ShortList Film Festival 2018
In the four international categories, the winners came from schools in the U.K., France, Hungary, Switzerland and Sweden.
While the Academy announced the winners on Wednesday, it will not reveal the medal that each film has won until the Student Academy Awards ceremony on Thursday, Oct. 11 at the Academy's Samuel Goldwyn Theater in Beverly Hills. While the three levels of prize — gold, siver and bronze — carry different cash awards, all winners are now qualified for the 2018 Academy Awards in the short-film categories.
Past winners of Student Academy Awards include Spike Lee, Robert Zemeckis, John Lasseter, Cary Fukunaga, Trey Parker and Pete Docter.
Also Read: How Nazis, Drunk College Kids and Stubborn Goats Shaped This Year's ShortList Finalists (Video)
The winners:
Alternative (Domestic Film Schools)
Shae Demandt, "Reanimated," Florida State University
Animation (Domestic Film Schools)
Yu Yu, "Daisy," University of Southern California
Hanna Kim, "Raccoon and the Light," California Institute of the Arts
Eaza Shukla, "Re-Gifted," Ringling College of Art and Design
Animation (International Film Schools)
Pierre Perveyrie, Maximilien Bougeois, Marine Goalard, Irina Nguyen-Duc and Quentin Dubois, "The Green Bird," MOPA
Documentary (Domestic Film Schools)
Mathieu Faure, "An Edited Life," New York University
Lauren Schwartzman, "Dust Rising," University of California, Berkeley
Yiying Li, "Love & Loss," University of Southern California
Documentary (International Film Schools)
Mart Bira, "Nomadic Doctor," University of Hertfordshire
Narrative (Domestic Film Schools)
Brian Robau, "Esta Es Tu Cuba"/"This Is Your Cuba," Chapman University
Kelley Kali, "Lalo's House," University of Southern California
Hua Tong, "Spring Flower," University of Southern California
Narrative (International Film Schools)
István Kovács, "A Siege," University of Theatre and Film Arts, Budapest
Lisa Gertsch, "Almost Everything," Zurich University of the Arts
Jonatan Etzler, "Get Ready with Me," Stockholm Academy of the Arts
The Sandman comics author is one of four writers up for the prize, created by Sweden's cultural figures.
Billy Reid believes Scottish football can learn from the "blame-free" culture he experienced while coaching in Sweden.
Swedish prosecutors filed rape charges against a Frenchman at the center of a monthslong sexual scandal that led the institution that awards the Nobel in Literature to cancel this year's prize.
Nadine Labaki's "Capharnaüm" had been generating whispers and speculation since before this year's Cannes Film Festival even began, but in recent days that buzz built towards fever pitch. There was talk of bidding wars and rapturous market screenings, of all kinds of gold-plated awards in the film's near and distant future.
Sufficient to say, journalists and festivalgoers entered the Thursday night premiere with one weighty set of expectations.
And now that the dust has cleared, now that the gala audience has finally stopped whooping and applauding after their 15-minute standing ovation, we can say it for certain: Everything hinted was true and everything Sony Pictures Classics paid was worth it.
The time for whispers is over — now, you're going to be hearing about this film an awful lot.
Also Read: 'Whitney' Cannes Review: Beyond the Bombshells Is a Straightforward Music Documentary
"Capharnaüm" – which takes its title from a Latin word, commonly used in French, meaning disordered or chaotic – follows Zaïn (Zaïn Alrafeea, in a heart-wrenching film debut), a potty-mouthed denizen of one Beirut's seedier slums. If we're ever unclear as to Zaïn's exact age, that's because he doesn't know either – when he was born his parents couldn't afford to get him papers, and that lack of documentation hangs over his head like original sin.
Labaki opens on a startling image: the young urchin led into court in handcuffs. We quickly learn that this is not a criminal case – in fact, Zaïn is already serving time – but a civil one.
The plaintiff is Zain; the defendants are his parents; and the charge? Birthing him into this rotten world.
The rest of the film then proceeds in searing flashback, tracking how he got to this point, and playing (to be somewhat reductive) as kind of "Slumdog Millionaire" scrubbed of empty flash and infused with blistering geopolitical resonance.
Also Read: The Scene at TheWrap and The Female Quotient's Cannes Panel on Gender Equity (Photos)
As the director herself has noted, the title refers as much to the many bazaars and hovels displayed onscreen as to the film's rather slapdash narrative line. It takes a couple of tries, assumes a few different iterations, before achieving its peak form as – I kid you not – a kind of buddy movie between Zaid and Yonas (Treasure Bankole), the Ethiopian infant he's stuck taking care of.
In a kind of filmmaking miracle that still boggles the mind, the barely one-year-old Bankole delivers a full-on performance – and what's more, a charismatic, scene-stealing one that could easily contend for awards and be a perfectly reasonable option.
Despite the rapturous applause that greeted its premiere, the film will hardly be the unanimous choice for best-of-the-fest. In truth, "Capharnaüm" will play as Kryptonite to a certain subset of critics, who wouldn't be terribly off base with their concerns.
You could credibly make the argument that Labaki throws everything – and I mean everything – on screen in a bid to melt hearts and win world-cinema acclaim, cycling through child marriages, Syrian refugees, human trafficking and impoverished miserablism in her desire to moisten those tear ducts.
With a soulful, wounded-eyed preteen taking the lead, and characters who defend their desire to move to Sweden because "kids die of natural causes" there, the film can be a bit much. But in a year defined by political and moral outrage, the ability to honor something of equivalent force might prove irresistible.
Related stories from TheWrap:
Cannes Report, Day 9: Lars von Trier Responds to Criticism, 'Burning' Has Critics Fawning
John Travolta, Spike Lee and 31 More Portraits From TheWrap's Studio at The Girls' Lounge Cannes (Exclusive Photos)
Cannes So Far: The Spotlight Belongs to the Women
A group six of leading entertainment industry insiders and activists on Monday affirmed that the goal of gender equity in Hollywood can be achieved if women continue to insist on change.
"Every time you ask difficult questions about this topic you create an uncomfortable atmosphere,"  said panelist Anna Serner, CEO of the Swedish Film Institute, a public entity that finances film in Sweden, at a Wrap-sponsored panel focused on gender equity at the Cannes Film Festival.
But Serner said it was imperative to "count, count, count" the number of women to get to fully 50-50 equity. "Forty-sixty is rubbish," she said.
Serner was one of the first women to adopt the "50/50 by 2020" mission to achieve full gender parity in the film industry, and in three years the institute has achieved just that in film funding, she said.
She was joined on the panel by veteran film producer and activist Cassian Elwes; film executive Chaz Ebert; actress Dionne Audain; Robin Bronk, CEO of the Creative Coalition; and documentary filmmaker Lucy Walker.
Also Read: Cannes Film Festival Signs Pledge for More Women Directors, More Transparency
TheWrap Editor-in-Chief Sharon Waxman led the panel in collaboration with The Girls' Lounge at The Plage Majestic 71 in Cannes, which had a standing-room-only crowd of women and men, part of a wave of activations around the issue at the festival.
Over the past week the Cannes Film Festival has been consumed by the question of greater female inclusivity in front of and behind the camera. Festival organizers signed an historic pledge on Monday promising to commit to promoting greater numbers of women in senior positions, with the aim of breaking out of historically low female representation among directors in competition.
The panel debated inclusion, equality in the workplace, equal gender roles, and of course the lack of females currently working in the entertainment industry. "There is a plethora of female directors," said Audain, questioning why they don't work more.
Elwes brought up a recent study by Stacy Smith, director of the Annenberg Inclusion Initiative, which found that only 7 percent of the top 250 domestic grossing films last year were directed by women.
Elwes, who offered Dee Rees a career-making opportunity to direct last year's Oscar contender "Mudbound," suggested that every movie star could pledge to work with a woman on one film ever year.
Also Read: Cannes So Far: The Spotlight Belongs to the Women
And on the first day on the set, Elwes said, "A female lead should walk up to the lead male movie star and ask how much is he being paid."
Ebert, a former civil rights attorney who is also the CEO of Ebert Digital LLC, said that she wants to see more people of color in front and behind the camera.
Bronk the CEO of  The Creative Coalition which advocates for the arts said:  "Let's think of it as a winnable political campaign." This mission isn't impossible to accomplish, "we need to solve the problem and not adore it," said Walker.
See the video above for more.
Every year, a couple of films at the Cannes Film Festival push the boundaries in a way that finds viewers laughing nervously and staring at the screen slack-jawed, either struggling to comprehend what they're seeing or simply embracing the weirdness of it.
Master provocateurs like Lars von Trier and Gaspar Noe have yet to show their hands at this year's Cannes, but Iranian director Ali Abbasi dropped an impressive pile of WTF on Thursday with the premiere of his film "Border" ("Grans"), in which the first of the weird mega-shocker moments came with some hairy, sweaty and distinctly unusual troll sex.
Let's just say that gender is apparently a fluid concept in the troll world and leave it at that.
Also Read: Terry Gilliam's Epically Troubled 'The Man Who Killed Don Quixote:' A Brief History
It drew uneasy laughter in the Salle Debussy on Thursday, and then a robust round of applause when the film ended. "Border" is a quintessential midnight movie for the artiest of art-houses, though its prospects for any kind of wide distribution in the U.S. are likely slim.
(Surprisingly, perhaps, it's playing not in Cannes' Midnight Screenings section, but in the tonier Un Certain Regard section.)
If you want, this is a horror film in which strange beast people eat maggots, based on a novella by Swedish writer John Ajvide Lindquist, who also wrote the spooky classic "Let the Right One In." But it's also an allegory of how we treat outsiders, from migrants to those who don't love the same way we do. Either way, it's creepy and disturbing and freaky, with enough room to find whatever subtext you're looking for.
The central character is Tina (Eva Melander), a rough-looking customs agent in Sweden who has an uncanny knack of sniffing out travelers who are trying to bring in contraband. But she's not the human version of a drug-sniffing dog, because Tina actually smells feelings.
Also Read: Sony Classics Picks Up Lebanese Director Nadine Labaki's 'Capernaum'
"I can just sense these things: shame, guilt rage," Tina tells an investigator who's enlisted her to stop a child-pornography ring.
"Is it really possible to smell what people are feeling?" the investigator asks.
"Yes," says Tina. And we know she's telling the truth, because we've seen it happen.
Of course, it takes us a while for us (and Tina) to know why it happens, and what that means for Tina. It's all tied in to the scars on her body and the hair in unexpected places and the hint of a tail, and the appearance of a man named Vore with some unusual appetites and a familiar look to him.
Also Read: Terry Gilliam's Epically Troubled 'The Man Who Killed Don Quixote:' A Brief History
Oh, and what the guy keeps in his refrigerator might give David Lynch the willies, or at least a shock of recognition.
Abbasi, whose only previous film was the 2016 horror movie "Shelley," takes us on a wild ride, with black comedy bringing laughs that catch in the throat when Tina's professional and personal lives unexpectedly collide. "Border" is dark and unsettling and proudly deranged; it's the kind of shocker that may not survive too well outside the festival environment, but seems to be a necessary part of every Cannes.
Related stories from TheWrap:
Cannes Confirms 'Don Quixote' for Closing Night, Praises Court Win: 'Cinema Has Regained Its Rights'
Cannes Report, Day 2: 'Rafiki' Makes History, 'Don Quixote' Scores Legal Victory
Terry Gilliam's 'Don Quixote' Loses Amazon as US Distributor, Wins Court Fight to Screen as Cannes Closer
EXCLUSIVE:
 Norwegian actor
Anders Danielsen Lie
, star of Paul Greengrass's upcoming thriller
Norway
and Netflix series
Nobel
, has joined
Greta Gerwig
,
John Turturro
and
Mia Wasikowska
in the cast of Mia Hansen-Løve's
Bergman Island
, I can reveal. Shoot is due to get underway on July 16 in Farö (the remote island in
Sweden
where Ingmar Bergman lived and filmed) on the CG Cinema-produced drama, which 
Kinology
will launch foreign sales on in Cannes. UTA is handling the U.S…
The Nobel Prize for Literature will not be handed out this year, as the Swedish Academy, the panel responsible for naming a laureate, has been engulfed in a scandal over its handling of sexual misconduct by the husband of one of its members.
The Academy will name its 2018 winner at the same time as its 2019 winner, it announced on its website Friday.
This would be the first time since 1949 that the Academy did not name a laureate, which has happened seven prior times: 1915, 1919, 1925, 1926, 1927, 1936 and 1949. In five of those instances, the Academy awarded a winner at the same time as the next year's.
Also Read: Nobel Peace Prize Awarded to Anti-Nuclear Weapons Group (Video)
The Academy is embroiled in a sexual harassment scandal over the actions of Jean-Claude Arnault, who is closely tied to the organization, and the husband of one its members, Katarina Frostenson. Last year, a Swedish newspaper reported that Arnault had harassed or assaulted 18 women, and since then, more accusations have come out, including that he groped Sweden's Crown Princess, Victoria.
The head of the Academy, Sara Danius, stepped down in April.
"The active members of the Swedish Academy are of course fully aware that the present crisis of confidence places high demands on a long-term and robust work for change. We find it necessary to commit time to recovering public confidence in the Academy before the next laureate can be announced. This, out of respect for previous and future literature laureates, the Nobel Foundation, and the general public," said Anders Olsson, interim Permanent Secretary, in a statement.
Also Read: 'The Remains of the Day' Author Kazuo Ishiguro Wins Nobel Prize for Literature
The Nobel Foundation, in a statement on its own website, supported the Academy's decision to postpone this year's winner.
"In principle, the Nobel Prize shall be awarded every year, but decisions on Nobel Prizes have been postponed on a number of occasions during the history of the prizes. One of the circumstances that may justify an exception is when a situation in a prize-awarding institution arises that is so serious that a prize decision will not be perceived as credible," wrote Carl-Henrik Heldin, Chairman of the Board of the Nobel Foundation.
The Academy only awards the prize for literature, so other Nobel Prizes are not affected.
Related stories from TheWrap:
Charlie Rose Faces Backlash Over Proposed #MeToo Redemption Series: 'My Feed Is Just Anger'
Bill Mechanic's Academy Exit Blasts CEO Dawn Hudson, Inclusion Efforts, #MeToo Response
Tony Robbins Dragged Over #MeToo Comments: 'Biggest Pile of Dog S–' (Video)
And now, we wait.
Prince William and Kate Middleton are set to welcome their third child — and soon they'll be ready to introduce their little bundle of joy to the world.
Join us live outside the Lindo Wing at St. Mary's Hospital in London where Kate, 36, has just gone into labor. Soon — after the baby arrives — Kate, William and their new bundle of joy will step outside the hospital wing's famous doors for a very royal photo-op in front of hundreds of photographers, reporters and well-wishers. Then, the royal family will head home to Kensington Palace where Kate can recuperate in private — and the little baby can meet their new family. It's a familiar routine for Will and Kate — they did the exact same thing when they welcomed Prince George in 2013 and Princess Charlotte in 2015. Can't get enough of PEOPLE's Royals coverage? Sign up for our newsletter to get the latest updates on Kate Middleton, Meghan Markle and more!
Just as with her first two pregnancies, Kate battled acute morning sickness, also known as Hyperemesis Gravidarum, during her first trimester. Once she resumed her royal duties, she hit the ground running, supporting World Mental Health Day, welcoming future sister-in-law Meghan Markle for the holidays, joining William for their busy tour of Sweden and Norway and walking the red carpet at the British Academy of Film and Television Arts Awards (just to name a few royal outings!).
RELATED PHOTOS: See the Best Pictures of Prince George and Princess Charlotte
The baby's arrival comes just weeks before Prince Harry and Meghan Markle are set to tie the knot at St. George's Chapel at Windsor Castle.
The Swedish Academy, the body responsible for awarding the Nobel Prize in Literature, is in crisis over its handling of a sexual-assault scandal.
Alicia Vikander is such a fan of curling she dubbed it one of the sexiest sports sweeping the 2018 Winter Olympics!
The actress, 32, was among the many to cheer on the male and female curlers during the Games. "It's very addictive to watch … I love that curling is becoming a sexy sport," Vikander told USA Today on Monday.
Though the Tomb Raider star's native country of Sweden was defeated by the American team for gold, Vikander has much respect for the athletes who make it look easy.
"Whoever is competing at the Olympics is really a superhero," said Vikander, who is the latest actress to step into the iconic shoes of Lara Croft, for which she trained martial arts and gained 12 lbs. of muscle.
RELATED: From 'Rejects' to Mustachioed Olympians, 5 Things to Know About the Men's Curling Team Going for Gold
While Sweden's men's curling team earned silver, the country's women's team dominated against South Korea to take home the gold.
Inspired by her Olympic heroes, Vikander even tried her hand at the sport.
"I was like Bambi on the ice, I fell over a lot," she said. "And I always ended up smashing against the wall. It's so delicate, the amount of force required."
RELATED: Alicia Vikander Wore a Padded Bra to Get Into Character as Lara Croft in Tomb Raider
Vikander wasn't the only celebrity to enthusiastically spectate from outside PyeongChang.
J.J. Watt, Mr. T and other stars live-tweeted during the curling competitions with the actor and retired professional wrestler writing the hashtag #curlingiscoolfool.
RELATED: What Is Curling? Why the Sport That Requires a Rock and a Broom Is a Must-Watch at the Olympics
Yet actress Kirstie Alley publicly expressed her disinterest for curling when she tweeted that she thought the sport was "boring."
The U.S. curlers got into a Twitter spat with Alley by responding with a tweet of their own: "We're not trying to be mean either but your movies weren't exactly riveting theater Kirstie."
Tomb Raider hits theaters March 16.
Alicia Vikander is certifiably kick-ass in her new role as Lara Croft, but the "Tomb Raider" star admits there are some things she can't do — such as curling.
The Swedish actress was inspired to try her hand at the stone-sliding sport after watching the success of Sweden's teams over the years.
"When we were doing well, I was like, I need to learn about curling. I didn't know anything about it. And then I was totally watching the finals. One year I had to set my alarm to watch the finals at 2 a.m," Vikander told USAToday.com.
Also Read: PyeongChang Flames Out as Least-Watched Winter Olympics Ever
While the Swedish men's team took home silver medals from PyeongChang this week after their road to gold was blocked by the U.S. and the Miracurl on Ice, Vikander didn't fare so well.
"I was like Bambi on the ice, I fell over a lot," she said. "And I always ended up smashing [the curling rock] against the wall. It's so delicate, the amount of force required."
Also Read: Pyeongchang Winter Olympics Closing Ceremony Ratings Top Sochi
Vikander has long been a fan of Swedish curling teams, and for good reason. The men took the bronze medal in 2014 at Sochi, while the women won gold in 2006 and 2010, plus silver in 2014.
"It's very addictive to watch," the Oscar winner said.
Also Read: Olympian Gus Kenworthy Calls South Korean Dog-Meat Farm 'Saddest Place I've Ever Been'
There is one pretty good consolation: Vikander mastered martial arts and gained 12 pounds of muscle to play Croft in the latest "Tomb Raider," having taken over the role from Angelina Jolie.
The reboot hits theaters Friday, March 16.
Related stories from TheWrap:
'Tomb Raider' New Action-Packed Trailer Shows Alicia Vikander Fulfilling Her Destiny (Video)
Alicia Vikander Signs Sexual Harassment Open Letter Along With Hundreds of Swedish Actresses
Alicia Vikander Transforms Into Lara Croft for First 'Tomb Raider' Trailer (Video)
The Simpsons
again proves itself a pop culture oracle. Eight years ago, the animated sitcom aired an episode where the USA defeated
Sweden
in curling at the
Olympics
for the gold medal. And on Friday, Team USA beat — you guessed it — Team
Sweden
in Pyeongchang for the gold medal in curling. In the episode titled "Boy Meets Curl," Homer and Marge lead USA's curling team to Olympic gold which is another notch on the Fox series' belt when it comes to predicting events. Some…
Sweden is one of the most innovative countries in the world, but the business culture discourages bragging.
GOTEBORG, Sweden —   After winning the Directing Award in the World Cinema Dramatic section of the Sundance Festival, Icelandic director Ísold Ungadóttir's feature debut "And Breathing Normally" will now compete for the Dragon Award for best Nordic film, which carries a cash-prize of SEK 1 million ($125,000), at Sweden's 41st Göteborg Intl. Film Festival. […]
Prince William and Kate Middleton kicked off their four-day tour of Sweden and Norway on the ice!
The royals visited an outdoor ice-skating rink in the center of Stockholm on Tuesday to learn more about one of the country's most popular sports: bandy hockey. And they rolled out the red carpet for Will and Kate as they stepped onto the ice to challenge each other to a fun penalty shoot out!
While Kate is a proven athlete, she came in second to William, losing 2-1.
The royal mom, who is expecting her third child in April, kept warm in a black Burberry coat and sweater by Swedish designer Fjallraven, as she met with a group of local bandy players on the ice, which is situated in the middle of a public park.
The Duchess takes a shot at goal! #RoyalVisitSweden pic.twitter.com/FNjaZrlU6P

— Kensington Palace (@KensingtonRoyal) January 30, 2018
https://platform.twitter.com/widgets.js
They shared hot chocolate with the school children and were then given their own bandy hockey jerseys.
She and William beat the chilly temperatures by taking sips from a flask (they drank an alcohol-free ripple!). The flask was brought in a bandy portfolj, a briefcase that traditionally contains a flask of warm wine or coffee laced with alcohol.
William and Kate sip from a drink brought them in the traditional Bandy briefcase pic.twitter.com/FxN3v9CKGK

— Simon Perry (@SPerryPeoplemag) January 30, 2018
https://platform.twitter.com/widgets.js
Bandy hockey, which is now played in the Winter Olympics, differs from traditional hockey in that it is played with a curved stick. And instead of a puck, players use a ball.
The royals, who are staying at the residence of the British ambassador in the capital, touched down in Sweden on Monday evening, after welcoming Prince George and Princess Charlotte home from school in London. Unlike their summer tour of Poland and Germany last year, the couple are traveling without their children on this tour.
Following their first event, Will and Kate will travel to the Royal Palace of Stockholm to attend a luncheon hosted by King Carl KVI Gustaf and Queen Silvia. Crown Princess Victoria and her husband Prince Daniel were also in attendance. Victoria and Daniel have a lot in common with the British royals. In addition to being the future King and Queen, they are also parents to two young children: 5-year-old Princess Estelle and 1-year-old Prince Oscar.
Following the luncheon, Will and Kate, accompanied by Victoria and Daniel, will walk through the picturesque cobbled streets of Stockholm from the royal palace to the Nobel Museum. From the Nobel Museum, they will travel to Ark Des, Sweden's national center for architecture and design.
Later in the evening, they will attend a black tie dinner at the residence of the British ambassador, attended by members of the Swedish royal family, and representatives from government, and popular culture, including Prime Minister Stefan Löfven, and actors Stellan Skarsgård and Alicia Vikander.
Kate, who is expecting her third child in April, will keep a busy schedule this week, missing just one event during their visit to Norway so that she can pace herself during the four-day tour, according to a royal spokesman.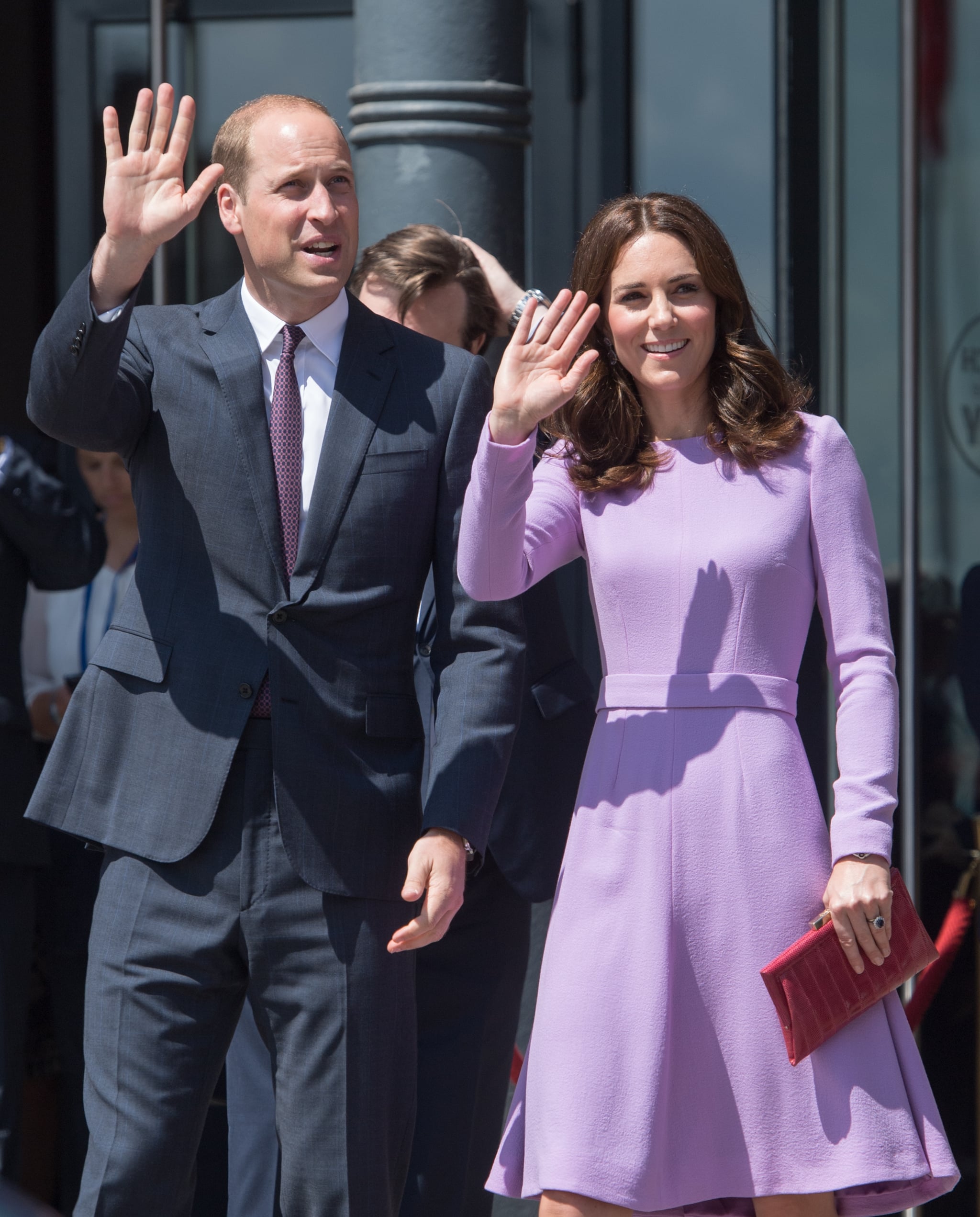 Prince William and Kate Middleton have been packing as many official visits into their already busy royal schedule before the arrival of baby number 3, who is expected in April.
The next big event on the royal agenda is a tour of Sweden and Norway, where William and Kate will visit with the royal families of each country. They have also been invited to a special lunch at the Royal Palace of Stockholm by Their Majesties King Carl XVI Gustaf and Queen Silvia of Sweden. During their trip to Norway, William and Kate will join Their Majesties King Harald V and Queen Sonja at Oslo's Royal Palace for an official dinner.
But it's not only royalty the Duke and Duchess will meet with; they will also attend a black-tie dinner with with Prime Minister Stefan Löfven, and actors such as Alicia Vikander and Stellan Skarsgård. The Lara Croft actress will be a representative of the country's popular culture.
The Duke and Duchess have apparently requested to meet with "as many Swedes and Norwegians as possible" throughout their tour, visiting those working in the "mental health sector, and leaders in business, academia and scientific research, government, civil society and the creative industries."
The official press release from Kensington Palace doesn't state whether Prince George and Princess Charlotte will be attending. Since Charlotte just started nursery and George is busy getting up to mischief, it's possible the young royals will stay at home. That means, unfortunately, we won't have any new hilarious photos of Prince George's facial expressions during the royal tours. Fingers crossed mom and dad decide to take them along after all!
"The Square" was named the best European film of 2017 at the European Film Awards, which were handed out on Saturday in Berlin.
The dark comedy, which won the Palme d'Or at the Cannes Film Festival and is Sweden's entry in the Oscar foreign-language race, also won awards for its star, Claes Bang, and for writer-director Ruben Ostlund, who won both the screenplay and directing prizes. It was also named the year's best comedy, and picked up a previously announced award for its production design.
Alexandra Borbely was named best actress for "On Body and Soul," which is the Hungarian Oscar entry.
The Oscar foreign-language shortlist will be announced next week, with "The Square" a favorite to be included and "On Body and Soul" a strong dark-horse candidate.
Also Read: 'The Square' Review: Comedic Moral Fable Shocks, Then Repeats Itself
"Loving Vincent" and "Communion" won the awards for animated film and documentary, respectively. British director William Oldroyd's "Lady Macbeth" won the Discovery Award.
Actress, writer and director Julie Delpy received the Achievement in World Cinema Award, while Russian director Aleksandr Sokurov won the EFA Lifetime Achievement Award.
Winners chosen by more than 3,000 members of the European Film Academy.
Best European Film: "The Square"
Director: Ruben Ostlund, "The Square"
Actor: Claes Bang, "The Square"
Actress: Alexandra Borbely, "On Body and Soul"
Screenwriter: Ruben Ostlund, "The Square"
Documentary: "Communion"
Animated Feature: "Loving Vincent"
Comedy: "The Square"
People's Choice Award: "Stefan Zweig – Farewell to Europe"
Cinematographer: Michail Krichman, "Loveless"
Editor: Robin Campillo, "BPM (Beats Per Minute)"
Production Designer: Josefin Asberg, "The Square"
Costume Designer: Katarzyna Lewinska, "Spoor"
Hair & Make-Up Artist: Leendert van Nimwegen, "Brimstone"
Composer: Evgueni & Sacha Galperine, "Loveless"
Sound Designer: Oriol Tarrago, "A Monster Calls"
Discovery: "Lady Macbeth"
Short Film: "Timecode"
Achievement in World Cinema: Julie Delpy
EFA Lifetime Achievement Award: Aleksandr Sokurov
Related stories from TheWrap:
Elisabeth Moss' Oscar Contender 'The Square' Treated a Great Ape as a 'Living Prop' (Guest Blog)
'The Square' Trailer: Watch Art World Go to Hell in Palme d'Or Winner (Video)
Golden Globes 2018 Movie Predictions: 'The Shape of Water' Should Dominate
COPENHAGEN, Denmark — The director of a Stockholm cultural center has been banned by the Swedish Academy, which awards the Nobel Literature Prize, from attending a Nobel banquet after several women made sexual misconduct allegations against the man.
Earlier this week, Swedish daily Dagens Nyheter published allegations from 18 women claiming to have been assaulted or raped by the man, who has not been named. He has denied wrongdoing to the paper.
The alleged assaults occurred between 1996 to 2017, according to the newspaper, one of Sweden's largest.