Diagnoses of attention deficit hyperactivity disorder (ADHD) have surged globally, rising
as much as tenfold
in some countries. The disorder has become a cultural and economic phenomenon -- but it may not be a
medical
one, according to one scientist who studies the sociology of health and illness.
"Exporting American-based diagnoses like ADHD is really exporting American behavioral norms under the guise of medicine," Peter Conrad, professor of sociology at Brandeis University, told The Huffington Post. "With millions more kids (and adults) likely to be diagnosed with and treated for ADHD in the next decades we see the export of American behavioral norms worldwide. This may be more insidious than the globalization of American fast food or pop music, in that it comes in the name of proper mental health and behavior."
In a paper published in the journal Social Science and Medicine, Conrad and colleague Meredith Bergey investigated the growth of ADHD diagnoses in five countries where ADHD diagnosis and treatment rates increased dramatically -- the United Kingdom,
Germany
, France, Italy and Brazil.
In
Germany
, for instance, prescription ADHD drugs increased from 10 million daily doses in 1998 to
53 million
in 2008. In the UK, stimulant-treatment for ADHD increased from under 200,000 prescriptions in 1991 to 1.58 million in 1995, according to data cited in the paper. These rates mirror the United States, where ADHD diagnoses have risen by almost
25 percent in a decade
.
Currently in the U.S., some
11 percent of children
and
4.4 percent of adults
now have a diagnosis. While
some data suggests
that ADHD is more common in the United States than in other countries, research points to an increasing global prevalence of ADHD diagnoses as well as an increase in consumption of ADHD medication.
Conrad and Bergey argue that while ADHD has been medicalized in the U.S. since the 1960s, other countries have been slower to medicalize the condition. It wasn't until the 1990s, he said, that ADHD diagnosis and treatment migrated from North America to be increasingly applied internationally.
While much of the rise of ADHD can be attributed to improvements in recognition, acceptance and treatment of the disorder, some in the medical community
have expressed concerns
about over-diagnosis.
"We need to ensure balance,"
Thomas Frieden, M.D., director of the Centers for Disease Control and Prevention told the New York Times last year
. "The right medications for ADHD, given to the right people, can make a huge difference. Unfortunately, misuse appears to be growing at an alarming rate."
Conrad and Bergey pointed to five trends -- what Conrad refers to as the "how" of the globalization of ADHD -- that may have influenced the exponential rise in diagnoses and treatment globally.
For one, drug companies are increasing their
lobbying efforts overseas
.
"The multinational pharmaceutical industry, which has been promoting ADHD and stimulant treatments in the United States for decades, now is looking for larger markets as the U.S. market has become increasingly saturated," Conrad said. "I don't mean that in any evil sense, but that's just what the drug companies do."
Secondly, Western psychiatry increasingly has a biological focus, which looks at biological rather than psychodynamic causes for various psychological problems. We've come to view ADHD more as a chemical problem in the brain that should be treated using stimulants, he explained, rather than considering potential psychological causes and behavioral treatment interventions, such as psychotherapy. Another factor is that other countries have adopted the standards of the American Diagnostic and Statistical Manual (DSM). In the DSM-5, the requirements for ADHD
were made broader
, allowing more people to be diagnosed.
The third fact is that ADHD advocacy groups (
sometimes funded by drug companies
) have become more common and more visible to the public in the U.S. and abroad. These groups often promote pharmaceutical treatments, Conrad noted.
And lastly, ADHD information and self-diagnosis
tools
are easily accessible on the Internet. While online self-tests are generally meant to be used for screening purposes only, Conrad said that they are often used as "do it yourself" diagnostic tools.
Of course, the data shouldn't be taken as conclusive evidence of the global rise of ADHD, and doesn't prove that American influence has caused an international impact. The data is theoretically driven, and only looks at five countries which were specifically selected based on their known increase in ADHD rates. There may be other explanations for the increasing rather of diagnosis and treatment in these countries.
Still, the research does underscore the importance of being aware of the potential risks of overdiagnosis.
"We're defining more and more kids as having some kind of psychiatric disorder," Conrad told The Huffington Post. "And while they may have some kind of difference, a difference isn't necessarily a disease or a disorder."
Clinical psychologist Lara Honos-Webb, Ph.D., agrees that ADHD diagnoses are being thrown around too loosely, and she thinks that the public should be concerned. In addition to the influence of pharmaceutical companies, Honos-Webb attributes the phenomenon to "sloppy diagnosis and changes to DSM."
"In principle, looking to a brain disorder to explain attention deficits should be the last possible explanation," Honos-Webb said in an email to The Huffington Post. "Let's take for example a 6-year-old boy -- developmentally, you would expect rowdy behavior and difficulty with attention. Almost all kids have some of the symptoms of ADHD -- some of the time. The key point of diagnosis is to rule out alternative explanations and to determine that an impairment in functioning exists."
Following the tragic passing of Robin Williams earlier this year, one of the filmmakers who directed the iconic comedian has left us as well. In a statement from ABC News President James Goldston, we've learned that director Mike Nichols has died at the age of 83, though no cause of death was revealed. Nichols was one of the most iconic directors to ever get behind the camera from his early work on classics like Who's Afraid of Virginia Woolf? and The Graduate to recent provocative and acclaimed films like Charlie Wilson's War and Closer. Goldston added, "No one was more passionate about his craft than Mike." Nichols was born in Germany in 1931 and came to the United States when he was 7 years old, because his family was fleeing Nazi Germany. His career began with a pursuit in theater at the University of Chicago (an influence you could feel in each and every film) in the 1950s, and he would ...
Physicists at Ludwig Maximilian University of Munich, Germany, have developed a new algorithm that is capable of solving the Boltzmann equation for systems of self-propelled particles. The new method also reveals previously unknown patterns of collective motion in such systems.
Celebrations on Monday to mark the 25th anniversary of the Velvet Revolution felt more like an uprising against the current Czech president. To cries of "Resign! Resign!" Czechs pelted President Milos Zeman with objects including eggs, sandwiches and tomatoes as he stood side-by-side with the presidents of Germany, Hungary, Poland and Slovakia at the university campus where a student rally launched the revolution in Czechoslovakia a quarter century ago.
Celebrations on Monday to mark the 25th anniversary of the Velvet Revolution felt more like an uprising against the current Czech president. To cries of "Resign! Resign!" Czechs pelted President Milos Zeman with objects including eggs, sandwiches and tomatoes as he stood side-by-side with the presidents of Germany, Hungary, Poland and Slovakia at the university campus where a student rally launched the revolution in Czechoslovakia a quarter century ago.
The online purchasing behavior of private individuals shopping in their leisure time is heavily influenced by recommendations made by other customers. This is the conclusion drawn by researchers at Johannes Gutenberg University Mainz and Technische Universität Darmstadt in Germany.
PRAGUE — Celebrations on Monday to mark the 25th anniversary of the Velvet Revolution felt more like an uprising against the current Czech president.
To cries of "Resign! Resign!" Czechs pelted President Milos Zeman with objects including eggs, sandwiches and tomatoes as he stood side-by-side with the presidents of Germany, Hungary, Poland and Slovakia at the university campus where a student rally launched the revolution in Czechoslovakia a quarter century ago.
Minister of Gender, Social Welfare and disabilities Patricia Kaliati has expressed concern over increased rate of early pregnancies and marriages in Mchinji district, which is negatively affecting girls' education. Speaking Thursday, when she together with officials from KFW-Germany visited beneficiaries of the Malawi Social Cash Transfer Programme at Khombe Village, T/A Zulu in Mchinji district, Kaliati said she was deeply saddened that although the SCTP programme is greatly improving the livelihood of vulnerable people such as child, elderly headed families and the chronically ill, girl children dropped out of school due to pregnancies.
(RNS) ISIS terrorist rampages, waves of anti-Muslim hate speech and fear-mongering Islamophobia are inspiring an outburst of online activism in the form of Twitter hashtags.
The question is: Does it work, especially over the long term?
An army of "clicktivists" — a mix of earnest advocates and pointed satirists — has entered the fray armed with 140-character positive, peaceful or humorous counter-messages.
Using names such as #TakeOnHate, #IStandUpBecause, and #NotInMyName, the pushback approach promotes the complexity, diversity and positive contributions of Islam and Muslims. Others, such as #MuslimApologies, offer sarcasm in service of the same message.
Yet the hashtags are often immediately co-opted by trolls spewing an opposite message. And some experts question whether clicktivist campaigns have lasting worth.
Linda Sarsour has no doubt they do. She's a Brooklyn-based Palestinian activist in the streets and on social media and a co-creator of #TakeOnHate. The hashtag is accompanied by a
resource website
, launched in March by the National Network for Arab American Communities.
"The insidious thing about anti-Arab hate speech is that it seems to be acceptable, where the 'N-word' or anti-Semitic remarks are not taken with the same degree of outrage," said Sarsour, who was chased down the street in September by a man who was later arrested for
threatening to behead her
.
"Hashtags are temporary, but knowledge is not temporary… Once you learn something, you won't forget you had that experience, that conversation. And you don't have to wait for national TV to call to get your message out," said Sarsour, noting that #TakeOnHate sees Twitter spikes whenever she's on the airwaves.
She is a fan of the tongue-in-cheek #MuslimApologies, which shows "how ridiculous this is when you ask for 1.8 billion Muslims to apologize for a small group of people who are horrific."
#MuslimApologies has small circulation — fewer than 5,000 tweets since Oct. 13, according to the Twitter analytics site
Topsy
.
@falasteenager tweeted "I'm sorry that Adolf Hitler doesn't represent
Germany
, but Osama Bin Laden represents every Muslim and their mother." In a video circulated by several tweeters, an unnamed man says, "I apologize for World War I and World War II, even if it has nothing to do with Muslims, but just in case."
The hashtag parallels the more serious #NotInMyName campaign, in which people recite all the ways they reject terrorism in the name of Islam.
This isn't the first clicktivism debut of the #NotInMyName hashtag. The New York Times observed that the same hashtag was used
in 2003
to oppose the Iraq war and by Israelis this summer who condemned the war in Gaza.
The
Active Change Foundation
, a community organization in East London devoted to quelling street crime, gangs and violent extremism, also adopted #NotInMyName after the beheading of journalists and a British aid worker.
"Young Muslims are adding their voices to the fight-back against ISIS," reads the campaign's website. "
#notinmyname
gives you the opportunity to denounce their violent actions in your own words. Let your voice be heard rejecting the ideology of hate."
So far, although
tweets per day are down
from nearly 1,000 to fewer than 400 since Oct. 13, according to Topsy, tweets in line with the hashtag's original mission are running roughly even with trolls posting attacks.
Not so for the
#IStandUpBecause hashtag campaign
started by the Muslim Public Affairs Council. It began in August by inviting people on Facebook and Twitter "to tell the world why you are not afraid to speak out." The
Facebook page
survived, but #IStandUpBecause has essentially devolved into a river of insults and denigration.
#ISpeakOutBecause Islam is EVIL http://t.co/QIqASmJiWB

— Dan Cox (@DanCox4) November 7, 2014
"The trolls organized immediately — almost the first day," said Riham Osman, MPAC's communications coordinator. "Initially, we fought back, but it was overwhelming."
Osman said the lesson she learned is that hashtag efforts work if you can pinpoint an exact target, reach people with the power to make change and tell them exactly what you want.
She cites an example: After Wal-Mart advertised a
"scary Muslim" costume
for Halloween featuring a shaggy gray beard, skullcap and South Asian waist coat, Twitter outrage drove the retailer to dump the item.
Osman said ideas such as combating Islamophobia "are an easy target for hijackers because they are very broad. (The) free speech umbrella covers hate speech as well."
Hate speech's power resides in its ability to provoke fear, said Robert Perez, a branding and messaging strategist focused on social-change communications and founder of Wonderforgood.com.
"When fear is activated in your brain, it's like loud emotional noise that almost drowns out your ability to empathize with others," he said.
"Hearts-and-minds campaigns have to address fear and are unlikely to lessen anxiety, fear and misinformation," he said.
But that's hard to do in a tweet, particularly when often the only people who see it are your personal followers who already agree with you.
"Not a lot of Americans know Muslims as friends and neighbors, so their understanding of Islam and Muslims is shaped by negative views. That gives a very distorted impression," Perez said. "To help people have a fuller, more accurate and authentic understanding, we need to show stories, and bring people to face to face dialogue."
Clicktivism success can't be evaluated by tweet/retweet counts but by its contribution to the complicated matrix of social change, said sociologist Jen Schradie.
Schradie, a research fellow at the Institute for Advanced Study at the Toulouse School of Economics in France, studies the intersection of technology with social movements. "Social change happens for a lot of reasons, often through concerted efforts of organizations and through offline activism," she said.
Even so, "it's critical to confront hate speech," and social media can allow someone who has never participated in the public conversation before to take a bold stance.
Ultimately, attention matters — for ill and for good.
"Attention has never been powerless," said sociologist Zeynep Tufekci, an assistant professor at University of North Carolina, Chapel Hill. She looked into the aftermath of the #bringbackourgirls campaign. (So far, Boko Haram still has hundreds of kidnapped schoolgirls and the viral hashtag traffic has subsided.)
Tufekci flips this around, asking: "What happens when attention itself is part of the reward structure for the cruel? … Attention, to a terrorist group, is often what the well-meaning, outraged response is to your two-bit Internet troll: it is the food that feeds them."
Even so, Tufekci concluded in an essay for "Medium," an idea-sharing essay site: "Despair and throwing up one's hands in disgust is … the luxury of the unafflicted."
Indian officials are scrambling to find a solution to a German language problem in Indian schools that is fast becoming a diplomatic problem with
Germany
.
From the Department of Neurology , Institute of Medical Informatics , Institute of Epidemiology and Social Medicine , University of MA1 4nster, Albert-Schweitzer-Campus 1, MA1 4nster, Germany; Institute of Cardiovascular and Medical Sciences, University of Glasgow, Glasgow, United Kingdom ; Department of Neurology, Inselspital, University of Bern, Bern, Switzerland ; and Department of Neurology, Bethel, Bielefeld, Germany . Correspondence to Jens Minnerup, MD, Department of Neurology, University of MA1 4nster, Albert-Schweitzer-Campus 1, 48149 MA1 4nster, Germany.
Scientists at the University of Heidelberg in Germany found using just 20ml of water with each pill can help patients take their medication more effectively.
Semen appears to interfere with microbicide gels to prevent HIV, possibly explaining why they work in the lab but not in real-life situations, scientists said Wednesday. Protein fragments found in semen hamper the work of microbicides applied to the vagina, said the report in the journal Science Translational Medicine. Known as amyloid fibrils, these particles in semen "act like glue to attach HIV particles to the cell surface and boost viral infectivity," said the study led by scientists at the University of California, San Francisco and the University of Ulm in Germany. These microbicides were originally developed as a way to empower sub-Saharan African women who may not be able to negotiate condom use with their partners.
Margaret Atwood is a speculative fiction writer, poet, literary critic and environmental activist. Best known for her Arthur C. Clarke Award-winning classic
The Handmaid's Tale
, her more recent work includes a trilogy centered on a climate change-induced dystopia, and a collection of fantastical short stories,
Stone Mattress: Nine Tales
.
She spoke with The Huffington Post about her latest collection, the dark side of social media, and the difficulties of writing male characters:
You're active on Twitter, but I've read that you've become disenchanted with social media.
For me, the pluses outweigh the minuses. But we all know about the dark side. Everything has a dark side. Things can get going that aren't true and unless they're countered right away people believe them. We know about Internet bullying. So that's the dark side.
Usually when people invent something they don't know what the dark side is. Typically with any new technology, there's a lot of enthusiasm at first because people think of the positive things it can do, and then there are unintended consequences. Whoever invented the Internet wasn't thinking, "this is going to cause a teenage girl to kill herself."
The other issue, of course, is there's a huge army of hackers out there and they're trying to get ahold of people's stuff.
Do you anticipate that getting worse?
Not now that people know about it. I think at first people had the quite wrong idea that they can say whatever they liked online, and it somehow didn't count as slander -- they didn't get it that it was publishing, like any other form of publishing.
We don't do anything radically new, but we find new ways of doing the things that have always been done. To find a list of those things all you have to do is look at the characteristics that were once given to gods. Those are the things we want: flying through the air, teleportation, being able to spy on people without their knowing it.
Right. It seems like these mythologies -- and speculative fiction -- have a history of being optimistic, but now...
It changed after the First World War. That was very discouraging to a lot of people. It wasn't far away or distant in the past, it wasn't people who weren't like us, it was Western Europeans slaughtering each other. So what becomes of your claim of having an advanced civilization, and what becomes of your claim of being a superior kind of person? It goes out the window.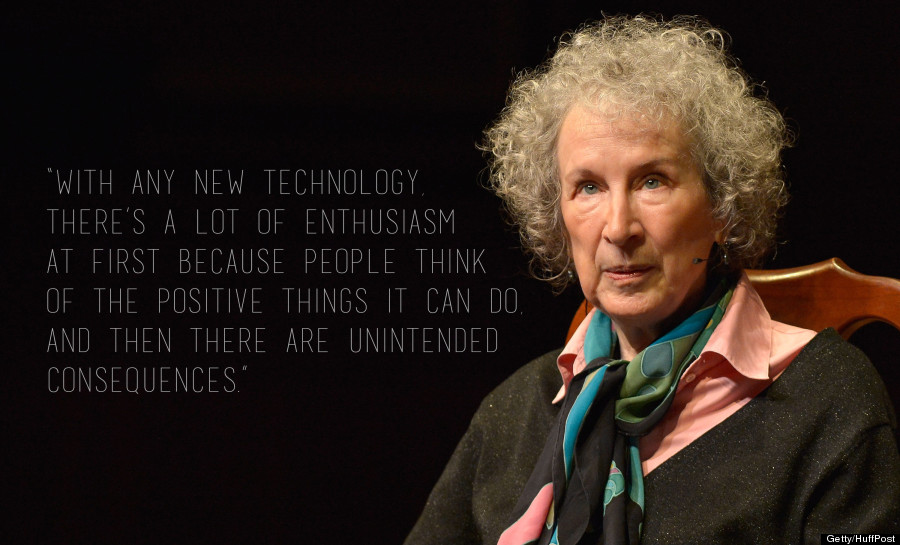 The first story in your latest collection is about a fantasy writer who gets the attention of an academic. Do you think fantasy and other genres are becoming destigmatized?
I'm not sure fantasy was ever stigmatized as a genre. There are all sorts of people teaching this stuff now. Folklore caught on as a serious study in the early nineteenth century, that's why we have Grimm's fairy tales. First it was serious folklores, and fantasy basically is the fairy tale motifs built out into more developed universes.
Genre is a bookstore problem. Lots of people have said this. They want to know where to put it on their shelves. It didn't used to be that way. I think once people realize what they're reading they can't say you're a bad writer. Nobody can say Ursula K. Le Guin isn't a good writer.
I'm interested in what's done and not done in genre novels -- I'm interested in watching that change. Often you will get somebody taking an established set of memes and then just blowing the hell out of them.
Brokeback Mountain
took the Western and blew it up.
I went to university in the late '50s, early '60s. The big subject then was mythology. The big guru was Northrop Frye, and he said to read everything, and he also always said to let children read what they want to, don't force things on them. Boys, for instance, who didn't like books because what they were given was something that wasn't very boy-friendly, loved Stephen King. We have Stephen King to thank for a lot of our adult male readers.
And that's the same conversation happening with the Percy Jackson series right now.
Yes, and [young readers] will or they won't see these books as gateways into other books. Harry Potter, blah blah blah. It put a lot of kids onto reading; it made reading cool. I'm sure a lot of later adult book clubs came out of that experience. Let people begin where they are rather than pretending that they're something else, or feeling that they should be something else.
Speaking of genres -- I'm a big fan of the MaddAddam trilogy, which is now being called "climate fiction." Would you categorize it that way?
I don't even call it climate change, I call it "the everything change." It's a change of everything. We think climate and we think, more clouds, more rain, oh, who cares. The everything change can never be the front and center of a book because it's not a human being. It can be something people talk about, something people undergo, something that impacts how people live.
That's true about the MaddAddam series -- Jimmy has to go back in time to remember when there were seasons. Jimmy, not being a person of deep thought, doesn't dwell on it. He just thinks his parents' stories are boring.
I hedged a bet in writing that book because I didn't talk about a lack of atmospheric oxygen -- if I'd left it in, there wouldn't be a story. It's been very interesting to me to see climate change more from the margins of the conversation -- it was already known about in the 50s. But we're programmed to think in the short term and get from today to tomorrow rather than from today to 50 years from now.
When you say "we" do you mean ...
The human species. Homo sapiens sapiens. Not many people spend endless hours wondering what will happen in 75 years when they themselves will be dead. Yes. Our usual approach is to pretend that nothing's happening until it's happened, and then react to it. Some people suss it out; some Jewish people got out of Nazi
Germany
because they saw it coming. Everybody else said, "Oh, it won't be so bad, surely they won't do THAT." We're doing the same thing now: "Surely such and such won't happen," but I think Hurricane Sandy caused a lot of alarm. There's a lot more town-level and city-level action being taken -- not so much at the state or federal level.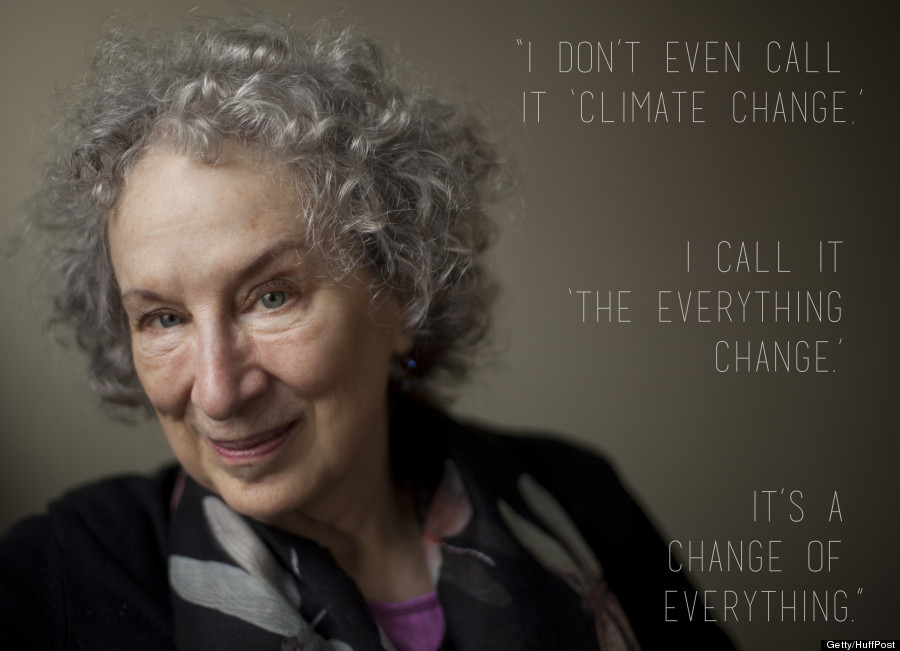 Will climate change be in the background of most of the stories you do in the future?
I wouldn't say that. It's in my life. I don't consider my fiction work my only window on the world. If I were supporting a kidney foundation I wouldn't have to have kidneys on every single one of my stories.
So we did have a big ice storm in Toronto -- that's what kicks off [my new story] "Alphinland" -- and there's all this talk about how people are kind of excited by it. The people on the television weather channel are having the time of their lives -- "Whoa look how bad it's getting!" "They've got a half-frozen dog, how cute!" That's what it's like, and it's not me making it up, just turn on the TV.
Are there other climate fiction authors you're enjoying right now?
I don't pick authors by themes. Right now I'm reading
The Blazing World
by Siri Hustvedt, which is about the art world in New York. It's pretty funny. And I'll read any old zombie apocalypse story. I've got "The Walking Dead" in more or less the box set -- that's how I like to watch things. It's dangerous, you think, "just one more!"
As for fantasies, there are a number of interesting worlds. World of Warcraft, for example.
Yes, I played that growing up! -- an elf, with a bow and arrow.
It is amazing how the bow has remained the female weapon. Archery was of course big in Victorian England -- it's in
Daniel Deronda
. Gwendolen is good at it, and that's how she catches the eye of the man who would marry her, and the reason is you have your corset on and -- it's very form-revealing. You weren't running around, you weren't showing your big, hairy legs, you didn't get sweaty. It's ladylike. Then of course in Narnia the girls have bows and arrows.
So you don't always mix your activism with your fiction. I wanted to ask about explicit versus implicit activism in writing -- is there one form that's more effective?
There are no rules. Some readers won't like it if there's a sermon right up in front of your face. Other readers will. People did it in the 19th century all the time:
Oliver Twist
,
Nicholas Nickelby
.
Choose your poison: Some people can't do that, others don't want to do that, others do want to do it. If you've studied creative writing at college you've probably been given some rules, but actually there aren't any. The only rule is this: you shall make it so that the reader keeps turning the page. Otherwise your wonderful message you put on page 232 -- they'll never get there.
You've written so many varying types of stories about such varying characters. I'm curious, do you approach writing about men differently than writing about women?
I show my male characters to men. When I wrote
Life Before Man
, I showed it to a man who gave me a few good hints, and one of them was really obvious, but you wouldn't know it unless you were a man: You can't shave off a beard with an electric razor. It makes sense once you think about it!
It's like men writing women; they have to have a woman tell them, "you don't put on pantyhose by opening them up and jumping into them," and "why does this character not even think about getting pregnant?"
For Jimmy in
Oryx and Crake
, I asked a man about that age who had some commitment problems to read it. I got two hints: Number one: "Don't say 'what in the fuck,' say, 'what the fuck.'" Number two: "That's not how you smoke a joint."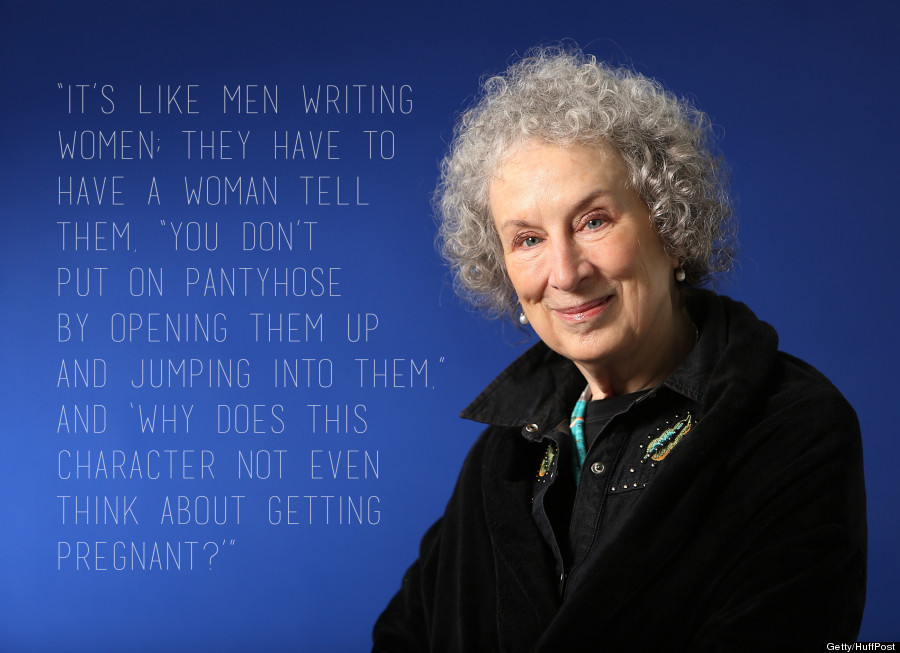 And what about the male character in Stone Mattress -- the aging, sexist poet?
Gavin? I know so many Gavins. Well he's a composite of men from a certain generation and a certain age -- a certain generation who really felt they could say anything.
Do you think our reverence for those sorts of writers has gone away at all?
They've now become period pieces. There are a lot of guys that are philanderers and serial-girlfriend people, but Gavin is grumpy in a particularly generational way. He's aggressively grumpy. The motifs are the same -- lots of girlfriends, cheating, getting people to support you, knocking down women. But I think a millennial would approach it differently.
Giant otters may have a vocal repertoire with 22 distinct vocalization types produced by adults and 11 neonate vocalization types, according to a study published November 12, 2014 in the open-access journal PLOS ONE by Christina Mumm and Mirjam Knörnschild from University of Ulm, Germany.
Men are alleged to have arranged burglaries in schools and churches and sold stolen goods to fund jihadist networks in Syria
People who suffer from depression appear to be disconnected from their intuition, or gut instincts, according to a new study published in the British Journal of Clinical Psychology . For the study, Carina Remmers, a researcher from the University of Hildesheim in Germany, and her team asked 29 patients with major depression and 27 healthy controls to complete the Judgment of Semantic Coherence Task, a well-established scientific measure of intuition.

By Erik Kirschbaum
BERLIN, Nov 8 (Reuters) - The fall of the Berlin Wall 25 years ago, heralding the end to the Cold War between East and West, showed the world "dreams can come true" and should inspire people trapped in tyranny everywhere, Chancellor Angela Merkel said on Sunday.
Festivities to mark the anniversary have drawn more than 100,000 Berliners and tourists to the center of the once-divided city. Many wandered along a 15-km (9-mile) former "death strip" where the Wall once stood, and 7,000 illuminated helium balloons were perched 3.6 meters (11.8 feet) high on poles - matching the height of the barrier built in 1961 by Communist East Germany.
Merkel, a young scientist in Communist East Berlin when she got her first taste of freedom on Nov. 9, 1989, said in a speech that the Wall's opening in response to mass popular pressure would be eternally remembered as a triumph of the human spirit.
"The fall of the Berlin Wall showed us that dreams can come true - and that nothing has to stay the way it is, no matter how high the hurdles might seem to be," said Merkel, who is now 60 and has led united Germany since 2005.
"It showed that we have the power to shape our destiny and make things better," she said, noting that people in Ukraine, Syria, Iraq and elsewhere around the world should feel heartened by the example of the wall's sudden demise.
"It was a victory of freedom over bondage and it's a message of faith for today's, and future, generations that can tear down the walls - the walls of dictators, violence and ideologies."
Germans, with few anniversaries to fete after an earlier 20th century record of belligerence and war, have latched onto memories of the peaceful East German revolution that felled the wall as a bright, shining moment in their history.
But even the date Nov. 9 bears historical burdens, as Merkel noted. It was also the day in 1938 of the anti-Jewish pogrom "Kristallnacht," or "Night of Broken Glass," when Nazis carried out attacks on synagogues and Jewish shops across Germany.
"It was a date of shame and disgrace," said Merkel, referring to "Kristallnacht." "So on this 25th anniversary of the Wall's fall, I feel not only the joy of Nov. 9, 1989 but also the responsibility of German history."

LIGHTED BALLOONS MARK WALL
The artistic display of balloons, which dramatically illustrate how the Wall cut through the heart of Berlin, is also porous to enable people to easily move back and forth between the former East and West Berlin. The balloons will be set free on Sunday evening - symbolically reenacting the Wall's collapse.
"We have every reason to celebrate," Mayor Klaus Wowereit, whose city government has been rebuilding small segments of the Wall for posterity and tourists after almost all of the original concrete barrier was hastily torn down over two decades ago.
"We were all happy at the time that it had fallen and (so it) was torn down," he said.
The Berlin Wall was built in 1961 to stop East Germans fleeing to the West. It began as a brick wall and was then fortified as a heavily guarded 160 km (100-mile) double white concrete screen that encircled West Berlin, slicing across streets, between families, and through graveyards.

At least 138 people were killed trying to escape to West Berlin and many who were captured ended up in jail.
Communist regimes collapsed in the face of popular uprisings across Eastern Europe in 1989, signaling the end of the Cold War, of which the Berlin Wall had become the starkest symbol.
But despite the Wall's fall, German unity a year later and 2 trillion euros pumped into the formerly communist east of the country, there are still lingering east-west political, economic and social divisions in the city and country.
Voting patterns in east Berlin and eastern Germany are different, there is still an east-west income and wealth gap, and unemployment is nearly twice as high in the east.
"Forty years of division left their mark on many," said Kai Arzheimer, political scientist at the University of Mannheim. "The differences might be diminishing as years pass but only a lot slower than anyone would have dreamt 25 years ago." (Editing by Mark Heinrich)
The Berlin Wall prevented the cold war from turning into a deadly clash between the United States and the Soviet Union, thus paving the way for peaceful reunification of Germany, Thomas Schwartz, professor of history at the Vanderbilt University, US, told Radio VR.
From the Department of Radiology, AA Martinos Center for Biomedical Imaging , Stroke Service, Department of Neurology , and Center for Human Genetic Research , Massachusetts General Hospital, Harvard Medical School, Boston; Department of Neurology and Rehabilitation Medicine, SkA ne University Hospital, Lund, Sweden ; Department of Neurology, Mayo Clinic Rochester, MN ; Department of Neurology , Center for Public Health Genomics , and Department of Public Health Sciences , University of Virginia, Charlottesville; Department of Neurology and Division of Endocrinology, Diabetes, and Nutrition, Department of Medicine , University of Maryland School of Medicine, Baltimore; Institute for Stroke and Dementia Research , Klinikum der UniversitA t MA1 4nchen, Ludwig-Maximilians-University, MA1 4nchen, Germany ; Department of Clinical Science, Lund University, MalmA , Sweden ; Department of ... (more)
A shift to a cleaner and brighter energy future is not just a matter of technology or economics anymore. It is also a matter of political will. And although our leaders don't seem to get it, people do. The recent boom of renewable energy technologies has reshaped our way out of climate crisis. And regular people are right at the center of this empowering change.
Our current energy model is becoming obsolete. Too centralized, too dependent on dirty energy sources and with too much power concentrated in too few hands. Feeling threatened by the expansion of clean, self-produced electricity, the dirty utilities are fiercely fighting back in countries where renewables are booming – US, Japan, Spain. But it ain't going to be easy; people are ready to take the fight on and win!
From Europe to Africa, on their own or via innovative financial models, communities across the globe are taking the power back. They are installing their own solar and wind systems to become more resilient, getting access to electricity, buying back their city grids, exercising their consumer choices to choose green power or investing their personal savings on green projects. Each of them have different motivations but all of them have a common denominator: they are winning.
1. Hamburg,
Germany
– breaking free from utilities
One of the most successful campaign has been 'Our Hamburg, Our Grid'. The goal was to purchase Hamburg's energy, gas, and district heating supply back from privately owned dirty utilities, Vattenfall and E.On. These utilities didn't act in the best interest of the people and were delaying Germany's shift to renewable energy. Hamburg's voters forced the city to buy back the grid last year in a successful referendum. The key to success – their citizens!
As in the case of Hamburg, German civil society was the main driver of the country's energy transition. Since 2007, over 60 municipal utilities have been created in Germany and over 170 communities have attempted to purchase the energy grid back from private providers. More than 50% of total investments in renewable energy came from private individuals and farmers. 650 energy cooperatives have become drivers for renewable energy projects across the country.
2. Fukushima, Japan – bringing hope and resilience
After one of the worst nuclear accidents ever, people of Fukushima want their hope and their power back. The Fukushima Prefecture in Japan has committed to 100% electricity from renewables by 2040 and they are wasting no time. Creative activities are taking place across the region, from a solar system "of the people, by the people, for the people" in Iwaki city to a Solar Agri Park in Minamisoma city.
Fukushima wants to become a more resilient community, and its people believe that solar power can bring back prosperity to a land which name means 'good-fortune' island. Like in the rest of the country, solar is simply booming across the region. And it's mostly the local people – via their community or their consumer cooperative's membership – who are driving the change!
3. Bihar, India – making life better and brighter
In a country where 300 million people live in the dark, where mega cities suffer from chronic blackouts and where coal contributes to between 80,000 to 115,000 premature deaths and 20 million new asthma cases annually, renewable power is bringing light and transforming lives.
Dharnai village in one of the most densely populated and poorest state of Bihar is a living example of how the sun can change people's lives for the better. The lives of the villagers are now powered by renewable micro-grids. Kids can now study and read after dark, women can feel safe at dusk and the whole community has access to a better health care.
The Dharnai community has not only leapfrogged the climate-wrecking fossil fuels by powering their community with solar power. They also proved to the rest of the country – and the world – that people can own and control their own clean and renewable energy!
4. US – new models on the (sun)rise
Crowdfunding is the new black in the US. It democratizes both energy and finance. And people just love it! One of the leading providers of rooftop solar systems, SolarCity, has recently opened the bond market to everyone who wants to contribute to the expansion of solar development – as investors. The platform will pay back ordinary investors with the income from the solar electricity payments made by its customers – homeowners, schools, businesses and government organizations.
Energy cooperatives are also on the rise. In California, where more than 190k residents have switched to solar energy, anyone can join the Cooperative Community Energy. This gives them a voice and a vote in the direction and activities of the organization, the ability to purchase a solar PV system at a discounted rate, and a dividend check if CCEnergy makes a profit. Advocacy for favourable renewables policies is also on their agenda.
These two examples are but a small part of what is happening across the country. It looks like when we talk about the renewables and energy independence – yes, they can!
5. Indonesia, Sumba island – the power of alliances to turn off diesel generators
A beautiful corner of Indonesia is aiming to become a model of clean energy use, aiming to function entirely on renewable energy sources by 2025 and getting rid of expensive diesel generators. Only one year ago, most people on the island had no electricity, or were depending on dirty kerosene and diesel. Today, renewables have improved the daily lives of the villagers and the electricity access has been increased to over 40% of the population, and growing!
The key for success? Forming an efficient alliance between the civil society, private sector, local and national political leaders, and putting the needs of community central. Sumba island is a clear example that renewable energy is a sustainable and cost-effective way to tackle both poverty and climate change, and that if there is a will, there is a way. Go Suma Go!
6. Khalova, South Africa - making electricity affordable
The Three Crowns Primary School in South African Khavola village couldn't afford electricity from the national utility. So in 2008 they entered a local School Greening Programme backed by the Development Bank of South Africa, and today 178 children benefit from a self-sufficient renewable electricity system. The electricity is used to power computers, printers and photocopiers as a standalone non-grid tied system. The benefits of this system are also shared with the village community.
Given the success achieved, the project moved to the more ambitious goal of creating a "sustainability commons": a rich and diverse pool of sustainability-focused technologies, tools and learning; whose resources are deployed locally for the benefit of the community and environment. The initiative grew into a collection of projects called the Rural Sustainable Villages Programme.
The word is spreading and hopefully, many more villages across South Africa can afford these life improvements if this model were to be replicated. This is Africa and renewables looks like the way forward!
7. Unleashing the power of faith
At the same time that 400.000 people took the streets of NYC in the largest climate march ever, an interfaith meeting gathered Christians, Muslims, Buddhists, Hindus and Jews from around the world to sign a declaration demanding world leaders to act on climate change. Not only that, some of them are already walking the talk by committing to divest from fossil fuels and re-invest in renewables. Faith is power!
So overall it looks like the Energy revolution is happening all over the place! People are playing a crucial role in spreading the word and more importantly, in taking action and driving change. Decentralized renewable energy reduces energy poverty, protects the environment, strengthens resilience of communities and gives power back to people. What else can you ask for?
Today, more than ever, renewables are succeeding in those places where people are taking action and want it to succeed. It is simple. It is People Power.
The Intergovernmental Panel on Climate Change will finalise their Fifth Assessment Report with a Synthesis published on the 2nd of November in Denmark – a country committed to transitioning to 100% renewable energy in it's energy system.
For more info on the IPCC Report and on Denmark's 100% renewables commitment, see www.greenpeace.org/ipcc
Paula Tejón Carbajal is a Corporate Adviser and Climate & Energy Campaigner at Greenpeace International.
Governor Ito of Kagoshima, today bent to the will of the nuclear industry in granting approval for the highly contentious restart of the two Sendai nuclear reactors. In an effort to avoid full responsibility for the decision he was making, he announced that restart was "unavoidable," rather than explicitly consent. In large part, this is due to the fact that this decision will be hugely unpopular in his prefecture, as the large majority of residents are opposed to the restart of the nuclear reactors.
In granting approval of the Sendai reactors, Governor Ito and the Kagoshima prefectural Assembly – which voted earlier to approve restart – have utterly failed to understand the tragic lessons of the 2011 Fukushima-Daiichi nuclear catastrophe. And in this failure, they are shouldering the responsibility for the lives and livelihoods of the hundreds of thousands of residents throughout the prefecture who are under direct threat in the event of a major nuclear disaster at Sendai.
In the last week evidence has been made public that the reactor operator and the Nuclear Regulatory Authority (NRA) are ignoring volcano risks to Sendai.
In addition, Governor Ito today made the weak argument that in the event of a nuclear disaster, residents could simply stay in their homes – and therefore, the evacuation plans are sufficient. Such a statement amounts to a slap in the face of Fuksuhima victims, like those from Iitate, 40 km for the destroyed Fukushima nuclear power plant. The government failed to evacuate Iitate residents for over a month after the nuclear disaster – and as a result citizens were unnecessarily exposed to very high levels of radiation. Greenpeace recently completed a radiation survey in Fukushima, including in the village of Iitate. In spite of massive decontamination efforts in Iitate, radiation levels remain above government targets, and it is unlikely that community members will ever be able to safely return. 
Like the village of Iitate, Kagoshima city, sits 40km from the Sendai reactors. Iitate had a population of around 6000 at the time of the Fukushima nuclear disaster, Kagoshima has a population of over 600,000.
The Governors position also carelessly dismisses the fact that city officials in Satsumasendai and Izumi City (30km from the Sendai reactors), and officials of Minamata city in Kumamoto Prefecture, have confirmed to citizens groups that many of their nuclear emergency shelters are vulnerable to the impacts of tsunamis, storm surges, and landslides. As a result, they are required under the law to find safe alternatives. They have so far failed to do so. The emergency plans for these communities and hundreds of thousands of inhabitants are currently in violation of the Disaster Countermeasures Basic Law.
Reassurances of safety from the Nuclear Regulatory Authority (NRA) are increasingly exposed as nothing more than the empty words of the same complacent and discredited approach to nuclear power regulation that led to the 2011 Fukushima-Daiichi nuclear catastrophe.
For example, the Sendai reactors – located in a coastal seismic zone – are also surrounded by volcanoes. This includes the active Mount Sakurajima, 40km from the reactors, and the large Aira caldera or "super volcano".  On 2nd November, scientists from the Volcanological Society of Japan called for the nuclear regulator to review its volcano guidelines. The Society stated that the NRA's approval for nuclear plant restart is based on the 'questionable' belief that it will be possible to predict a major eruption of volcanoes near nuclear reactors.
The chair of the Society committee, an emeritus professor from the University of Tokyo, described the NRA's position as "scary". Based upon a site-specific study of an ancient volcano in Greece, reactor owner Kyushu Electric has claimed that they can rely on early prediction of an eruption, and would have sufficient time to shutdown the reactors, remove the nuclear spent fuel from the reactors, cool it for up to five years, and then put it in casks and transport it away from the region under threat from a volcanic eruption.
These mounting issues have added to the significant safety concerns and growing demands for inclusive consultation by communities that lie within potential nuclear emergency evacuation zones, but have thus far been excluded from having a formal role in the reactor restart approval process. The Governor has now completely ignored these demands from citizens and city governments within his prefecture.  Recent polling have shown increasing demands for wider consultation on nuclear reactor restarts beyond communities that directly benefit financially from hosting power plants.
Even with approval from the full Kagoshima Assembly and the Governor, restart of the two reactors at Sendai will not take place before 2015. The NRA has yet to complete its review of the Sendai reactor post Fukushima retrofitting plan, safety management rules, and onsite inspections of the plant.
Shaun Burnie is a nuclear campaigner for Greenpeace Germany.
[Image: Bags of Contaminated Soil in Fukushima. Piles of bags containing soil, mud and grass at a site in Iitate village. Members of the Greenpeace radiation monitoring team check contamination levels in Watari and in Central Fukushima City, three and a half years after the nuclear accident. 10/27/2014 © Noriko Hayashi / Greenpeace]
In an attempt to bridge cultural differences and break down national stereotypes among young people, Berlin and Athens have decided to establish a Greek-German Youth Institute. EurActiv Greece reports from Germany. 
The "reconciliation" agreement was signed on 12 September between the ministries of education of Greece and Germany. It includes a variety of activities like internships, school and youth exchanges as well as visits to places where the Nazi atrocities took place.
On Nov. 9 to 10, 1938, in Germany and Austria, military troops and civilians attacked Jewish homes, schools, shops, hospitals and places of worship. Thirty thousand people were sent to concentration camps.
A Ugandan man being treated for Ebola in Germany is no longer infected and headed toward a full recovery, say officials at the University Hospital Frankfurt.
A Ugandan man being treated for Ebola in Germany is no longer infected and headed toward a full recovery, say officials at the University Hospital Frankfurt.
By Edward Taylor FRANKFURT (Reuters) - Doctors in Germany said on Wednesday a patient infected with Ebola had recovered after they had treated him with an experimental drug initially designed to treat vascular problems and help heart attack patients. Doctors at the Frankfurt University Hospital said the patient, who was medically evacuated to Frankfurt after working with Ebola victims in Sierra Leone, recovered after receiving the drug called FX06, developed by scientists at the Vienna General Hospital in Austria. ...
Three British newspapers offer different readings of a major study on immigration to be to be published in the Economic Journal, as the heated public debate over government to proposals to tighten rules on EU citizens' right to work in the UK had prompted a Home Office minister to resign.
"European migrants made a net contribution of £20bn [€25bn] to UK public finances between 2000 and 2011," writes The Guardian. For the centre-left daily, the University College researchers who authored the study have shown "Britain is uniquely successful, even more than Germany, in attracting the most highly skilled and highly educated migrants in Europe."
More critical, conservative The Daily Telegraph argues the study finds immigration from within Europe gave the economy a boost of £4.4bn [€5.6bn] if the full period of 1995 to 2011 is considered. The daily also says the authors "emphasised their findings on the contribution of European migrants and gave less prominence to the findings on the costs of non-EEA immigration," which it says "cost the public purse nearly £120bn [€153bn] over 17 years".
The Independent interviews Norman Baker, a Liberal Democrat who says he resigned from his post as one of three minister of state in the Home Office due to his Tory colleagues' "failing to pursue 'rational evidence-based policy'" on immigration. For the paper, the study suggests government proposals to change EU labour rules "would cost the economy dear by deterring highly educated young Europeans from moving temporarily to Britain".
Nikon announced the winners of its annual Small World Photomicrography Competition yesterday, and among the group was this stunning image. The photo was taken by Ali ErtA1 4rk , PhD, a researcher at the Institute for Stroke and Dementia Research at Ludwig Maximillian's University in Munich, Germany.
On November 1, 2014, the new European Commission started its work. One of the priorities of its new president, Jean Claude Juncker, is the digital agenda. The European Union wants to be a leader in the Internet world of tomorrow. Vice President Andrus Ansip from Estonia (some people spell the country name "e-stonia") and Commissioner Günter Oettinger from Germany will have special responsibilities to implement the big plans. Juncker was elected by the European Parliament, although the green light for his nomination came from the European Council. The European Council is the body where the prime ministers, presidents, chancellors and ministers of the EU member states are sitting together and making final decisions.
Commission, Council, Parliament: Who does What?
It is no secret that the relationships among the three main EU bodies — Parliament, Commission and Council — are not free from tensions. Juncker, a former prime minster of Luxembourg, has obviously his own ambitions and it remains to be seen, what the problems will be if it comes to policy development for key issues. One test case could be Internet Governance. A resolution on Internet Governance, which was adopted by the EU Council on October 17, 2014, did send already an interesting signal and raises the question how and where future EU Internet Policy will be made.
The fact that the European Council adopted a resolution on Internet Governance underlines that the topic is meanwhile a high priority issue for the EU. The EU Council supports a free, open, secure and unfragmented Internet, based on human rights and puts its authority behind the multistakeholder approach. This is good news. However, the text of the resolution is partly confusing and sends mixed messages which call for more clarification.
Let's start with the good news:
Good news is that the European Council sees the Internet Governance definition — adopted by the 2005 Tunis Agenda of the UN World Summit on the Information Society (WSIS) — as the main basis for dealing with Internet related public policy issues. This working definition from Tunis is something like a soft law description of the innovative multistakeholder governance model. The main point of this definition is that the Internet can't be governend by one party alone but needs the involvement of all stakeholders who have to share policy development processes 
and decision making procedures.
Good news is that the European Council supports NetMundial. NetMundial adopted a Universal Declaration of Principles for Internet Governance. Those principles are based on the Tunis Definition, but they specify in more than 20 paragraphs and subparagraphs how the Internet should be governed in a more detailed way. And while the Tunis Agenda (2005) was adopted by governments only, the Sao Paulo Declaration (2014) got support from all stakeholders: governments, business, technical community and civil society.
Good news is that the European Council supports the Internet Governance Forum (IGF). The IGF was the main outcome from the Tunis summit. Within ten years it has evolved as the main global discussion platform for Internet related public policy issues. Some groups are still downplaying the IGF as a "talking shop", but the fact that the IGF does not negotiate language has helped to open minds and mouths to discuss controversial issues in a constructive way. Now, after one decade, people expect more concrete outcome from the IGF. Insofar it is good that the European Council supports the UNCSTD IGF Improvement Working Group recommendations.
Good news is that the European Council supports the NTIA announcement to transfer the IANA functions to a multistakeholder mechanism. Constructive engagement of the EU in this transition can help to make the existing mechanisms more accountable to the global Internet community.
Good news is that the European Council continues to support the idea to launch a Global Internet Policy Observatory (GIPO). This is indeed a missing link in the existing Internet Governance Ecosystem. While this system is decentralized and different issues are managed on different layers by different players, it would be useful to have one place to find all relevant information to understand what is going on in the various corners of the Internet. A GIPO would also fit into the more ambitious plans for an Internet Governance Clearing House, which is discussed by the IGF, the UNCSTD and NetMundial. Any concrete contribution, in particular to bring money where the mouth is, is welcome.
More Clarification is Needed
So far, so good, so clear. But there are some paragraphs in the European Council resolution which are not so clear.
The resolution describes the WSIS process of enhanced cooperation for Internet Governance as a failure. Why? For a large part of the Internet community the process of enhanced cooperation since Tunis is seen as a success. The number of Internet users has tripled, new and innovative services and applications has emerged, the Internet is a main driver for economic growth and job creation, it has enabled millions of people to enjoy their individual human rights and ICANN has been step by step internationalized and is on its way to escape from US governmental oversight. Today there is much more communication, coordination and collaboration among the various governmental and non-governmental players in the Internet Governance Ecosystem than in 2005. This does not mean that there are no problems. There are problems with access, infrastructure deployment, security and cybercrime. There are problems with a misuse of Internet freedoms. There are problems with protection of privacy, freedom of expression and intellectual property. But the only way forward to solve those problems is to further enhance the cooperation among all stakeholders and to make this more efficient. To declare this process as a failure is confusing. What did the EU expect? It is correct that the compromise language of "enhanced cooperation" made its way into the Tunis Agenda because the EU and the US could not agree on the idea to establish an Intergovernmental Internet Council. Probably some EU member states expected that the agreed process of enhanced cooperation will lead — sooner or later — to such a new intergovernmental body. If this is the criteria for success, enhanced cooperation failed indeed. But to be frank: Did somebody miss such a council in the last ten years? Would the Internet world be better if we would have had annual meetings of 190+ governments? If governments want to raise their voice they can do it (and they do it) via various existing intergovernmental bodies as UNCSTD, UNESCO, ITU, ICANNs GAC or the annual UN General Assembly. There is no barrier for early engagement of governments in non-governmental organizations which deal with Internet issues which have public policy implications as the Regional Internet Registries, IETF or ICANN.
A second confusing statement is the call for a NetMundial Europa. On the one hand all efforts to translate the NetMundial Principles and the NetMundial Roadmap into action on a regional level are welcome. On the other hand: Is there a need for more conferences? The new established global Net Mundial Initiative (NMI) has made clear, that it does not plan to compete with the IGF but wants to strengthen the IGF as the central annual meeting place for the global Internet community. The EU Council resolution leaves it open whether the proposed NetMundial Europe will compete with the European IGF (EURODIG). One could ask the question why the Bulgarian government, the co-host of the 7th EURODIG (scheduled for June 2015 in Sofia) did not flag the EURODIG plans in the EU Council meeting. To be frank, there is no need for new Internet Governance conferences. Four years ago the former British Foreign Secretary William Hague started the so-called London Process on Cybersecurity which has resulted in an annual Internet Governance conference, the next one will be in The Hague in April 2015. The Estonian government has started an initiative on Freedom Online with an annual Internet Governance Conference in Tallin. The former Swedish Foreign Minister Carl Bildt has started an initiative on Internet Governance and Development with an annual meeting in Stockholm. It is difficult to find out what another European Internet Governance conference could add to this full packed conference calendar. The best thing would be — if the European Council wants to have a NetMundial Europe — to organize this meeting at Day Zero before the EURODIG in June 2014 in Sofia. The EU ministers always lament on limited resources for travel. New conferences will enhance, not reduce travel costs.
Confusing are also some statements with regard to ICANN. The European Council observes "that the programme of new gTLD by ICANN has shown the limitation of ICANN functioning and model" and it proposes a "global reform of ICANN" which would include also a reform of ICANNs mandate. What does this mean? The truth is that the new gTLD programme has entered new territory and everybody underestimated the complexity which comes with the allocation of simple words as top level domains. Does the European Council believe that the programme would have been better handled by an intergovernmental body? ICANNs GAC did have all opportunities to become engaged in the process. The truth is also that in this process a new level of enhanced collaboration among the governments and the various ICANN constituencies has emerged which has created enhanced procedures for a future dealing with more difficult challenges. With other words, regardless of visible weaknesses the progress which has been achieved is remarkable. There are no simple answers to complex questions. The only way forward is to stumble in the right direction by working together hand in hand. What is wrong with ICANNs mandate? ICANN has a limited technical mandate. Will the European Council further limit ICANNs mandate by taking away some of the functions and give it to somebody else? Or does the Council propose an extension of ICANNs mandate beyond the limited technical functions? Both options are bad ideas. The better way forward is to strengthen ICANNs accountability mechanism, to have more cross community collaboration within ICANN and to enhance an early engagement of governments in ICANN policy development processes (PDPs).
Confusing is furthermore the proposal to define guidelines for the Internet standard setting organizations. This is difficult to implement. India made a similar proposal years ago in the UN General Assembly. During the IGF in Nairobi (2011) an interesting conversation between an IETF representative and the Indian government made clear, that a hierarchical oversight system is not the adequate solution. The better way is to participate in PDPs and RFCs from the very beginning to make sure that the "rights such as users data protection rights and security" (quote from the European Council resolution) are taken into consideration before rough consensus is achieved. The good thing is that this is exactly what the European Council proposes in another paragraph by calling for "early and truly inclusive upstream participation, review and comment."
Confusing is finally that the European Council refers twice to the WSIS 10+ process and the planned high level event in December 2015 in New York without making the point that this process should contribute to the further enhancement of the multistakeholder Internet Governance model. As it stands now, the WSIS 10+ process will include a phase for multistakeholder "consultations" but leaves the final "negotiations" in the hands of an intergovernmental committee. It would have been good if the European Council would have made clear that its support of the multistakeholder approach includes also the proceedings which will lead to a final WSIS 10+ document in December 2015 in New York.
Written by Wolfgang Kleinwächter, Professor Emeritus at the University of Aarhus and Member of the ICANN Board
Back in the 1970s dedicated and resourceful Danes made a choice to take control of their energy, turning their backs on nuclear and embracing a renewable energy by building their own wind turbines. It started a true revolution. Now the country is on its way to power all it's heat and power with 100% renewable energy in just 20 years from now – and transport too by 2050.
This week, the city of Copenhagen, Denmark's capital, plays host to the Intergovernmental Panel on Climate Change (IPCC) as it finalises its 5th Assessment Report, AR5. Earlier in the year the solutions part of the report already showed that renewable energies are bigger and cheaper than ever and ready to start replacing fossil fuels.
And they are more needed than ever. As the IPCC outlined: "a fundamental transformation of the energy system" is needed, including a "long - term phase - out of unabated fossil fuel conversion technologies".
Sounds like we need a plan!
We contacted some energy experts around the world to hear their thoughts about Denmark's commitment to 100% renewable energy; on 100% renewables as a solution for others too, and on the choices outlined by the IPCC report in general. The responses were truly encouraging.
Paul Gipe, Renewable energy industry analyst and Principal at wind-works.org, US sums it up:
"Making the transition to 100% renewable energy is a political – not technical – decision. The technologies and the knowledge necessary exist today. The choice is simple: Do we make the transition or not? Denmark has made that decision."
Denmark's example inspires energy experts
Denmark's 100% renewable goal has clearly inspired world's energy experts.
"I full heartedly welcome Denmark's bold and inspiring commitment for their 100% energy supply – electricity, heating, industry and transport – is to be covered by renewable energy by 2050", says Dipal Barua from Bangladesh, a Chairman of Bright Green Energy Foundation and advisor to the Green Climate Fund.
The commitment is considered as transformational and unique.
"As the first OECD country, the Nordic country goes beyond the power sector and teaches us that a holistic and integrated approach is the cheapest, fastest and most sustainable strategy", said Harry Lehmann, General Director of the Federal Environmental Agency, Germany.
Denmark's climate targets also include a phase out of coal by 2030, followed by a complete phase-out of fossil fuels by 2050; a 40% reduction on domestic greenhouse gas emissions from 1990 by 2020; and an electricity mix made up 50% from wind by 2020. 
"Denmark remains the only major national government in the world to have acknowledged the increasingly unavoidable fact that others continue to ignore: namely, that it will be impossible to ensure a stable climate for future generations without phasing out the use of coal in the electricity sector", says Toby D. Couture, a Canadian Founder and Director of E3 Analytics.
Power to the people
Today Denmark is a world leader in wind power – both in terms of use and manufacturing, but it all started from regular people wanting to make a difference. Despite the rise of larger turbines and increasing industrialisation, three-quarters of Denmark's wind turbines are still owned by ordinary citizens.
"Denmark is the show-case of energy transition not only towards 100% renewables, but also in the transition from large, centralised monopoly to small distributed community power, in other words, they are democratising energy for the people", commends Tetsunari Iida, Executive Director & Founder of the Institution for Sustainable Energy Policies (ISEP).
Spreading the Danish revolution globally
Denmark may still be the leader but experts believe that 100% renewables can be made a reality across the world:
"If 100% renewables is possible in Denmark, why not in sunny South Africa?", asks Professor Harald Winkler, Director of the Energy Research Centre, University of Cape Town, South Africa.
"As AR5 makes clear, many renewable energy technologies have substantially advanced in terms of performance and cost. For South Africa, concentrating solar power with storage is a key technology", he continues.
"By attesting its comprehensive leadership in harnessing wind-electricity within broader energy systems, Denmark's example will likely inspire other Governments. This includes that of my home country, Morocco, who could meet similar objectives," says Khalid Benhamou, Managing Director from Sahara Wind in Morocco.
Professor S.C. Bhattacharya (India) from the World Bioenergy Association believes 100% can work for all countries:
"A global move towards 100%RE is vital for addressing the twin problems of depleting conventional fossil fuel reserves and climate change as well as associated problems such as urban air pollution. Few will disagree that 100%RE is feasible and likely for practically all countries by 2100. With enough political will and concerted efforts, this can be achieved as early as 2050."
Christine Lins, Executive Director of REN21, Germany, agrees, especially on power sector:
"Progress during the last decade has shown tremendous advancements of renewable energy use in the electricity sector. Many scenarios outline possible pathways towards 100% electricity from renewables by mid-century."
No compromising of development and well-being
David de Jager, Managing Consultant on Ecofys and an operating agent for the IEA-RETD, has studied the 100% renewable future in detail.
"There is no doubt that a fully sustainable and largely renewable global energy system is technically and economically possible by 2050. Ecofys did the calculations for The Energy Report (TER) with the following clear message: by utilising today's technologies alone, 95% of all energy can be renewable by 2050, comfortable lifestyles can be developed and sustained, and long-term benefits can outweigh short-term costs."
Other experts, too, agreed that development and well-being will not be compromised.
"Such a conversion [to 100% renewables] will eliminate most all air pollution and global warming, create jobs, and provide energy stability and energy price stability. It will benefit our children and grandchildren and many generations beyond", said Professor Mark Z. Jacobson of Stanford University
"Fossil fuel consumption reduction without compromising development and human well-being IS possible if a strong energy policy is promoted towards sustainable production and consumption of energy, which implies a strong promotion of energy efficiency and renewable energy sources", says Professor Ana María Cetto, from the Institute of Physics, Universidad Nacional Autónoma de México.
Alarming science calls for urgent action
The importance of taking ambitious action will be further emphasised this week, as the IPCC will outline the urgent need to head for zero carbon emissions.
"We know the very simple fact, that we have to reduce greenhouse gas emissions in the energy system to zero within two to four decades. Our global civilization is at highest risk in case we fail. The energy system needs to be transformed under the constraints of sustainability and least total societal cost. The only solution is a 100% renewable energy system", sums professor Christian Breyer of the University of Lappeenranta, Finland.
Fortunately, the transition has already started, big time, and Denmark is not the only example of the renewable energy technologies have proven scale. Scotland has a target to supply 100% of the country's electricity demand from renewable sources by 2020, while similar aims are taking root in Cape Verde, Africa as well as Latin America where Costa Rica is one of the leading nations.
Meanwhile big cities around the world have set a 100% renewables target including the German cities Frankfurt and Munich, Sydney in Australia and San Francisco in the US.
Professor Peter Lund explains why this idea is taking root:

"Climate change is a result of an unsustainable economy. Denmark has shown that through investing in renewable energy and energy efficiency, countries can simultaneously improve their economy, create new jobs, and mitigate the climate change," he says.
"Energy efficiency and renewable energies are the largest energy sources that we have, and together they are often the least-cost clean energy option as well. The technology and economy aspects clearly speak for a renewable energy turnabout. But these words sound empty unless the politicians all round the world have the courage and vision to decide in favour of a renewable energy future, in the same way as Denmark did. Carpe diem decision-makers."
The 100% RE campaign urges political and business leaders to act on science, and to start phasing in a 100% renewable energy future today, with sustainable energy access for all as by early as possible, but no later than 2050. As the expert statements from around the world underline, this future is fully within our reach, if we decide so.
For full answers from the experts cited, see here.
Anna Leidreiter is the Policy Officer Climate and Energy for the World Future Council and Kaisa Kosonen is a Climate Policy Advisor with Greenpeace Nordic.
(Phys.org) —For all of their differences, classical and quantum communication have at least one thing in common: the importance of being able to store optical information. That being said, optical storage is a complex process that depends largely on the material being used to convert, store and retrieve this information in a controllable, consistent manner – a process especially prone to short optimal memory times when implemented in certain semiconductor quantum structures. Recently, however, scientists at Technische Universität Dortmund, Germany in collaboration with Saint Petersburg State University, Russia and Institute of Physics in Warsaw, Poland demonstrated magnetic-field-induced long-lived stimulated photon echoes1 – coherent optical phenomena in which resonant excitation of a medium by short optical pulses results in a delayed coherent optical flash response – in the electron–trion system, allowed the bidirectional coherent transfer of quantum information in a semiconductor between optical and spin excitations. (Trions are excitations comprising three charged quasiparticles – emergent phenomena that occur when a microscopically complex system, such as a solid, behaves as if it contained different weakly interacting particles in free space.)
A unique magnet developed by the Florida State University-headquartered National High Magnetic Field Laboratory (MagLab) and Germany's Helmholtz Centre Berlin (HZB) has reached a new world record for a neutron scattering magnet.
If the surroundings are designed to be sufficiently stimulating, even a simple computer screen is enough to generate an intense cinematic experience. After observing some 300 study subjects, researchers at the Institute of Psychology of Johannes Gutenberg University Mainz (JGU) in Germany concluded that the angle of viewing does not play a vital role in the cinematic experience, thus disproving various hypotheses. According to the results of their study, the presence of so-called contextual visual cues plays a greater role in actually drawing viewers into a movie. When the researchers gave a computer screen the attributes of a movie theater, the test subjects barely sensed a difference between it and a normal cinema with a large screen. Even a cell phone display performed relatively well in a cinematic environment.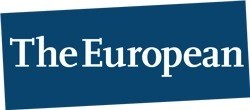 Florian Guckelsberger and Lars Mensel of The European sat down with Rafik Abdessalem -- the former foreign minister of Tunisia's Ennahda Party, the moderate Islamist party that came in second in the weekend's parliamentary elections. Presidential elections will be held Nov. 23.
The European: Mr. Secretary, do you feel that the term "Arab Spring" is still the right way to describe what took place in the MENA region during the last four years?
Abdessalem: I think it is the right term. This is a wave of political change in the whole region and what happened in Tunisia affected the whole region. Now we have a wave of counterrevolutions. And they again affect the entire region. But I think there is no escape from political change.
The European: Why?
Abdessalem: This is a strategic event for the whole region. You may have some difficulties here and there and you may have counterrevolutions by military institutions that want to claim back the political scene. But I think it is impossible to return to the era of Mubarak and others. The Middle East is in a process of change, a long process that takes some time.
The European: What do you mean when you say the process is strategic?
Abdessalem: Strategic in the sense that we had long suffered from political despotism and political stagnation in the name of political stability. That was wrong. There may now be many European politicians who think that they can go back to business as usual: Work with despots as long as they guarantee political stability. But I think it is a deceiving concept to consider despotic rule stable. It is really political stagnation -- because you can't ignore the aspirations of the people for political freedom and political change.
The European: But right now we have instability and bloodshed at the same time: In Libya there's anarchy, in Syria there's civil war.
Abdessalem: That is part of the challenge we have seen in the Middle East. What emerged in Iraq after the messy withdrawal of the Americans was a political vacuum, sectarianism between Sunnis, Shias, Kurds, Arabs and Christians and Muslims. Syria was affected by the Arab Spring, but due to the complexity of the social tissue in Syria -- where you have not only diversity but a lot of sectarian divisions -- the revolution transformed into a sectarian and religious conflict. This is the hallmark of the challenge we have seen in the region. It suffered from political despotism for decades, since the Second World War. And when it encountered challenges it became messy. The exceptional case is Tunisia. But it is a process similar to what took place in Europe in the 19th and 20th century.
The European: How so?
Abdessalem: There were religious wars and other conflicts. I think it will take some time in a difficult and complex region.
The European: Do you remain optimistic in the face of recent events? In Egypt, the counterrevolution -- as you called it -- essentially rolled back the changes that had taken place during the Arab Spring.
Abdessalem: But it is impossible to go back to the era of Mubarak. Of course, the military benefited from the political divisions and the mistakes of the Muslim Brotherhood. That's how it managed to come back to the political scene –- without ever having really left it. The modern history of Egypt is associated with the role of the military. After the political difficulties following the revolution of the 25th of June, it exploited the circumstances to resume business as usual. But we can't ignore the demands of the Egyptian people for political participation, for political and economic reform. It is as important for the country as it is for the whole region.
The European: But isn't it a paradox that people demand political freedom and yet give high approval ratings for President Sisi?
Abdessalem: The region is looking to synthesize the demands of freedom and security. After dismantling the regime of Mubarak and others, there was much space for freedom. The demands for security were also very high. You must understand that the military is now acting in the name of security. In Tunisia, we are looking at a delicate balancing act: to implement the aspirations of the people while at the same time guaranteeing the political stability that is necessary for any economic and political development.
The European: Would you say that Tunisia has profited from the chaos surrounding it?
Abdessalem: Maybe so. But we were also negatively affected by the regional environment: Our national security is affected by what happens in Libya. Remember that the region is deeply interconnected: There are failed states and military conflicts surrounding us. Luckily, the political elite in Tunisia recognizes the need for consensus and consolidation of the democratic process with all the challenges we face both internally and externally.
"Demonstrations are better than stagnation."
The European: Just last year, we saw the murder of the opposition figure Mohammed Brahmi. At the time, observers said that the process of change in the country was in danger. What has changed in the past 12 months?
Abdessalem: We have succeeded in stabilizing the country. The assassination of Mohammed Brahmi was a terrible signal. We don't have a tradition of assassinations; it was the second one after the revolution. This pushed the political elite towards more consensus and dialogue. And after the assassination we decided to leave the government in favor of a neutral, technocratic government and succeeded in drafting a really progressive constitution…
The European: …in terms of?
Abdessalem: In terms of liberty and privacy, freedom of consciousness and decentralization of the state. Compared to other constitutions in the region, it is very progressive. We also fixed an election date. It is a success story when you compare it to the rest of the region. Of course that doesn't mean that we didn't face any difficulties or challenges. For example, the economic demands, mainly those of the people in the internal regions where the revolution started.
The European: Do you expect stability after the Presidential elections in November?
Abdessalem: I think the country is moving towards stability. Even if there are demonstrations within a democratic context, it's better than political stagnation. But we are looking for an inclusive government that consists of different political parties, actors and forces of the country to provide more stability. The simple reason that we are overcoming the transitive period means that we are moving towards stability. There is a constitution, there is a five-year term for the next government: That provides time for the economic and political reforms the country needs.
The European: How do you think the political extremists can be integrated in that process? One could argue that the value of a democratic system depends on how well it includes the extreme left and right or the extremely religious.
Abdessalem: That is a dilemma if you live in a traditional democracy, let alone in a newborn democracy. It depends on whether you have peaceful extremists or not. You can integrate them if they are peaceful. But for violent groups and elements you have no solution other than defeating them by security or military forces -- if they jeopardize the security and stability of the country. That is why we need to differentiate between peaceful and radical groups.
The European: That sounds more easily said than done. During the revolution, the protests were often classified as a threat to peace and stability in order to defeat them with security or military forces. Any government has the tendency to see the protests against it as dangerous or harmful to democracy.
Abdessalem: But it depends on the kind of demonstrations. As long as they don't jeopardize the stability and the foundations of the country, they must be allowed. And that is also what we need to meet the demands of freedom and political stability and security: a regulated freedom that is based on the law. And by that I mean international values and principles.
The European: There is a certain tradition in the region that countries interfere in each other's domestic affairs, be it directly or by financing opposition groups, terrorists, etc. Do you fear that the process of democratization in Tunisia -- which is widely seen as a role model -- could lead other leaders to fear such changes in their own country and in turn interfere in yours?
Abdessalem: Unfortunately, that is the case in the region -- regimes using money and media to stop the process of democratization and to jeopardize the political progress. We see this in Libya, in Syria, in Iraq and so on. We suffered it in Tunisia as well, but we overcame it due to the broad consensus between political forces. Maybe we benefited from geography: We are much closer to Europe than the other countries of the Middle East. We received a very positive message from our European partners about our process. And I feel that we really rely on the awareness of the Tunisian people. They are fully aware of external interferences in our international affairs. And they are very keen for the process of democratization to continue.
"It is not up to the state to impose a religion."
The European: What are the economic prospects of the country? Freedom is one thing, but most of the protests were sparked by rising costs of living.
Abdessalem: This is the dilemma of the Tunisian experience: Making good political progress but struggling to implement the economic aspirations of the people. The real challenges are the high expectations of those people. At the end of the day they will say: "We have more political freedom, but what about everyday life? What about unemployment or health care?" It makes me hopeful that we were able to lay the foundations of the new political system, of the newborn democracy of the region. And I think it is time to build economic achievements on top of that. Democracy can help a lot.
The European: Explain…
Abdessalem: Many people make a distinction between democracy and the economic perspective, but democracy is also an economic investment. When there is transparency, representative government with checks and balances, it will help a lot. When the government started, the unemployment rate was more than 19 percent. Now it is about 15 percent. If you have a lot of young people graduating from university with no prospects for a job, it is a real challenge. Democracy needs to rest on two pillars: an economic and a political one.
The European: Are there still old policies in place that are hindering this process?
Abdessalem: We are facing difficulties but are not in a dramatic or catastrophic situation. We are moving to a more balanced economy -- we are almost back to the old number of tourists, the industrial sector is functioning, internal and external investment has been improved. Of course we were affected by the transitive period because a lot of investors were not fully confident yet and were waiting for the next election. I think the situation in Tunisia is manageable.
The European: What role does religion play in Tunisian politics?
Abdessalem: Religion is part of the political culture. At the end of the day, the identity of the Tunisian people includes Islam. Of course, it could play a constructive role -- as in any democracy -- if it has an open space for different expressions as long as they are based on the principles of tolerance and openness. During the regime of Ben Ali, everything, including religion, was controlled by the state. That is no longer the case. Tunisia is an open society now; we have different expressions of religion and different ways of life. It is not up to the state to impose a religion; it is up to the state to manage the public sphere in a rational way whilst staying neutral.
The European: That sounds quite optimistic. Is the state not feeling pressured by religious leaders? I assume it is sometimes hard to reconcile the values you are promoting with certain teachings.
Abdessalem: Like any great religion, Islam is subject to interpretation. Some of these interpretations are healthy, others are terrible -- like al-Qaida. But religion is also affected by the environment it exists in. In a democratic society, the interpretations focus on the values of solidarity and civility -- as you can see in Europe. In
Germany
, Protestantism even played a crucial role in the rise of capitalism and the modern state. In Tunisia, we want to achieve the same thing.
Conversation by Florian Guckelsberger with Rafik Abdessalem
.
This piece also appeared on The European.
The United States said it will provide $10 million in additional humanitarian assistance to help communities in the region hosting the more than 3 million refugees from Syria. U.S. Assistant Secretary of State for Population, Refugees, and Migration Anne C. Richard made the announcement Tuesday in Berlin at an international conference hosted by Germany on the "Syrian Refugee Situation – Supporting Stability in the Region." This new assistance will help improve schools, buy...
DENVER (AP) - Three teenage girls being investigated for trying to join Islamic State forces in Syria were victims of an "online predator" who encouraged them, a school official said Wednesday, as US officials tried to determine how they made it to Europe without anyone knowing and whether terrorists' appeal is deepening among vulnerable youth.
The Denver-area girls - two sisters ages 17 and 15, and their 16-year-old friend - were detained at the airport in Frankfurt, Germany, and sent home over the weekend. They were interviewed by the FBI and returned to their parents in suburban Aurora. Those in the tight-knit east African community where they live said the sisters are of Somali descent and their friend is of Sudanese descent.
The episode posed vexing questions for US officials, including about the use of social media by terror groups to recruit people inside the United States and what can be done about it.
"Social media has played a very significant role in the recruitment of young people," said FBI spokesman Kyle Loven in Minneapolis, home to the largest Somali community in the US Authorities there have been concerned about terror recruiting of the young for years.
"What it indicates is we have to be really careful about people in impressionable years and what they're doing on the Internet," said Jim Davis, former special agent in charge of the FBI in Denver.
At least one of the girls was communicating with someone online who encouraged the three to travel to Syria, said Tustin Amole, a spokeswoman for the Cherry Creek School District where the girls attend high school.
Fellow high school students told school officials on Monday that the girls had been discussing travel plans over Twitter, Amole said.
"There's no indication they had been radicalized in a way that they wanted to fight for ISIS," Amole said, adding that the students had no prior problems aside from unexcused absences on Friday. She did not elaborate.
A US official said evidence gathered so far made it clear that the girls were headed to Syria, though the official said investigators were still trying to determine what sort of contacts they had in that country. Another US official said that investigators were reviewing evidence, including the girls' computers. The officials spoke on the condition of anonymity because they were not authorized to discuss the ongoing investigation by name.
Still unknown is how the girls managed to get to Frankfurt. The US government doesn't have any restrictions on children flying alone, domestically or internationally. Airline policies vary.
Most US airlines allow children 12 and older to fly alone but often with restrictions on international flights, according to the US Transportation Department.
The girls' parents reported them missing Friday after they skipped classes. They had taken passports and $2 000 in cash.
At some point, the US informed German authorities at the airport about the girls arriving alone on their way to Turkey, German Interior Ministry spokeswoman Pamela Mueller-Niese told reporters Wednesday. She said the three were detained by German police, with approval from a judge, and returned voluntarily to the US on Sunday.
In Denver, the FBI interviewed the girls before sending them home. Once there, the girls told a deputy they stayed in the Frankfurt airport for an entire day. They said they had gone to Germany for "family," but wouldn't elaborate.
Secretary of State John Kerry, speaking during a visit to Berlin on Wednesday, said the case was "an example of good cooperation between us and the increased vigilance of law enforcement on this issue of the movement of people from one country to another."
Amole said the school district was being "extra vigilant" in light of the FBI's concerns that the girls' friends or classmates might have similar intentions.
Mohamed Nur, head of the Somali Community Center of Colorado, said residents want to know more about what really happened so they can find ways to "do a better job and show kids a good path."
Terror recruiting has been a problem for years in Minneapolis. Since 2007, roughly 22 young Somali-Americans have travelled to Somalia to take up arms with al-Shabab, an al-Qaida linked group. Those were all men.
Within the last year, a handful of people from the community left Minnesota to join militant groups in Syria, and this time, there are fears that women might have been targeted. Loven said the FBI is working with the Somali community to establish trust and help identify young people at risk for radicalization.
In Colorado, Shannon Conley, a 19-year-old nurse's aide, pleaded guilty in September to planning to help the Islamic State after trying to board a flight in Denver to get to Turkey. Conley planned to marry a man she met online who said he was fighting with the militants.
Mia Bloom, a professor of security studies at the University of Massachusetts-Lowell, said the girls' story so far suggests how Islamic extremists have mastered social media to prey on younger and younger women with "Disney-like versions of what it is like to live in the caliphate."
A spokesman for the US attorney's office in Denver would not say whether prosecutors plan to charge the girls with a crime. State prosecutors said they have no imminent plans to charge the girls. Amole said they will not face discipline.
"Our biggest concern is for the safety and well-being of these girls," Amole said.
German media company Bertelsmann said Tuesday it would buy online education provider Relias Learning, its biggest US acquisition since taking over Random House in 1998. It...
The collective effort of several European universities, mainly from Germany, Belgium and Italy, has been revealed recently as a sci-fi device come true: the robotic archaeologist, which is capable of exploring and excavating archaeological sites on its own and building comprehensive models of the environment based on the data it receives.
By Kathryn Doyle NEW YORK (Reuters Health) – There are noticeable differences in the shape and function of hearts among obese and normal-weight adolescents, researchers say. "We do not know if (these changes) are clinically meaningful or necessarily dangerous," said Dr. Norman Mangner of the University of Leipzig Heart Center in Germany. "This is a cross sectional study and, therefore, we cannot answer this question." Still, some of the heart characteristics of obese adolescents were similar to those of children with leukemia after chemotherapy, he wrote in an email to Reuters Health. ...
This story originally appeared on Mother Nature Network.
Earth's plant life may soak up more
carbon dioxide
from the atmosphere than previously thought, according to a
new study
. And since CO2 emissions from burned fossil fuels are also the main driver of
man-made climate change
, that raises an obvious question: Are trees saving the world from us?
It's widely known that plants need CO2 for
photosynthesis
, but the study's authors say current computer models of Earth's climate underestimate how much CO2 is absorbed by vegetation overall. That's because most climate models don't factor in the way CO2 diffuses inside a leaf's
mesophyll
tissue, causing the models to misjudge plants' global CO2 intake by as much as 16 percent.
More photosynthesis is good, but can a 16 percent discrepancy slow down climate change? Some news coverage and commentary has suggested it might, raising the possibility trees and other land plants could buy us more time to curb
greenhouse gas
emissions. Yet several prominent scientists — including a co-author of the new study — tell MNN such interpretations are mostly hot air.
"No, it would not reduce the urgency of reducing emissions," says Lianhong Gu, an environmental scientist at Oak Ridge National Laboratory who helped produce the study. "The climate change associated with fossil fuel use is much bigger than the response of plants to CO2."
The study isn't meant to make climate forecasts, he adds — that's what models are for. The goal is to refine those models, which often need time to incorporate new research. "Models are representations of our understanding of how the Earth system works," Gu says. "Our understanding is a collection of knowledge about physical, chemical, biological processes. There is sometimes a delay between learning how these fundamental processes operate and how they are represented in the models."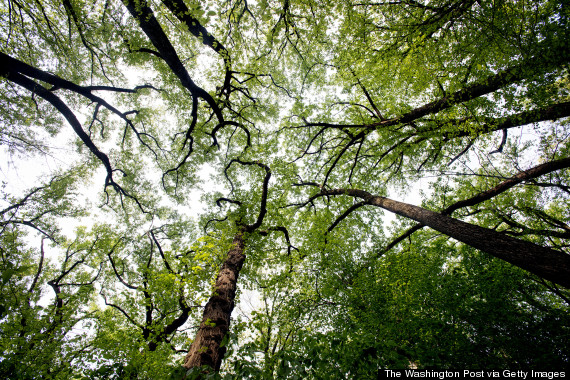 One tree can absorb as much as 48 pounds of CO2 per year, storing up to 1 ton by the time it's 40 years old.
It's premature to guess how this might affect the speed of climate change, Gu adds, but trees can't bail us out forever. "If we consider this factor, the expected climate change might be delayed for some time, although I cannot say by how much because this is not something we have investigated yet," he says. "But sooner or later, what we expect to happen will happen. It's just a matter of time."
While the study does reveal an omission in many models, some
climate experts
question its global significance. CO2 isn't the only factor in plant growth, for instance — water and nutrient limitations play a role, too, potentially offsetting the benefits of CO2. Heat can also
force forests to relocate
instead of expanding, sometimes ceding territory to grasslands that are slower to store carbon. And even when more CO2 does boost growth, the absorbed carbon returns to the air when the extra biomass dies.
"This is a highly oversold paper," Martin Heimann, director of biogeochemical systems research at
Germany
's Max Planck Institute for Biogeochemistry, writes via email. "The authors have identified a step in the photosynthesis process chain of land plants which has not been explicitly represented in current climate model formulations. Including this process increases the uptake capacity of the land biosphere for excess CO2 — according to the study by about 16%. However, for the atmospheric CO2 and the climate only the net (land and ocean) uptake matters. If the land uptake is increased by a certain fraction, also the land carbon release through respiration (the decay of dead biomass) will increase."
This step isn't in most climate models, he says, because such large-scale modeling requires some generalization. "The models do not describe each individual plant, but just a generic plant representative for a gridbox of perhaps 50 by 50 km. How this generic plant is operating is represented by a formula that is based on theoretical understanding of how photosynthesis works, but is very much simplified."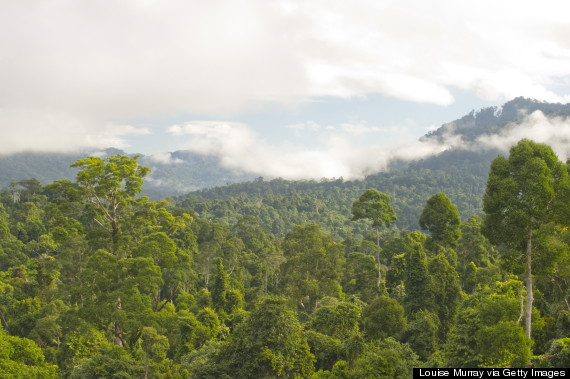 Earth would need to at least double its land vegetation to keep up with CO2 emissions, researchers say.
Other researchers agree the study's implications are likely minimal. "I like this paper, but I do have some reservations about the claims for significance of this one factor on the performance of Earth System Models," says Stanford University ecologist Joe Berry. "The model I have been associated with has included a mesophyll conductance parameterization for about 10 years — so it isn't totally new."
With or without mesophyll minutiae, no climate model can predict exactly what humans will do, points out Heidelberg University environmental physicist Werner Aeschbach-Hertig. But while the United Nations' Intergovernmental Panel on Climate Change (IPCC) outlines a range of possible
emissions scenarios
for our future CO2 output, even the more optimistic outlooks are too bad for plants alone to fix.
"An exact prediction of how fast CO2 will increase is not possible anyway — but mainly because we do not know how the emissions evolve, not because of uncertainties in the carbon cycle," Aeschbach-Hertig writes. "Basically all [scenarios] lead to problematic warming, and we have been following a rather high pathway in recent years. Thus, even if increased CO2 uptake by plants may help us a little to dampen the increase, as long as we emit ever more CO2 there will be a fast increase in the atmosphere."
Regardless of how much CO2 they soak up, Gu says, wild plants are a key ally in our quest to make civilization sustainable. Rather than just expecting them to protect us, we should focus on protecting them — not just because they might soften the blow of climate change, but also because plants offer many other "
ecosystem services
" that benefit humanity. Beyond absorbing CO2, for example, plants can
release atmosphere-cooling aerosols
,
clean up toxic fumes
and
produce life-saving medicines
.
"I really hope people can appreciate how much nature has been doing for us," Gu says. "Nature is trying to mitigate the consequences of our actions. We should appreciate that and protect plants. There are so many plant species that are doing a service to mankind, yet we have not been studying them. We don't even know how they are doing in the natural environment. If they go extinct, we would miss a lot of knowledge that could have been gained. We need to protect plants and protect nature."
Stories of communities taking action for the climate and refusing to accept the plans of polluting fossil fuel companies are happening more and more. Here are just a few inspiring climate acts of courage taken by doctors, villagers, students, farmers, and 92-year old veterans – people just like you.
1. Canoes vs. coal
The People of the Pacific refuse to allow themselves to drown, they are fighting back against climate change! Residents of the Pacific islands, among the countries most vulnerable to rising sea levels, are taking the fight to save their homes directly to the fossil fuel industry. Using traditional canoes, 30 Pacific Climate Warriors from 12 Pacific islands paddled into the oncoming path of coal ships in an effort to shut down the world's biggest coal port for a day.
2. Maules Creek community - "We cannot allow this to happen"
Australian mining giant, Whitehaven Coal, is set to build a huge open-cast coal mine to become one of the largest in the country. The mine's CO2 output could reach up to 30 million tonnes per year – roughly equivalent to New Zealand's entire energy sector. The local community together with anti-coal activists, including religious leaders, doctors and a 92-year-old digger, decided they will not allow this coal to be mined and burned. They launched a fierce campaign against the developments, undertaking direct, non-violent action to protest against the mines. Despite the protests the mining has begun, but the fight is not over.
© Leard State Forest / flickr / CC BY 2.0
3. The story of Dharnai
The Dharnai village in Bihar, India, has shown their government, and the rest of the world, how people can stand up to the climate-wrecking fossil fuel industry. This small village from one of India's poorest states is lit-up by a solar-powered micro-grid. By bypassing the dirty energy technologies of the past century, and by powering their community with sustainable solar power, the village proved that people can own and control their own clean and renewable energy.
4. A little lobster boat can make a big difference
In May 2013, Ken Ward and Jay O'Hara used their little lobster boat to block a shipment of 40,000 tonnes of coal destined for the Brayton Point Power Station, the largest coal plant in New England, US. They were charged with conspiracy, disturbing the peace and motor vessel violations and faced up to several years in jail. In a major — and unexpected — victory for the climate movement, prosecutors in the US state of Massachusetts dropped charges against the two activists. Why? Let's let the District Attorney explain:
Wow. Let's hope all peaceful activists taking action for our future are treated with the same common sense.
5. Fossil-free schools and cities
Dozens of universities and cities are committing to divesting in fossil fuels. Several of these commitments come as a result of students and residents organizing and speaking to officials about the importance of divesting from fossil fuels. READ MORE about everyone who's going fossil free!
© maisa_nyc / flickr / CC BY-NC 2.0
6. People of Mahan
The story of Mahan in India is the story of a community fighting to save an ancient forest from a long-corrupt coal industry. The struggle of the people of Mahan attracted international support and managed to, not only save the forest from being turning into an open-pit coal mine, but also achieved victory for the environment and the climate by spelling out the end of cheap coal in India. Coal fired power plants are the biggest source of man-made CO2 emissions. India now has an excellent opportunity to scale up its ambition on renewable energy!
7. Human chain against coal
Thousands of people joined hands to form an eight-kilometer Human Chain across the border of Germany and Poland to protest against lignite coal mining in the area. 30 different nationalities traveled from cities all over Europe to be there. It was an extraordinary event that brought together Greenpeace volunteers, environmental grassroots organisations and thousands of members of the local community.
Helena Meresman is a climate and energy digital mobilization specialist with Greenpeace International.
THE EXTRAORDINARY exploits of a Scottish "shrink" whose daring raid on Hitler's mountain retreat, under the command of James Bond author Ian Fleming, helped win World War II have finally been unearthed. Dr Oscar Oeser, a psychiatrist once based in at St Andrews University, was a code-breaker during the Second World War, a leader of a raid on Nazi intelligence centres, and head of a de-Nazification unit in Germany after VE Day.
The huge glaciers along the coast of Antarctica are keeping sheets of ice from flowing into the ocean. But as the climate warms, those glaciers start to melt, raising sea level and flooding coastal areas around the world. So University of Nevada hydrology professor Scott Tyler set out to measure the conditions underneath the Ross Ice Shelf, a plain of floating ice in West Antarctica larger than Germany.  "If we raise sea level another meter or two very quickly, then we are going...
Medical staff wearing protective clothes are seen during the arrival of an Ebola patient at the isolation ward of the University Clinic in Frankfurt am Main A UN employee infected with the Ebola virus in west Africa has died after arriving in Germany last week for treatment, the hospital said on Tuesday. "The Ebola patient died during the night in the St Georg Clinic in Leipzig," it said in a brief statement.
More and more Greeks are moving to Germany to complete their university studies in the hope of improving their chances in the job market. Radical cuts continue to threaten the quality of teaching in Greece.
By Daren Butler and Jonny Hogg
MURSITPINAR, Turkey/ANKARA, Oct 8 (Reuters) - Islamic State fighters launched a renewed assault on the Syrian city of Kobani on Wednesday night, and at least 21 people were killed in riots in neighboring Turkey where Kurds rose up against the government for doing nothing to protect their kin.
Heavily outgunned defenders said Islamic State militants had pushed into two districts of the mainly Kurdish border city late on Wednesday, despite U.S.-led air strikes that the Pentagon acknowledged would probably not be enough to safeguard the town.
In Turkey, street battles raged between Kurdish protesters and police across the mainly Kurdish southeast, in Istanbul and in Ankara, as fallout from war in Syria and Iraq threatened to unravel the NATO member's own delicate Kurdish peace process. The street violence was the worst Turkey has seen in years.
Washington said its war planes, along with those of coalition ally the United Arab Emirates, had struck nine targets in Syria, including six near Kobani that hit Islamic State artillery and armored vehicles. It also struck Islamic State positions in Iraq five times.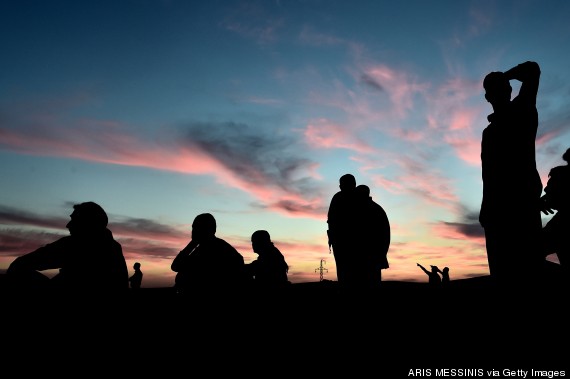 People watch airstrikes on the Syrian town Kobani from the Turkish-Syrian border in Mursitpinar, Turkey on Oct. 8, 2014. (ARIS MESSINIS/AFP/Getty Images)
Nevertheless, Kobani remained under intense bombardment from Islamic State emplacements, within sight of Turkish tanks at the nearby frontier that have so far done nothing to help.
"Tonight, (Islamic State) has entered two districts with heavy weapons including tanks. Civilians may have died because there are very intense clashes," Asya Abdullah, co-chair of the Democratic Union Party (PYD), the main Kurdish group defending the area, told Reuters from inside the town.
U.S. officials were quoted voicing impatience with the Turks for refusing to join the coalition against Islamic State fighters who have seized wide areas of Syria and Iraq.
Turkey says it could join only if Washington agrees to use force against Syrian President Bashar al-Assad and the Sunni Muslim jihadists fighting him in a three-year-old civil war.
Turkey's own Kurds, who make up the majority in the southeast of the country, say President Tayyip Erdogan is stalling while their brethren are killed in Kobani.
Police fired tear gas and water cannon to disperse demonstrators who burned cars and tires. Authorities imposed curfews in at least five provinces, the first time such measures have been used widely since the early 1990s.
Turkish Prime Minister Ahmet Davutoglu told reporters in Ankara that 19 people were killed and 145 wounded in riots across Turkey, vowing that Turkey's own peace process with Kurdish separatists would not be wrecked by "vandalism." Dogan news agency later said the death toll had climbed to 21.
At least 10 people died in clashes in Diyarbakir, the largest Kurdish city in Turkey's southeast. An all-day curfew there from Tuesday night was extended for another day on Wednesday. Pockets of protesters defying the curfew clashed with security forces there on Wednesday.
Others died in clashes between protesters and police in the eastern provinces of Mus, Siirt and Batman. Thirty people were wounded in Istanbul, including eight police officers.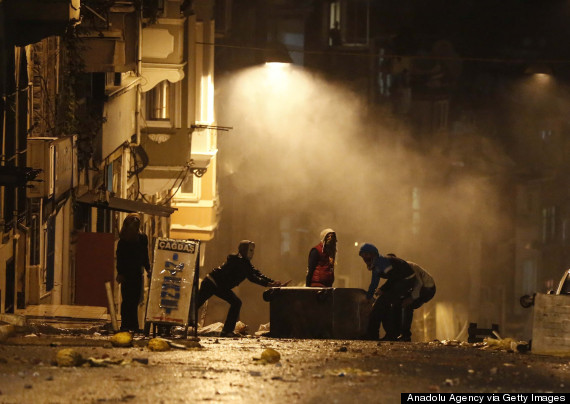 Protestors make barricades against Turkish police during unauthorized demonstrations against the advance of ISIS militants toward central Kobani, on Oct. 8, 2014 in Istanbul. (Bulent Doruk/Anadolu Agency/Getty Images)
Disturbances spread to other countries with Kurdish and Turkish populations. Police in
Germany
said 14 people were hurt in clashes there between Kurds and radical Islamists.
The unrest in Turkey, which has NATO's second largest armed forces, exposes the difficulty Washington has faced in building a coalition to fight Islamic State in Syria and Iraq, two countries with complex, multi-sided civil wars in which every country in the region has a stake.
BLACK FLAG
Islamic State fighters besieging Kobani hoisted their black flag on the eastern edge of the town on Monday. Since then, U.S.-led air strikes have been redoubled. The town's defenders said earlier on Wednesday the insurgents had been pushed back, but the fighters appeared to be advancing later in the day.
Intense gunfire and loud explosions could be heard on Wednesday morning from across the Turkish frontier. Huge plumes of grey smoke and dust rose above the town, where the United Nations says only a few hundred inhabitants remain.
U.S. officials, acknowledging it will be hard to shield Kobani from the air, have played down its strategic importance.
"Air strikes alone are not going to do this. They're not going to fix this. They're not going to save the town of Kobani. We know that," Rear Admiral John Kirby, a Pentagon spokesman, told a news briefing.
Secretary of State John Kerry said: "As horrific as it is to watch in real time what is happening in Kobani ..., you have to step back and understand the strategic objective."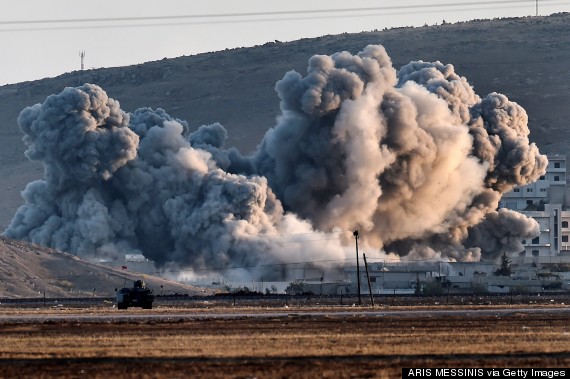 Smoke rises during airstrikes on the Syrian town Kobani seen from the Turkish-Syrian border in Mursitpinar, on Oct. 8, 2014. (ARIS MESSINIS/AFP/Getty Images)
Islamic State has been advancing on the town from three sides and pounding it with artillery despite dogged resistance from heavily outgunned Kurdish forces.
Kurdish media said Kurdish fighters thwarted a car bomb on positions in Kobani, saying the vehicle blew up before reaching its target. An Islamic State source on Twitter said the attack destroyed a police station. Neither account could be verified but a huge explosion could be seen from across the border.
In Turkey, parliament voted last week to authorize cross-border intervention, but Erdogan and his government have so far held back, saying they will join military action only as part of an alliance that also confronts Assad.
Erdogan wants the alliance to enforce a "no-fly zone" to prevent Assad's air force flying over Syrian territory near the Turkish border and create a safe area for an estimated 1.2 million Syrian refugees in Turkey to return.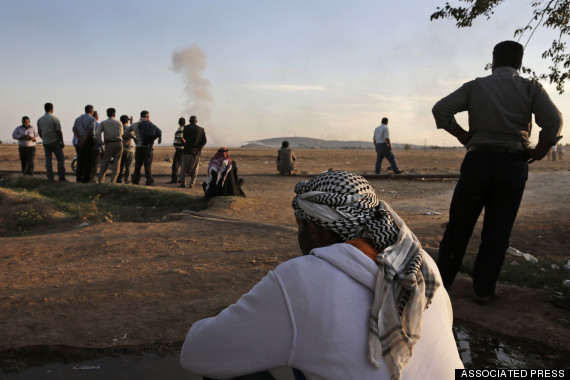 Turkish Kurds watch as airstrikes hit Kobani from Mursitpinar, at the Turkey-Syria border, Oct. 8, 2014. (AP Photo/Lefteris Pitarakis)
France said it supported the idea of a safe area, and Britain said it was studying it. But it is clear the proposal has not taken hold in Washington, which has been bombing Islamic State targets in Syria without Assad raising objections, and does not want to be dragged into a conflict against Damascus.
"At the moment, the American air force is flying all over Syria with the permission of the Assad government," said Tim Ripley, a defense expert for Jane's Defense Weekly.
"To try and impose a no-fly zone would potentially involve a major air war against one of the biggest air forces in the Middle East ... which would only be a distraction from the fight against (Islamic State)," he said.
Kerry, repeating lukewarm views of other U.S. officials, said: "The buffer zone is an idea that has been out there. It is worth examining, it's worth looking at very, very closely." Pentagon spokesman Kirby said: "It is now not on the table as a military option that we are considering."
U.S. IMPATIENCE
The conflict has already opened up a fissure in relations between the United States and Turkey, its most powerful ally in the area. U.S. Vice President Joe Biden was forced to apologize last week after Erdogan took umbrage at comments Biden made at Harvard University, in which he blamed Turkey's open borders for allowing Islamic State to bring in recruits.
An unnamed senior U.S. official told the New York Times on Tuesday there was "growing angst about Turkey dragging its feet to act to prevent a massacre less than a mile from its border."
"This isn't how a NATO ally acts while hell is unfolding a stone's throw from their border," the official said.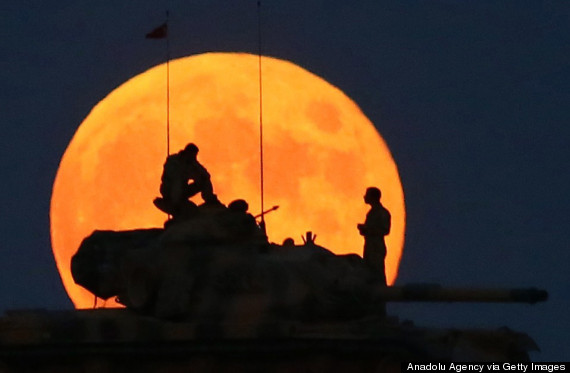 Turkish forces tighten security measures on Turkey's border with Syria, on Oct. 8, 2014. (Emin Menguarslan/Anadolu Agency/Getty Images)
Kerry said Turkey was still deciding what role it would play. Retired U.S. General John Allen, charged with building a coalition against Islamic State after it seized about a third of neighboring Iraq, is due in Turkey this week.
But, while taking in Kobani's refugees and treating its wounded, Turkey has deep reservations about deploying its own army in Syria. Beyond becoming a target for Islamic State, it fears being sucked into Syria's three-year-old civil war.
It also distrusts Syria's Kurds, allies of Turkey's own Kurdistan Workers' Party (PKK), which waged a decades-long insurgency for Kurdish autonomy in which around 40,000 people were killed.
The PKK's jailed leader, Abdullah Ocalan, has said any massacre of Kurds in Kobani would doom a fragile peace process with the Turkish authorities, one of the most important initiatives of Erdogan's decade in power.
The street protests across Turkey were already making the prospect of reconciliation with nationalists seem more remote, as protesters set fire to Turkish flags and attacked statues of the founder of modern Turkey, Mustafa Kemal Ataturk.
Selahattin Demirtas, co-chair of the HDP, Turkey's leading Kurdish party, condemned such acts as "provocations carried out to prevent help coming to the east (Kobani) from the west."
(Reporting by Daren Butler, Humeyra Pamuk, Gulsen Solaker and Jonny Hogg in Turkey, Suleiman al-Khalidi in Amman, Susan Heavey, Mohammad Zargham, Arshad Mohammed, Lesley Wroughton, David Alexander and Phil Stewart in Washington and John Irish in Paris; Writing by Peter Graff and Kevin Liffey; Editing by Tom Heneghan)
ISTANBUL -- On a warm summer day in June last year, 21-year-old Soultan headed to his university campus in Damascus, where his classmates were being rounded up and arrested by regime soldiers. It was time to leave Syria.
What lay ahead of him was an exhausting year and a half of sleeping on jail-cell floors, dodging beatings from authorities, crossing rivers and hopping freight trains with one goal: to seek asylum in
Germany
, where he had relatives. Soultan packed his bag with some clothes and an engineering book, bid goodbye to his family, and embarked on an illegal and expensive journey through eight countries by land and sea.
Nearly 10 million Syrians -- roughly half of the country's pre-war population -- are now displaced, and more than 3 million of those refugees have fled to neighboring countries. Thousands more Syrians are desperately attempting the even more difficult journey to Europe, despite many countries struggling to cope with the massive influx of desperate people, limited space in refugee centers, and complex asylum laws.
For young Soultan, the risk was worth it. Before the war, he wanted to become an engineer and work on cars. With Syria then in its third year of bloodshed, there was the chance of a real education abroad and a fresh start, he told himself.
Soultan's story is remarkable -- and rare. Most migrants to Europe come from parts of Africa and the Middle East, and the staggering price tag of such a trip would be unthinkable for them. And many who have attempted to make the dangerous trip have failed.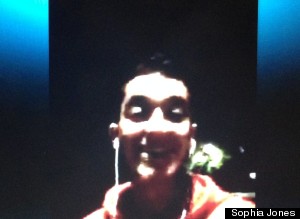 22-year-old Syrian refugee Soultan smiles on Skype from a refugee center near Frankfurt after telling his harrowing story of how he traveled through eight countries in search of asylum.
"You ask yourself, why would they tolerate it?" Joel Millman, a spokesman for the International Organization for Migration said of the difficult journey migrants face getting to Europe. "You can only surmise that it's because staying is not an option.
"But the [smuggling] gangs have become much more ruthless," he continued. "It's become something much more similar to how drug dealers treat addicts -- that there will be another one this week."
Many refugees get stuck mid-trip after they get robbed or run out of money, or when their forged IDs and documents to cross borders or board planes aren't convincing enough. And there are those who die at sea, like the 500 or so migrants whose boat was intentionally capsized by smugglers in early September, killing nearly all on board. More than 65,000 migrants have crossed the Mediterranean Sea to Europe this year -- and 3,000 have died making the trip.
"Lots of people say Europe is the dream, but it's actually a nightmare," a young Syrian man who goes by the name Abu Saddam told The WorldPost by Skype. He's been stuck in Athens for nine months after being smuggled by boat from Turkey's western coast to Greece with nearly 40 other Syrians and East Africans.
While the stories of capsized boats and abusive border guards are whispered among refugees considering the trip to Europe, the allure of a new beginning is hard to ignore.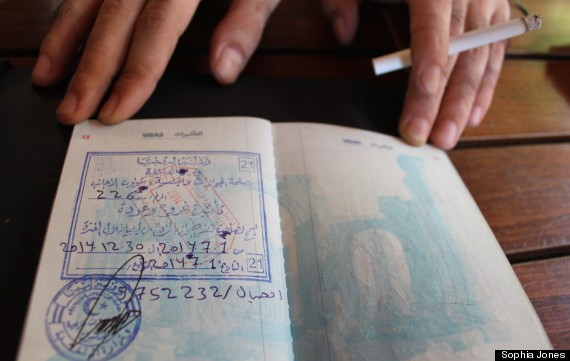 A Syrian refugee in Istanbul shows his fake Libyan visa he was planning to use to enter Libya and be smuggled by boat to Italy. His plan changed when airports closed because of the country's violence.
Take Arwa, 29, who bought a fake Libyan visa this summer in hopes of being smuggled to Italy by boat, though those plans were dashed by Libya's own conflict. He tried again for Europe last month, attempting to flee from Turkey to Greece, only to be arrested and then go missing.
"I don't care about the dangers of this trip," Arwa said before he left for his second attempt, sipping hot tea at an Istanbul cafe. "I feel like it's my last chance in life."
But for all the tales that serve as warnings to would-be migrants, there are success stories like Soultan's.
"My parents wanted me to go," Soultan told The WorldPost from a refugee center near Frankfurt. "But they didn't want to leave their homeland."
His younger brother had high school exams in Damascus he couldn't miss, and his older brother had managed to secure a well-paying job in animation in Istanbul. So Soultan made the trip alone -- an adventure that began with a drive west from the Damascus suburbs to Lebanon's border.
From there, he headed to the northern Lebanese port of Tripoli, where a ship took him up through the Mediterranean Sea to Mersin in Turkey's south. While many Syrians get smuggled by boat to Greece, Soultan decided to try his luck by crossing over Turkey's land border to Eastern Europe, stopping in Istanbul first, where his older brother now lives.
From there, he set out for Edirne, a border town in northeastern Turkey nestled up against Bulgaria and Greece. Syrians who had made the trip before him warned that there was a higher chance authorities might fingerprint him in Bulgaria, putting his name in a system that, in accordance with
an EU law
, could force him back to the first European country he entered. So he chose Greece.
In Edirne, Soultan found a Syrian smuggler and two dozen other people keen on making the same trip. They split up and piled into two rickety boats to cross the Evros river dividing Turkey and Greece. But only Soultan's boat made it across. The second one tipped over and capsized in the middle of the river -- an incident Soultan blames on the smuggler, who may have purposely damaged the boat to cheat them out of their money, he says. The passengers, lucky enough to know how to swim, made it to shore. But all their belongings were lost to the river's strong current.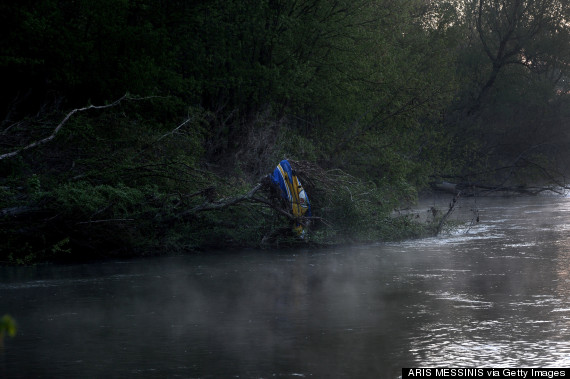 A destroyed inflatable raft used by migrants who crossed from Turkey to Greece sits on the bank of the Evros River on April 11, 2012.
"Only 14 of us made it across," Soultan said quietly. He thinks the rest successfully made the trip several days later, but he can't be sure. The river is a well-known grave.
Soultan slept on the Greek side of the river that night, thankful he had made it to the other side. The next morning, he walked along the highway in search of the nearest police station, hoping police would help him and his group. Instead, they found the inside of a four-by-four meter jail cell, locked up for nine days. They spent another nine days in a refugee camp nearby, where they managed to convince border police not to send them back to Turkey, Soultan says.
He managed to make it to Athens by a car the group hired. In Athens, they headed to a neighborhood he had been told was frequented by smugglers.
For 3,500 euros -- money given to him by his parents and loaned to him by his older brother -- a smuggler made a fake Italian ID and bought him a one-way flight from Athens to Rome. But when Soultan went to board his plane, immigration authorities questioned his supposed Italian citizenship.
"Are you Syrian or Pakistani?" they asked him, pocketing his ID. One security guard, he remembers fondly, joked with him, telling him to, "try again, but get a better ID next time."
Dismayed, but not defeated, Soultan tried to board a ferry to Italy. But this plan failed, too. So he found another border and another mode of transportation: a freight train. Crammed into a locomotive car carrying sand and 59 other people, mostly Syrians, they managed to cross into Macedonia after nearly six hours. Soultan and his crew then made their way by taxi to a smuggler's house in the capital of Skopje. But before they could go farther, Macedonian authorities thwarted their plan. Nine of them were caught, including Soultan.
Authorities promptly drove them to another border, this one leading to Serbia, and told them to get out. The group slept in the forest that night, wondering if they could make it through yet another country none of them knew.
When they crossed into Serbia the next day, police were waiting for them. "They beat us, they slapped me, and they took our money," Soultan said, adding that they didn't manage to find all their cash. "And then they sent us back to Macedonia."
But the group didn't give up. The next day, they snuck back into Serbia. And once again, the police detained them.
This time, Soultan decided to bribe the authorities, pulling aside one of the officers and handing him 50 euros. The officer, to Soultan's surprise, agreed to turn a blind eye and let the group leave, bound for the capital Belgrade.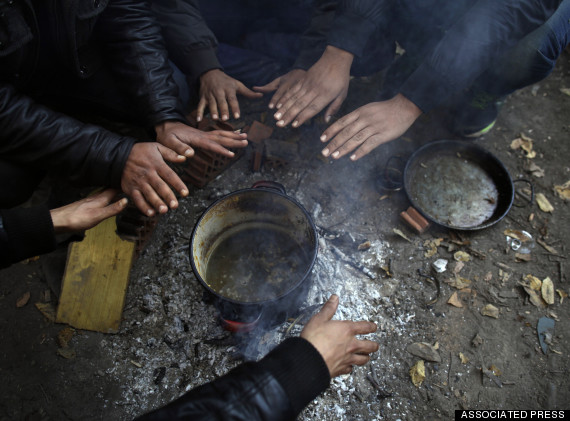 Syrian migrants gather around a fire in the forest near a center for asylum seekers 30 miles south of the Serbian capital of Belgrade on Nov. 19, 2013.
Each person had to pay 230 euros for a taxi ride, and they were dropped off just outside of the city. There, they found the nearest police station, hoping authorities would help them get in touch with the United Nations or other refugee aid groups. Instead, the group had to pay a 50 euro fine for entering the country illegally. They were locked up for the night and given a week to leave Serbia.
They ignored the warning. Instead, they found smugglers who snuck them into Hungary and across the Austrian border for 1,500 euros a head.
"We walked for hours in the rain and mud," Soultan said, shaking his head as he remembered. When he got to Vienna, he booked a hotel room with a clean bed to sleep in -- a luxury. The next day, he crossed the border into
Germany
.
Exhausted and nearly broke, Soultan arrived at his final destination: a refugee center outside of Frankfurt where he was provided with food, housing and cash.
"Thank God, I still had money," he said, laughing during a Skype call. He had spent what amounted to more than $8,000 that his family had scraped together for his journey.
Soultan is lucky -- and he knows it. When he finally made it to Frankfurt, he sat down and called his family back in Damascus. And there, a world away, his mother cried tears of joy for her son. He made it. He survived.
"They were so proud," Soultan said, beaming. "They were so happy."
In the past few weeks, the refugee, now 22, has gone to a slew of interviews to officially apply for asylum in
Germany
. He'll hear back in three months if he has been accepted or not.
"There's a big chance I'll get it," he said with hope. "I reached the point I've dreamed about."
For now, he's building a life, learning German by watching YouTube videos and exploring what he hopes soon will be his new home. He's also learning how to cook for himself -- something he never had to do before.
"I want to stay here for 20 years!" he laughs, with a boyish grin. "Enough traveling."
But then he stops and changes his mind. There's one more trip Soultan wants to take soon -- a journey back to Athens to proudly show the security guard who mocked his forged European documents his new, real German ID.
Issa Issa contributed reporting from Istanbul.
TWO schools that once had pupils on opposite sides of the battlefield joined forces for an exhibition to commemorate the First World War. Abingdon School invited pupils from Ratsgymnasium Bielefeld in Germany for an exhibition on the Great War's impact on the schools.