The Iraqi government has been cutting its scholarships for students to study abroad. This has caused stress for Iraqi students in Germany, who now have no way to finance their graduate education in Europe.
Dutch voters head to crunch parliamentary polls in two months time, heralding the start of a "super election year" in three of Europe's leading economies: The Netherlands, France and Germany. After the surprise Brexit result in Britain and as Donald Trump's inauguration looms on Friday in the United States, the spotlight is shifting to the continent's future political landscape. "It's going to be something of a 'super election' year in Europe," said University of Amsterdam political analyst Claes de Vreese.
By Madeline Chambers BERLIN (Reuters) - Germany's Constitutional Court looks likely to reject on Tuesday a historic attempt by the country's 16 federal states to ban the far-right National Democratic Party (NPD), described by the intelligence agency as racist and anti-Semitic, say law experts. This is harder to prove, as the party has failed to capitalize on the refugee crisis, which shows its weakness as a political force while the anti-immigrant Alternative for Germany (AfD) has soared to 15 percent in some polls. "The signs are mounting that the court will not ban the NPD," said Oskar Niedermayer, politics professor at Berlin's Free University.
Europe is still reeling from a tumultuous year after the fractious Brexit vote, multiple terror attacks and an ongoing refugee crisis. On the heels of this turmoil, Germany, the Netherlands and France are all set to hold elections in 2017 ? three states where populist far-right parties look set to make significant gains.
The past year has been a boost to these anti-EU, anti-immigration parties, which have rushed to capitalize on economic, political and ethno-nationalist frustrations. In the months ahead, some of the most well-known populist far-right politicians will see if their rising public support can actually translate into political power.
Although these parties are promoting a narrative of a surging silent majority that will upend "elite" politicians and return power to their narrowly defined version of "the people," there is nothing inevitable about the populist far-right's rise. This was evident last month when Austria's Freedom Party candidate Norbert Hofer lost a presidential election that he was widely expected to win.
Current polls also show that in each of Europe's major upcoming elections, the populist far-right is far from governing. The surprising results of the U.S. elections and Brexit referendum have buoyed these parties' hopes, however, and given them a talking point that the public should not believe the polls. 
Here is a look at the state of major far-right parties in the three European nations that will hold elections in 2017.
The Netherlands: Geert Wilders and The Party for Freedom
Scheduled Election Date: March 15
The first major election in Europe is scheduled to take place on March 15 in the Netherlands. Dominating headlines and leading polls ahead of this vote is Geert Wilders, the country's populist anti-Islam politician and leader of the Party for Freedom, or PVV. 
Wilders has been a consistent presence in Dutch politics since at least 2004, when he split with the People's Party for Freedom and Democracy, or VVD, after it backed Turkish accession talks with the European Union. Forming his own party in the aftermath, Wilders has positioned himself as one of Europe's loudest far-right voices. 
Wilders, like many far-right populists, has defined himself through opposition. He is against the EU, the Euro currency and immigration. Most fervently, he opposes Islam, which he describes as a totalitarian ideology. Some of Wilders' anti-Islam policies include calling for a ban on the Quran, halting immigration from Muslim majority countries and deporting Dutch Muslims with dual citizenships if they break the law. He also wants to ban mosques and shut down Islamic schools, as well as asylum centers.
Wilders has maintained a consistent spot in the limelight through his extreme platform and Islamophobic rhetoric. He's also aligned himself with likeminded populist figures such as France's Marine le Pen and President-elect Donald Trump, who he openly supported earlier than most of Europe's far-right. In early December, Wilders was back in the headlines after he was convicted, though not penalized, in a hate speech trial for discriminatory remarks he made against Moroccans at a campaign rally in 2014. Less than two weeks later he was voted Dutch politician of the year in a public television station's poll.
An Ipsos poll of Dutch voters released last month shows that 46 percent believe the PVV will become the strongest party after the election, the highest number for any party running. But given the multiparty structure of Dutch politics, it's extremely unlikely that Wilders will gain power, despite his popularity. The more probable scenario is that a coalition of more centrist-leaning parties band together to form a government, excluding and effectively sidelining the PVV.
Even if this is the case, Wilders will hold seats in parliament and his popularity may force Dutch policy makers to shift to the right. Some policies associated with the populist far-right already have support in parliament. For instance, the country's lower house passed a partial ban on face veils last month, a proposal Wilders supports as an incremental measure towards much more extreme policies.
France: Marine Le Pen and The National Front
Scheduled Election Date: April 23 
The National Front's Marine le Pen is currently the favorite to make it to France's second round run-off in presidential elections this spring. Although there's no indication she is likely to win the presidency in that second vote, Le Pen is hoping to defy the polls. She has tried to draw comparisons with President-elect Donald Trump's surprise win in U.S. elections, and even showed up in Trump Tower on Thursday.
Much like Trump, Le Pen has been campaigning recently on border security and bringing back jobs ? especially in manufacturing ? from abroad. She is also advocating a return to the Franc for a national currency, and exit from the European Union. The National Front platform also calls for heavy restrictions on immigration, which Le Pen has blamed for terror attacks.
Le Pen took over the National Front in 2011 from her father Jean-Marie Le Pen, one of the founding fathers of modern Europe's populist far-right. She has tried to distance the party from anti-semitism and racism charges against her father, who has been put on trial in the past for his comments minimizing the Holocaust. But the younger Le Pen's hardline stances opposing immigration, Islam and the EU keep the party rooted in populist far-right ideology. 
Recent polls put Le Pen at around 22 percent of the vote, which is currently enough to advance her into the second round. In this scenario, she would face conservative Francois Fillon of the Republican party and likely lose handily.
There is also the possibility that Le Pen will be shut out of a second round entirely. Independent Emmanuel Macron has made headway in recent polls to gain ground on Le Pen, creating the possibility that he will be the one likely to face off with Fillon during the final vote. If that were to happen it would be a crushing defeat to Le Pen and the National Front's narrative of a growing movement that will upset establishment politics.
Germany
:  Frauke Petry and Alternative for
Germany
Scheduled Election Date: October 22 (at the latest)
German Chancellor Angela Merkel is seeking to be elected to a rare fourth term in October, but she has faced pressure from the upstart, anti-immigration Alternative for Germany party, or AfD, in the last year. The AfD made significant gains in state elections, while leader Frauke Petry gained media attention for her anti-immigrant statements and harsh criticism of Merkel.
Petry, a 41-year-old businesswoman-turned-politician who holds a doctorate in chemistry, has led the AfD since 2015. The party originated four years ago as a reaction to Germany's involvement in European bailouts, but Petry's victory in a leadership election marked a shift in policy. The AfD began to heavily embrace anti-immigration and anti-migrant sentiment, as well as ratchet up attacks on Merkel's asylum policy. Some of the party's early leaders decried the xenophobic shift, including founder Bernd Lucke who quit the AfD after losing the conference vote to Petry. 
The AfD surged in popularity under Petry, who has played to fears of terrorism and the integration of hundreds of thousands of refugees into German society. Petry has attracted controversy, and publicity, for such extreme anti-migrant rhetoric. In January 2016, she was widely criticized after floating the idea that police should be able to shoot migrants crossing into Germany illegally. Elements of the AfD have also advocated for anti-Islam policies such as banning minarets on mosques, and issued a manifesto called "Islam is not a part of Germany."
Although the AfD is set to make large gains in the upcoming election ? polls show it's on track to become Germany's third largest party ? the country's multiparty system gives it little chance of governing. Merkel is likely to win a fourth term, according to polling, and her grand coalition of the CDU and SPD has a strong chance to continue. The chancellor's popularity has indeed wavered over the past 12 months, in part due to controversy over refugee policy, but it remains high at almost 60 percent. As parties position themselves for this year's election campaign, however, the AfD will make every attempt to bring that number down.
-- This feed and its contents are the property of The Huffington Post, and use is subject to our terms. It may be used for personal consumption, but may not be distributed on a website.
At this point most people know about neonicotinoids and the serious risk they pose to honey bees. Bees are a link in a chain of biodiversity and pollination of incredible value to our food production. Up to 75% of our crops directly or indirectly depend on pollination. We need to start protecting our pollinators against the threat pesticides like neonicotinoids pose. In 2013 scientific findings in Europe lead to a partial ban of four of the worst bee-harming pesticides (clothianidin, imidacloprid, thiamethoxam and fipronil) – at least when they are used on crops which are attractive to honey bees.
Neonicotinoids: a risk for bees and other animals
Hundreds of new studies show threat more serious than thought
Since 2013 research on the impacts of neonicotinoid pesticides has continued. Greenpeace France asked one of the leading institutes in this field, the Sussex University, to review all new science. Two independent scientists analysed hundreds of studies and pulled together a new report. The report paints an even more worrying picture. It reveals that neonicotinoids are not only a serious threat to honey bees, but also for a broad range of other animals, including bumble bees, butterflies, birds and even water insects.
Bumblebee pollinating an Echinacea plant in Germany.
Industrial agriculture: a threat to wildlife and environment
Some wild bumble bees are already in decline and becoming extinct. Neonicotinoids can be found in the plants of neighboring agricultural fields and in a wide range of different waterways, including ditches, puddles, ponds, mountain streams, rivers, temporary wetlands, snowmelt, groundwater and in the outflow from water processing plants. The data available for other species paint a similarly worrisome picture. Many farmland butterflies, beetles and insect-eating birds, such as house sparrows and partridges, come in contact with pesticides either directly or through the food chain. Water insects can get exposed to neonicotinoids through its leaching from agricultural soils, from sowing and spraying machines and from water systems in greenhouses. These toxic substances are in our environment, not just in agricultural fields.  
A combine harvester processing a field of wheat in France.
Let's break the cycle of pesticide dependency
The decline of our pollinators is a symptom of a failing industrial agriculture system which drives biodiversity loss, destroys foraging habitats and relies on toxic chemicals. Pollinators are routinely exposed to insecticides, herbicides and fungicide. If we're going to take the protection of our pollinators seriously, we must fully ban bee-harming pesticides, starting with the three neonicotinoids.
To break our dependency on synthetic chemical pesticides we also have to move towards ecological alternatives.
Butterflies enjoy flowers in an ecological wheat field near Valence, France.
Ecological farming protects our pollinators
Ecological farming maintains biodiversity without any chemical pesticides or synthetic fertilisers. It also increases the overall resilience of our ecosystems. Many European farmers are willing to change their agricultural practices, but are dependent on pesticides and fertilisers and stuck in this system. 
Politicians must help farmers switch to ecological methods. They must eliminate the most environmentally harmful subsidies and shift public spending to research and solid rural development projects which include ecological farming. We have a long way to go, but it's the only way to protect our birds, butterflies, bees and other pollinators.
Anne Valette is the Project lead of European ecological farming project at Greenpeace France 
By Madeline Kennedy (Reuters Health) – - Grandparents who help out occasionally with childcare or provide support to others in their community tend to live longer than seniors who do not care for other people, according to a study from Berlin, Germany. Having full-time custody of grandchildren can have a negative effect on health, but occasional helping can be beneficial for seniors, the researchers write in the journal Evolution and Human Behavior. "Having no contact with grandchildren at all can negatively impact the health of grandparents," said lead author Sonja Hilbrand, doctoral student in the department of psychology at the University of Basel in Switzerland.
By Madeline Kennedy (Reuters Health) – - Grandparents who help out occasionally with childcare or provide support to others in their community tend to live longer than seniors who do not care for other people, according to a study from Berlin, Germany. Having full-time custody of grandchildren can have a negative effect on health, but occasional helping can be beneficial for seniors, the researchers write in the journal Evolution and Human Behavior. "Having no contact with grandchildren at all can negatively impact the health of grandparents," said lead author Sonja Hilbrand, doctoral student in the department of psychology at the University of Basel in Switzerland.
Scientists from the Friedrich Schiller University in Jena, Germany, have found that hops in beer can lessen the harm done to the liver following a night of heavy drinking.
German police say there's evidence an Afghan refugee suspected of raping and killing a 19-year-old university student in Freiburg was also convicted of attempting to kill another woman in Greece.
Quadriplegia, mostly due to cervical spinal cord injury caused by traffic accidents, falls and violence, deprives patients of control of all their limbs. For the rest of their lives, such people are bound to wheelchairs, incapable of performing even the simplest tasks, such as lifting a fork or a cup. Researchers at the University of Tubingen, Germany, are experimenting with a hand exoskeleton that may make quadriplegics' lives easier. VOA's George Putic reports.
Most lung cancer patients survived four months longer on an immunotherapy drug than those treated with chemotherapy, according to trial results published Monday. Patients with non-small-cell lung cancer -- which represents by far the majority -- survived for 13.8 months on average on the drug called atezolizumab, compared to 9.6 months for those on chemotherapy, the study authors said. "Atezolizumab reinvigorates patients' immune systems against cancer," the study's lead author Achim Rittmeyer of the University of Goettingen in Germany, said in a statement.
A team from the University of Tubingen in Germany has developed an external machine interface, which does away with the need for invasive electrodes and could help patients to live more independently.
German Chancellor Angela Merkel wants to ban the full-face veil worn mostly by Muslim women as a way to stop "any parallel societies developing" in Germany. Merkel had just been re-elected as chairwoman of her Christian Democrat Union (CDU) party at its annual conference Tuesday when she said the burqa should be forbidden "wherever legally possible," which would include schools, courts and other public buildings. "In communication between people, which is of course essential to our...
This press review has been translated from the French by Simon Pickstone
Die Zeit's Robert Misik is in two minds regarding the new candidacy of Angela Merkel, whom he sees as one of the main causes of the current global economic crisis. But, he thinks, it is precisely for this reason that she has a major historic challenge to overcome during her possible fourth term in office:
With Trump's election, in the middle of the chaos from Putin, Brexit, war [...], Merkel must take on an entirely unexpected new role: the New York Times called her 'the last person defending the liberal west' [...]. But it is all the same paradoxical that it falls on Merkel to save the western world. Because the German Chancellor [...] is one of the key people responsible for the current situation, where we really have to defend pluralistic democracy. The austerity politics we find in Europe, initiated by Germany, consists of reducing incomes for normal people [...] and is one of the causes of the malaise we currently find ourselves inhabiting [...]. Merke well knows that she is identified with this politics. And that changing course would go hand in hand with an admission of guilt for having made a huge error. And, as we well know, this is not an easy thing for politicians. But if there is anyone who has mastered the art of slowly and steadily changing policies, adapting them pragmatically and doing the opposite of what you previously said, without any dramatic gestures, as if nothing were amiss, it is truly Angela Merkel.
Angela Merkel wants more, argues Anja Maier, columnist for Die Tageszeitung, but she reminds readers that Germany has changed over the last 11 years of her administration and it is principally Alternative für Deutschland that will stand in the way of her reelection – 
The revolution has therefore not happened. Angela Merkel wants to stand again as Chancellor [...]. This is not so surprising. Anyone who has seen her work over these last few months would notice it: not only does she love being Chancellor but she still has lots of initiatives. She is not lacking in ideas. And yet it will not be a shoe-in for her. [...] The AfD's strategists are likely already coming up with their first slogans: 'Renewal instead of immobility' -- something of that sort. [...] So the establishment parties and their representatives can now show what politics can say for them. They must make proposals, say what they want to change from 2017. Employment, taxes, education, trade, ecology and development -- these are the themes that ultimately concern everyone. But many people who have lost it from sight.
"If Angela Merkel wins the 2017 election and stays the full term, she will have governed Germany for 16 years, making her, alongside Helmut Kohl, the longest-serving German leader since Bismarck." writes *The Guardian *in its unsigned editorial the day after she announced her candidature
There are good reasons for Mrs Merkel's decision. In uncertain times, it is reassuring that the leader of Europe's most important nation holds to the principles of freedom, openness and democracy that have helped to rebuild and reunify postwar Germany. She got plenty wrong about the migration crisis, but her liberal approach contrasted with the anti-migrant upsurge elsewhere in Europe. Her decision to stand up to Vladimir Putin in Ukraine has checked some Russian ambitions. If Italy is forced out of the eurozone or Marine Le Pen is elected in France, Europe may be better able to ride out the challenge with her at the helm. [...] But the Germany and EU that Mrs Merkel may lead at the end of this decade are very different from the Germany and EU of 2005, when the glow of European post-cold-war stability and growth still applied. They must adapt again if they are to prosper. That means forms of European cooperation – hopefully including Britain – that provide Europeans with hope and security not fear and instability. Germany cannot carry the burden of achieving this alone. [...] If Mr Trump allows Mr Putin to have his way in eastern Europe and the Baltics, German coalition politics may mean Mrs Merkel will struggle to stand in Russia's way. [...] It may be Mrs Merkel's fate to stop things getting any worse, not resolve them. That is not to be sneezed at. Yet she can do better. She thinks in global terms. Since she is running again, she should make use of her practicality and trust to offer an achievable vision for Germany and Europe. This needs new thinking, not old.
Regarding Merkel's fourth nomination as candidate for Chancellor, the conservative daily praises her leadership of the German government over the last few years, because "a certain talent is needed [...] to lead without coming across as arrogant." For ABC, Merkel
has asserted herself at the head of Europe's political leadership [...]. Naturally, her tenure has seen controversial decisions, like her excessive rigour in dealing with the Greek crisis, her magnanimity in welcoming refugees and so on. But at any rate, you cannot criticise her for a lack of leadership. Merkel has never shied away when most other European governments were paralysed or incapable of reaching an agreement. Germany is the cornerstone of stability and progress in Europe, and not just for its economic and demographic clout. [...] The years to come may well be very complicated for us Europeans if the tide of populist and demagogic nationalism continues rising. Merkel and her talent will be essential to us.
Tomasz Bielecki, the columnist for Gazeta Wyborcza, argues that "Chancellor Merkel is the only European leader with enough clout to stop populism, fight to maintain the unity of the EU and to stand up to the Kremlin." He judges that, on the whole, the status quo in Germany presents more advantages than drawbacks. He writes, "her decision to run for a new mandate in 2017 is good for Poland. The series of events in Europe and the US is so troubling that we should reinforce our ties to German despite the tensions between the Law and Justice government and Berlin." Angela Merkel is aware of the special role her country has played in Europe. Nevertheless, he argues German hegemony in Europe is not a bed of roses:
at the start of the eurozone crisis, the Germans adopted a budgetary policy that was inadequate because it was too draconian. But, more importantly, Merkel cannot stay at the head of the country forever and we don't know what the policies will be of her successors in a decade's time. Preserving the foundations of European integration is therefore essential for Poland and Germany today. The EU institutions, in particular the Commission, must therefore preserve their regulatory roles within the Union, partially limiting the power of the largest member states.
"Over the last two and a half years, Merkel has mobilised and maintained Europe's cohesion regarding Moscow following its annexation of Crimea," notes in Corriere della Sera. For the columnist,
it was unthinkable to leave at the moment when the new US President Donald Trump could seek an agreement with Vladimir Putin that would place the EU in the worst crisis in its history. Until now, she has acted according to her sense of responsibility. Now there is something more risky at work: the wish to defy those who, riding the wave of the refugee crisis, have predicted the Frau Merkel would not be the Chancellor at the end of 2016. And the fact no successor has been found in the CDU, the largest party in the country that will very likely lead the government after the elections of Autumn 2017. The choice of running as candidate again is therefore risky, but virtually inevitable. Will she win? For now, the polls say yes, but they are not clear on what alliances she will have to make to establish a government. What is certain is that it will be a new Angela Merkel. Her refugees policy has changed her political stripes; she no longer takes a wait-and-see approach. And the thought of not having to run for a fifth term in 2021 will make her bolder. Just a little.
Germany's government is urging against making political capital from the rape and murder of a student in the university city of Freiburg. Police have detained a teenager from Afghanistan as a suspect.
Germany
's vice chancellor says the arrest of a 17-year-old Afghan migrant suspected of raping and killing a university student must not be used for "rabble-rousing and conspiracy propaganda." The teen, who entered
Germany
last year as an unaccompanied minor, was arrested Friday .
It was billed as a rally for students to demand free tuition from public institutions of higher education and lodge a cornucopia of grievances. Instead, some giddy demonstrators devolved into a pack of rabid haters. "Death to Jews! Death to Jews!" members of the crowd shrieked. This didn't happen in Germany in the 1930s, nor...
For the first time, scientific research conducted at University of Bonn, Germany, has shown short-term sleep deprivation can increase cardiac contractility, blood pressure and heart rate. This study examines how working a 24-hour shift specifically affects the cardiac function.
Bringing de-radicalization projects into schools is a major new challenge for European governments. Now the international media platform "Extreme Dialogue" is offering a new approach in Germany.
As "Fawlty Tower" fans mourn the death of Andrew Sachs, who played well-meaning but disorganized Spanish waiter Manuel on the cult BBC series, John Cleese paid an emotional tribute to his former co-star.
"Just heard about Andy Sachs. Very sad … I knew he was having problems with his memory as his wife Melody told me a couple of years ago and I heard very recently that he had been admitted to Denham Hall, but I had no idea that his life was in danger," the Monty Python co-founder wrote on Twitter Thursday after news of Sachs' death at age 86 on Nov. 23 was made public.
"A very sweet gentle and kind man and a truly great farceur. I first saw him in Habeas Corpus on stage in 1973. I could not have found a better Manuel. Inspired," he said.
Also Read: Andrew Sachs, 'Fawlty Towers' Star, Dies at 86 (Report)
Cleese added that he "wrote the foreword to his book a couple of years ago, which apparently 'moved him to tears,'" before closing out by saying that he was "going on stage now."
The "A Fish Called Wanda" star is currently on tour with former Monty Python sidekick and Cambridge University classmate, Eric Idle.
According to Andrew Sachs' wife, Melody Sachs, the actor had suffered from macular dementia, which he was diagnosed with in 2012.
Also Read: Ex-NFL Player Joe McKnight Fatally Shot in New Orleans
"We were happy, we were always laughing, we never had a dull moment," the Daily Mail reported Melody Sachs as saying. "He had dementia for four years and we didn't really notice it at first until the memory started going."
Despite he illness, his widow said, "I never once heard him grumble."
Also Read: Keo Woolford, 'Hawaii 5-0' Actor, Dies at 49
"Fawlty Towers," which starred Cleese as inept hotel owner Basil Fawlty, ran for two seasons from 1975 to 1979, but went on to become a comedy classic both in the U.K. and America.
Born in Germany, Sachs moved to England with his family in 1938. Initially working in radio and on stage, Sachs made his screen debut in 1959's "The Night We Dropped a Clanger."
In addition to "Fawlty Towers," Sachs' television credits included "The Saint" and "Randall and Hopkirk."
See Cleese's tweets below.
Just heard about Andy Sachs. Very sad….
I knew he was having problems with his memory as his wife Melody told me a couple of years ago…

— John Cleese (@JohnCleese) December 1, 2016
…and I heard very recently that he had been admitted to Denham Hall,but I had no idea that his life was in danger. A very sweet gentle…

— John Cleese (@JohnCleese) December 1, 2016
…and kind man and a truly great farceur.I first saw him in Habeas Corpus on stage in 1973.I could not have found a better Manuel. Inspired

— John Cleese (@JohnCleese) December 1, 2016
If media folk need more, I wrote the foreword to his book a couple of years ago,which apparently 'moved him to tears'
Going onstage now…

— John Cleese (@JohnCleese) December 1, 2016
Related stories from TheWrap:
Andrew Sachs, 'Fawlty Towers' Star, Dies at 86 (Report)
Jake Harris Assault: Arrests Made in Robbery of 'Deadliest Catch' Star
John Cleese Recaps 'Walking Dead' and It's Amazing (Video)
John Cleese, Taylor Swift Get Into Real-Life Cat Fight (Video)
Apple today began offering
Apple Music
Student Memberships in 25 additional countries around the world, cutting the cost of an Apple Music subscription by approximately 50 percent for students enrolled in a college or university. The discounts provided to students vary based on country.
Apple Music Student Membership plans appear to be available as of today in Austria, Belgium, Brazil, Canada, China, Chile, Colombia, Finland, France, Hong Kong, India, Indonesia, Italy, Japan, Mexico, the Netherlands, Norway, Russia, Switzerland, Singapore, South Africa, Spain, Sweden, Thailand, and the United Arab Emirates.
Student pricing was already available in the United States, Australia, Denmark,
Germany
, Ireland, New Zealand, and the United Kingdom following the
May 2016 debut of the student program
. Student Memberships are now available for Apple Music subscribers in a total of 32 countries.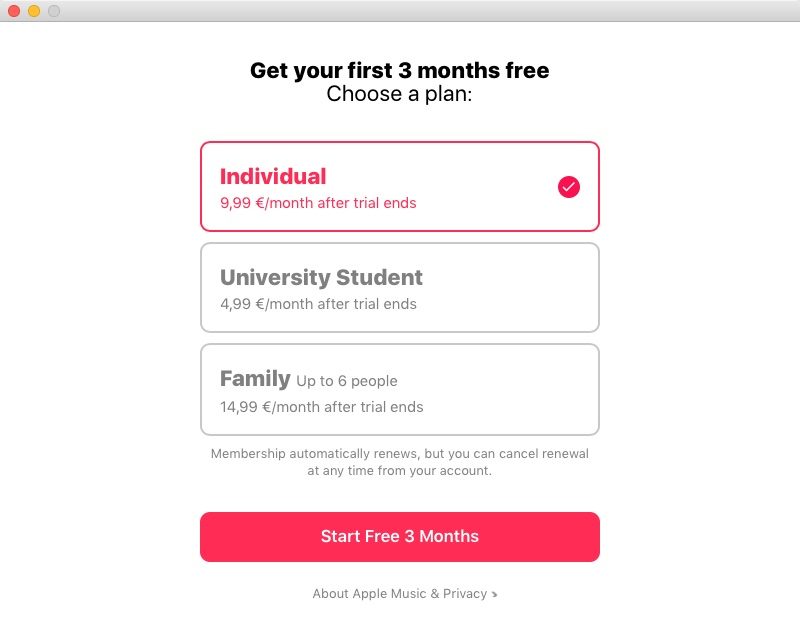 Apple Music student pricing in France
Student Memberships are validated using UNiDAYS, a student validation service. UNiDAYS confirms that Apple Music subscribers are enrolled in a degree-granting college or university before allowing customers to get the discounted subscription price.
Customers who subscribe to Apple Music with a student subscription will need to confirm their status on a regular basis through UNiDAYS. Subscribers who are no longer students or who have had student pricing for 48 months will be switched over to a full price individual Apple Music subscription.
Chinese Vice Premier Liu Yandong poses for a photo with some directors and teachers of German Confucius Institutes at the Free University of Berlin, Germany, Nov. 25, 2016.
Now more than 70 years later, Bletchley Park is preparing to host the UK's first national college of cyber education, with a first intake of students starting in September 2018. Work is under way to revamp several derelict buildings on the site where mathematician Alan Turing cracked Nazi Germany's "unbreakable" Enigma code. The new school for 16- to 18-year-olds, which will sit beside the historical attraction and the National Museum of Computing, will take 100 students in its first year.
Germany's private schools are violating the constitution by picking students according to their parents' wealth, a new study has found. The result is increasing social segregation and elitism, the authors say.
BERLIN (Reuters) - Older Germans will have to get used to taking instructions from tech-savvy youngsters if Germany is to succeed in transitioning to the digital age, Chancellor Angela Merkel said on Thursday. The government is pushing companies to make digitization a core part of their strategy under its initiative dubbed "Industrie 4.0" and wants to improve digital education and training. ...
Several German states have adopted new guidelines for discussing the LGBT community as part of sexual education classes. But for some, the "acceptance of sexual diversity" is akin to brainwashing.
I am hopeful and determined today. The first ever truly global agreement to fight climate change, the Paris Agreement, is having its first ever formal meeting. I have been working towards this moment for decades. This is no normal diplomatic affair. Few expected this first meeting to happen in this year. But here we are. The world has ratified the Paris Agreement at record speed. The cynics who claimed that the world would fail to unite against the threat of climate change were proven wrong. The world is coming together to address the biggest threat we face.
This gives me hope. Indeed, it is remarkable to what degree these global climate negotiations are now about good news. Over the past many years these negotiations were about raising the alarm. I remember clearly the fire alarm that Greenpeace rang at the negotiations in 2000. It was deafening!
But now, with every new step, I meet someone who is already building a better, renewable world. I hear of the host country Morocco shifting its electricity system to 52% renewable by 2030. I learn from my Greenpeace Mediterranean colleagues about the women of Tahala taking the lead in that transformation. Thanks to solar power, schools, mosques and the women's club in Tahala, a remote village, now have reliable, free electricity.
I learn that Brazil is refusing a $1 billion subsidy for coal. I hear about renewable energy in China providing jobs and opportunities even in an old coal town. 
These stories show that the energy revolution is delivering for people and planet alike. It is now unstoppable. We will be the generation that ends fossil fuels - and we will work hard to do so in a just manner while defending workers rights.
Of course, the election of Donald Trump, who is personally invested in fossil fuels, hangs like a dark cloud over sunny Marrakech. But country after country is making it crystal clear here that they will continue to act on climate change, no matter what the US does. Germany's environment minister said that Europe will make up for any emission reductions the US fails to make. Countries here know that climate action is in their interest. That the consequences of climate change are already happening now. They do not want to pay the price of more droughts or more ferocious hurricanes.
Greenpeace USA is preparing to fight hard for people and climate under president-elect Trump – and I know many states, cities, businesses and citizens will continue to advance climate action (also) in the US. So despite the dark cloud, there is a ray of light. The tide of history has turned. Climate action is happening. By continuing to fight for it we will ensure that it is here to stay – and we will win.
Please join in and support us!
Jennifer Morgan is the Executive Director of Greenpeace International 
A new study suggests that refugees in Germany actually have a better standard of education than previously thought. But economic institutions have expressed their doubts.
By Kathryn Doyle (Reuters Health) - Studies on the long-term effects of habitual barefoot walking or running are scarce, and there is only limited evidence for more foot problems and no evidence for higher injury rates among people who are often barefoot, according to a new review. "Having the huge 'barefoot debate' in mind, we expected more evidence on the long-term effects of barefoot locomotion," said lead author Dr. Karsten Hollander of the Institute of Human Movement Science at the University of Hamburg in Germany. Some populations, for example South Africa, include many people who are habitually barefoot, Hollander told Reuters Health by email.
By Kathryn Doyle (Reuters Health) - Studies on the long-term effects of habitual barefoot walking or running are scarce, and there is only limited evidence for more foot problems and no evidence for higher injury rates among people who are often barefoot, according to a new review. "Having the huge 'barefoot debate' in mind, we expected more evidence on the long-term effects of barefoot locomotion," said lead author Dr. Karsten Hollander of the Institute of Human Movement Science at the University of Hamburg in Germany. Some populations, for example South Africa, include many people who are habitually barefoot, Hollander told Reuters Health by email.
The Kurgalsky nature reserve, which traverses the shallow waters of the Gulf of Finland, numerous islands, and the Kurgalsky Peninsula between Russia and Finland, is home to a great diversity of flora and fauna, supporting numerous species of threatened plants, mammals, birds, amphibians and reptiles.
Forested area within Kurgalsky Nature Reserve, 31 Aug, 2016
Despite it's protected status, investigations conducted by Greenpeace Russia and a local NGO, Green World, have discovered drilling rigs inside the reserve. Kurgalsky is protected by two separate international conventions; one which protects wetlands, and another which protects the fragile marine ecosystem in the Baltic region.
Workers on one of the construction rigs currently operating in the Narva Bay protected area said they are involved in the Nord Stream 2 construction project on behalf of the Saint-Petersburg Museum of Soil Science, conducting soil testing for the consortium of energy companies responsible for the project. This multi-billion dollar pipeline is intended to deliver Russian gas directly to the EU. 
Rig in the Narva Bay Protected Area, 31 Aug, 2016
Another rig was discovered in the forest, a few kilometres from the shore.
This kind of work is supposed to be prohibited by Russian and International agreements, signed by Russia. Greenpeace Russia has filed a request to the Prosecutor's office in Leningrad regarding this violation of international environmental agreements.
The construction of Nord Stream 2 through Kurgalsky reserve will threaten the habitat destruction of many rare and endangered species of animals and plants, including the white-tailed sea eagle (Haliaeetus albicilla). Greenpeace experts have confirmed that nesting sites of the white-tailed sea eagle lie within 50 metres of the proposed pipeline route. Despite the risks, Nord Stream 2 AG has announced that running the pipeline through the Kurgalsky Reserve is the optimal route. 
The construction of this pipeline will inevitably threaten the habitat of this and the other rare species. It is a gross violation of Russian and international environmental legislation.
White-tailed sea eagle nest near to proposed pipeline route. 31 Aug, 2016
As Valery Buzun, a researcher with the Department of Vertebrate Zoology at the Biological Faculty of St. Petersburg University, states, "It will not be just a pipe. There will be also be infrastructure for the pipe. The pipe itself will pass under part of Luga River with it's islands, reed beds and meadows, home to many birds, wolves and bears. Laying pipe there will destroy this ecosystem".
Pipeline Location Marking, Kurgalsky Nature Reserve. 31 Aug, 2016
The Nord Stream 2 project will make Russian gas consumers like Germany, France, the U.K.  and the Netherlands, unwitting participants in an environmental crime. They will share the responsibility for the destruction of one of the most valuable natural areas under international protection, together with the Russian authorities and Gazprom, the Russian state-owned gas producer.  
Greenpeace Russia demands the compliance with Russian law and international agreements from the consortium of companies involved in the Nord Stream 2 project.
Evgeny Yusov is a spokesperson for Greenpeace Russia


The revelation came after researchers from the University Hospital Munster and Robert Koch Institute, both in Germany, asked 39 tourists to swab 400 bathroom door handles at 136 airports.
The researchers – from the University of Jena in Germany – found out that skipping uses up about 24 per cent more power than running at the same speed.
WASHINGTON ― Turkish Justice Minister Bekir Bozdağ met with U.S. Attorney General Loretta Lynch in Washington on Wednesday to press for the extradition of U.S.-based Muslim cleric Fethullah Gülen, who Turkey blames for orchestrating an attempted coup on its country on July 15.    
While a significant number of people in Turkey reportedly believe Gülen was behind the failed coup, the U.S. so far does not accept Turkish government information as sufficient for extradition. Gülen denies having any involvement in the coup or its planning. In his meeting with his U.S. counterpart, Bozdağ said he presented fresh evidence to back up the country's request on the self-exiled cleric.
Turkey has been battling several militant organizations domestically and internationally, including the self-proclaimed Islamic State and the Kurdistan Workers' Party, or the PKK, which the U.S. deems a terrorist organization. But, none of these are as dangerous as the supporters of Gülen, according to the justice minister, who calls the group, FETO, the "Fethullah Terrorist Organization." This, he claims, "presents a new kind of terrorism" with the degree of infiltration it has achieved in Turkish military, judiciary, police and state audit institutions.  

The Gulen movement 'presents a new kind of terrorism.'
Bekir Bozdağ, Turkey's justice minister

The Gülen movement has reportedly opened or inspired 160 or so charter schools in the U.S. using public funds, which are often the top performers in their towns, but Bozdağ said during a press conference in Washington Thursday that Gülen supporters, "disguise themselves as philanthropists promoting education and religion." He alleged that Gülen schools and educators in the U.S. are used to transfer large sums of money from Turkey and asked U.S. officials to investigate this flow of money.           
Bozdağ labeled Gülen as "Turkey's Osama bin Laden," and compared the cleric's movement to "Daesh," an Arabic acronym for the self-proclaimed Islamic State, in blaming him for the coup attempt. He said in statements to the press that Turkey had banned 35,970 people from 124 countries from entering the country and that authorities had arrested or deported 2,800 people from 92 different nations, all of them on terrorism-related charges.
Turkey has detained thousands and fired or suspended some 100,000 people in a crackdown and state of emergency following the summer putsch. But Bozdag said that "any allegations of injustice" during the purge are "being investigated thoroughly" and would be "made public immediately."
During the press conference, The WorldPost posed two questions to Bekir Bozdağ to learn about why the issue of Gülen's extradition is so important to Turkey and what it means for the future of Turkish-American relations. A third question was then asked in private. Below are the questions and the justice minister's answers.
What would be the impact on U.S.-Turkish relations if Gülen is not extradited?
When the process is still ongoing, I don't want to talk about a perception that he will not be extradited.
Of course, if the process is prolonged, or if something happens within that process, this would mean a huge blow to the relationship between Turkey and the U.S..
We, as Turkish people, do not understand or accept the fact that Fethullah Gülen, who is the murderer of 241 civilians and caused the wounding of around 2,194 people, bombed the parliament with F-16 jets [and] attempted the assassination of our president, is acting freely in the U.S..
We want [the] U.S. to understand us, because there is a growing anti-Americanism among Turkish people, as is observed by the representatives of the U.S. in Turkey.
The possibility that no sanctions are taken against the perpetrators of such grave offenses will increase the problem.
Although this is a legal process, we still believe that the U.S. will not choose a terrorist over Turkey.
The purge of suspected Gulenists has been very broad. Do you believe public institutions have now been cleared of those who plotted, supported or were sympathetic to the coup?
A purge of civil servants from the state for being a member of [the] Fethullah Terrorist Organization, or for having ties to it, is based on a law.
Each state has the right [to seek] high loyalty to the public order when it comes to civil service.
The state also has the right not to employ someone who isn't loyal to it, or is loyal to a terrorist or terrorist organization instead of the state.
The U.S. authorities, government and people will not allow a member of Daesh or other terrorist organization[s] to be employed by the U.S.. The same goes for Turkey.

'We cannot say that the purge is 100 percent over.'
Turkey's justice minister

We cannot say that the purge is 100 percent over. We are doing it for each and every one of the terrorist organizations; it's not confined to FETO. After the dissolving of [the] Soviet Union, many other countries that gained independence purged or cleansed those who were still attached to the Communist regime.
The same example is true for Germany as well. Around 500,000 people in East Germany were dismissed from their duties after the unification. This is an example we're seeing in all the countries.     
Are you satisfied now that the country is secure and ready to return to normal, or will the emergency powers remain? If so, for how long?
The extension of the state of emergency has to do with the extensive process that the government is going through. We need time to take careful steps. If there are mistakes, we need time to investigate them. There is, however, no state of emergency with the normal flow of life.    
The above interview was conducted in Turkish and has been translated and edited for clarity.
-- This feed and its contents are the property of The Huffington Post, and use is subject to our terms. It may be used for personal consumption, but may not be distributed on a website.
Eva Longoria is taking Donald Trump to task for his offensive comments about Latinos.
The actress, director and activist, who is of Mexican heritage, is the head of the Eva Longoria Foundation, a charity aimed at promoting education and entrepreneurship for Latinas in the U.S.
"The fact that he uses the word 'Latino' to be synonymous with 'illegal' is a mistake," she told Ocean Drive Magazine in an interview published Friday. "I'm ninth-generation American—I'm way more American than Donald Trump!" (Trump's mother, Mary Anne Trump, came to the United States from Scotland at the age of 18, according to the New York Times; his paternal grandparents immigrated from Germany.)
Since the beginning of his campaign, the Republican presidential nominee has faced strong criticism from the Latino community for his unceasing barrage of hateful comments. Recently, at the final presidential debate, he portrayed undocumented immigrants as violent criminals coming across the U.S.-Mexico border, referring to them as "bad hombres." This was incorrect for two reasons. For one thing, not all undocumented immigrants are from Mexico or Latin America. And native-born Americans are more likely than immigrants to commit crimes.
Longoria also voiced her support for Hillary Clinton, whom she has vocally endorsed (despite someone mysteriously slapping her image on a pro-Trump flyer earlier this month.) She said she doesn't really get why people don't find the Democratic nominee "likable."
"I know her on a personal level, and she is one of the most likable, amazing, engaged, compassionate human beings," she said. Even so, she added that quality leadership, not likability, should be what voters actually care about.
Editor's note: Donald Trump regularly incites political violence and is a serial liar, rampant xenophobe, racist, misogynist and birther who has repeatedly pledged to ban all Muslims — 1.6 billion members of an entire religion — from entering the U.S.
-- This feed and its contents are the property of The Huffington Post, and use is subject to our terms. It may be used for personal consumption, but may not be distributed on a website.
"Help is available," adds the advertisement broadcast on German television and over the internet, urging people who feel sexually attracted to children to join a unique therapy programme called "Don't offend" (Kein Taeter werden). Launched some 11 years ago, the largely publicly funded project by Berlin's top university hospital Charite calls on paedophiles to undertake a treatment that helps them control their urges. More than 7,000 people have sought information on the programme which is offered in 11 centres across Germany.
Scientists from the University of Duisburg-Essen, Germany, say the findings could help predict whether or not a paedophile might go on to offend (pictured is a stock image).
At least 11 schools in eastern Germany received threatening emails on Monday prompting police to deploy officers, but there was no indication of actual danger. "We found out from some schools in Leipzig this morning that they had received an email with threatening content. At least nine schools in Leipzig and two in the city of Magdeburg received the emails.
Police say that schools in several parts of
Germany
have received emailed threats of violence and authorities are working to figure out who and what is behind them.
At the center of Republican presidential nominee Donald Trump's campaign is the proposal to build a "great, great wall" along the United States' border with Mexico ― and to make Mexico pay for it.
And as Americans debate the legitimacy of this immigration policy, several European countries are working hard to build walls with the same purpose as the one Trump has suggested: keeping migrants and refugees out.
Border walls have been around for thousands of years ― think of the Great Wall of China, which was built to fend off invasions, or the Berlin Wall that divided East and West Germany until 1989. The irony is that much of the European Union has for years been defined by unrestricted movement between countries.
Until last year.
"In 2015, borders and walls seemed to burst onto the global agenda in the context of migration and halting spontaneous movement," Reece Jones, associate professor of geography at the University of Hawaii at Manoa, wrote earlier this month for the Migration Policy Institute. 
Some European countries within the free-movement Schengen zone are "reverting back to their enforcement of national borders," Susan Fratzke, policy analyst at the MPI, told The Huffington Post.
Other countries are introducing border checks where they previously did not exist. Guards between countries like France and Belgium, for example, now check travelers' documentation.
And some countries, like Hungary, have decided to build physical walls. 
"Those barriers have been the most dramatic," Fratzke added.
This is happening for several reasons.
It's important to keep track of the high number of refugees and migrants arriving to some countries, Fratzke said. This became evident in many countries last year, when so many refugees applied for asylum that systems were completely backlogged.   
On the other hand, she said, there are the countries where "border control has been a populist measure to try to respond to inflamed public reaction to people who are arriving." Hungary, for instance, recently held a referendum in which 90 percent of voters chose to reject EU-mandated refugee resettlement quotas (that decision is moot, however, because less than half of the total population voted).

People still try to cross the border. They just do in a different place or through a different method.
Reece Jones, associate professor of geography at the University of Hawaii at Manoa

Experts agree that physically blocking people from entering the country is not an effective way to prevent migration.
"People still try to cross the border," Jones told HuffPost. "They just do in a different place or through a different method." 
Border walls might slightly deter refugees in places like Greece, Fratzke added, "but if you look at the central Mediterranean [between Libya and Italy], there's been an increase in flows and we actually saw more deaths."
Check out what the new, fortified Europe looks like:
France
British officials announced last month that they would finance the construction of a wall to keep out the migrants and refugees living in the "Jungle," a camp in Calais, France, where about 7,000 people live.
The steel structure, already nicknamed the "Great Wall of Calais," is expected to be 13 feet high.
Although less than a mile long, the "get out" symbolism that the wall creates is unmistakable. The U.K. border actually extends into Calais, meaning that the Brits are literally stretching across the English Channel and putting up additional fortifications to prevent migrants and refugees from reaching their shores. 
Many of the people living in Calais and Grande-Synthe, a nearby refugee camp also housing thousands, had attempted to leave France by jumping onto moving trucks bound for the English Channel. 
Turkey-Syria
Turkey, too, has started building a concrete wall along its entire border with Syria ― that's a 560-mile wall ― to try to stem the flow of refugees pouring in from the war-torn country. Officially, the Turkish government claims to welcome Syrians with open arms. 
Once completed, the wall is expected to stand 10 feet high tall and almost 7 feet wide. Construction is projected to be completed by February, Reuters reported.
Almost 3 million Syrian refugees currently live in Turkey, according to the U.N. Refugee Agency.
Norway-Russia
Norway announced in August that it would begin constructing a wall ― 660 feet long and 11 feet high ― on its Arctic border with Russia.
Once walls in the Balkans started going up, migrants and refugees were required to find new routes westward. Some traveled north all the way through Russia and into Norway, prompting a crackdown in a country once known as a haven for migrants.
A total of 31,145 people applied for asylum in Norway last year, according to the country's Directorate of Immigration statistics ― almost 20,000 more than the year before.
The country already unsuccessfully tried sending people riding bicycles from Russia back across the border.
Hungary-Serbia
Hungary has been one of the fiercest anti-refugee campaigners since the crisis came to a head last year, and Prime Minister Victor Orbán has announced a second barbed-wire fence to stem the flow of people into the country. 
The first, which is 310 miles long, was built in the fall of 2015.
Some 4,992 migrants and refugees were stranded along the border with Serbia as of Oct. 5, according to the International Organization for Migration. This represents a 348 percent increase since early July, when Hungary passed a law allowing some people to be sent back to Serbia.
Orbán also eferred to migration as "poison" over the summer.
Some migrants and refugees have been severely abused along the border, Human Rights Watch reports. 
Austria-Hungary
Austria finalized plans in July to erect a barrier along its entire border with Hungary. For many, Austria represented the final frontier on a journey from Greece to Germany or Sweden.
The number of migrants entering Germany from Austria had fallen more than sevenfold between November 2015 and March 2016, according to Reuters.
Slovenia-Croatia
Slovenia constructed a 78-mile fence last year along part of its border with Croatia to try to close off a portion of the so-called Balkan migration route.
Macedonia-Greece
There are currently about 60,000 refugees languishing in Greece, per the latest U.N. Human Rights Council data. A few hundred have been sent back to Turkey, and, as was outlined in a March deal between the EU and Turkey, 4,140 have been resettled in other European countries, according to the IOM said.
The fate of the rest remains murky, but what is abundantly clear is that they won't be making it further into Europe since borders are all shut.
Bulgaria-Turkey
There's a similar situation in Bulgaria. A fence went up last year to keep people from flowing in from Turkey and was extended this past summer.
It hasn't managed to keep everyone out. The country recorded about a 717 percent increase in illegal arrivals, from 863 to 7,070, between March and September of this year, the IOM said.
What's Left?
Any and all routes leading out of Greece have been cut off, pushing people toward the most dangerous voyage of them all: southern Italy via Libya.
The danger doesn't seem to be deterring people. Search and rescue crews are busier than ever. More than 10,000 people were rescued in a 36-hour period recently. 
Although arrivals across all of Europe are down compared to last year ― 316,331 migrants and refugees entered Europe by sea in 2016 through Oct. 9 compared to 520,000 in all of 2016 ― more have died, according to the IOM. And arrivals to Italy are up by 6 percent compared to last year.
"Rather than endangering migrant lives and filling the coffers of the smugglers, the EU should focus on increasing resettlement quotas and creating corridors that allow safe passage," Jones, the geography professor, said. "If they don't, we will continue to see more and more migrant deaths in the years to come."
-- This feed and its contents are the property of The Huffington Post, and use is subject to our terms. It may be used for personal consumption, but may not be distributed on a website.
This summer, the United Nations International Resource Panel (IRP), published "Global Material Flows and Resource Productivity," a report that admits what ecologists have been saying for decades: Resources are limited, human consumption trends are unsustainable, and the resource depletion diminishes human health, quality of life, and future development.
The report shows that consumption of Earth's primary resources (metals, fuels, timber, cereals, and so forth) has tripled in the last 40 years, driven by population growth (increasing at about 1.1% per year), economic growth (averaging about 3% per year over the same period), and consumption per person, worldwide.
Economic growth has helped lift some regions from poverty and created more middle-class consumers, while enriching the wealthiest nations the most. The UN report acknowledges, however, that advances in human well-being have been achieved through consumption patterns that are "not sustainable" and that will "ultimately deplete the resources − causing shortages [and] conflict."
In 1970 - when ecologists in Canada founded Greenpeace and Club of Rome scholars prepared the original Limits to Growth study — a human population of 3.7 billion, used 22 billion tons of primary materials per year. Forty years later, in 2010, with a population of 6.7 billion, humans used 70 billion tons. Now, in 2016, we require about 86 billion tons, and the UN Resource Panel estimates that by 2050 we will require annually some 180 billion tons of raw materials, which Earth's ecosystems may not be able to provide.
Furthermore, modern technology has not made our economies more efficient, as promised. As technology has advanced, material consumption accelerated. Fossil fuel consumption has grown annually by 2.9%, metal ores by 3.5%, and non-metalic minerals by 5.3%. Since 2000, even as economic growth and population growth slowed, material demand accelerated. Frivolous consumption has increased among the rich, and we now spend increasing amounts of energy to extract lower grade resources, reducing productivity.
According to Alicia Bárcena Ibarra, co-chair of the panel, "The alarming rate at which materials are now being extracted … shows that the prevailing patterns of production and consumption are unsustainable. …  We urgently need to address this problem before we have irreversibly depleted the resources that power our economies and lift people out of poverty. This deeply complex problem … calls for a rethink of the governance of natural resource extraction."
Economic justice 
Meanwhile, large economic gaps remain between rich and poor nations, between North America and Europe on one hand, and all other world regions. To achieve economic justice and UN development goals, low income nations will require increasing quantities of materials. 
Today, the average citizen in Africa consumes about three tonnes of material resources each year, including infrastructure. In Asia, Latin America, and Eastern Europe, the average citizen consumes about 3-times as much, 8-10 tonnes of materials each year. In Europe and North America, average citizens consume about 20-30 tonnes of materials each year, 7-10-times the average African. The super-rich, elite, with multiple homes, airplanes, and exotic holidays, consume much more, in the range of 100-times the average African citizen, ten-times the middle-class citizen in Asia. The US, with less than five percent of world population, consumes about 30 % of global materials. 
Social justice goals and ecological goals sometimes appear in conflict, but the real conflict arises between the extravagant consumption of the wealthy and the subsistence consumption of the rest of the world. 
In 2008, the Global Footprint Network prepared the following chart that shows how nations measure up to the UN Human Development Index (vertical scale) and the Global Footprint Index (horizontal scale). Those nations above the horizontal red line meet the UN Human Development goals, those below fall short. Nations to the left of vertical red line live within the budget for a per-capita fair-share of Earth's resources. Those to the right use more than their fair share per person. The average person in the US uses about five-times their fair share of Earth's resources. The average person in Sierra Leone uses about half of a fair share. Several Asian and South American nations come close to achieving both — meeting UN Human Development goals with a fair per-capita share of resources — but the only nation that does achieve both goals is Cuba.  
Nations ranked by social development and material consumption: Nations that meet the UN Human Development goals, do so with unsustainable consumption. Those with sustainable levels of resource use are not meeting the UN development goals. Only Cuba achieves both. The challenge of our age is to learn to live sustainably while meeting basic human needs. To achieve this, extravagant consumption doesn't work, and modest living is the measure of social responsibility. Graphic by Global Footprint Network. 
A vast proportion of consumption in rich nations is wasteful, products designed to be wasteful and grow obsolete. According to industrial ecologist Robert Ayres, 99% of human-produced goods are consumed or become waste within 6 months.
The UN panel warns that "rapid economic growth occurring simultaneously in many parts of the world will place much higher demands on supply infrastructure and the environment's ability to continue supplying materials." If Earth cannot provide the material increases expected, then total human resource consumption will have to stabilize. How is this to be achieved?
Economy and materials
The imperative of industrial economy is growth, but the ecological data tells us to slow down. The conflict may be the supreme challenge of our age, almost entirely ignored by status quo politicians. The UN Resource Panel avoids the challenge by proposing twin strategies of "efficiency" and "decoupling" to allow global economic growth to continue.
Efficiency is the long-sought holy grail of technology, the belief that machines will produce the goods we want with less demand on resources. Decoupling describes the theory that more efficient machines, and wise strategies can create economic growth without consuming resources. Let's examine these beliefs. 
Efficiency: In 1865, William Jevons published The Coal Question, showing that technological efficiencies did not reduce coal consumption but increased consumption. Historically, when we become more efficient with a resource, we use more of it. The "Jevons paradox" applied to resource use in general. Efficiency often increases consumption. 
Energy efficient automobiles increased leisure driving, vehicle size, and suburban sprawl. Refrigeration efficiency led to larger refrigerators and more electricity consumption. In North America, according research by William Rees, as modern heating systems improved efficiency by 10-30% , living and working space per person increase on the scale of 100 to 300%, ten times faster, increasing total energy consumption for heating. According to a 1994 study by Mario Giampietro, the so-called "Green Revolution," increasing food production with hydrocarbons and fertilizers, led to increased population growth, degraded land, a trail of toxins, and more starving people.
Computer technology was going to solve this, making modern life more efficient, but in 1990, at the dawn of the personal computer revolution, global productivity stopped improving, and since 2000, productivity — economic production per unit of resource use or labour — declined. Computers sped up global economy, and we now use more fossil fuels, paper, and other materials than we did when personal computers became available.  
Decoupling: The UN panel's other theory proposes: "to decouple economic growth and human well-being from ever-increasing consumption of natural resources." The panel claims, "many countries have initiated policies to facilitate decoupling," but cannot offer any evidence of success. 
The global economy now needs more materials per unit of GDP, than required twenty years ago. Meanwhile, lower net energy; higher energy costs for resources, and growing environmental destruction per unit of economic activity undermine the hypothesis of decoupling. The UN appears to realize this since they project that annual resource extraction will increase to 180-billion tons by 2050.
Similarly the Intergovernmental Panel on Climate Change proposes "mitigation technologies" such as carbon capture, even though these technologies have not even slowed the growth of carbon emissions. Germany, the world leader in solar installations has seen no drop in emissions since 2009, while coal and LNG plants remain open. The UN agencies mean well, but cling to delusions. "They bombard us with adverts, cajoling us to insulate our homes, turn down our thermostats, drive a little less," says Tim Jackson, with the UK Sustainable Development Commission, "The one piece of advice you will not see on a government list is 'buy less stuff!'" 
Metabolism 
For the poorer nations, economic growth remains important, but the blind spot of international politics remains the taboo against recognizing the limits to aggregate global economic growth. We have now reached those limits, and wealthy countries must embrace this ecological reality. 
"Civilization has a metabolism, about 7.1 milliwatts per dollar of GDP (2005 US$)," explains ecologist Nate Hagens at the University of Minnesota. "Currently, 80% of nitrogen in our bodies and 50% of the protein comes indirectly from natural gas."  A study published in Bioscience, by J.H. Brown and colleagues points out that "energy imposes fundamental constraints on economic growth and development [similar to] scaling of metabolic rate with body mass in animals. … Additional economic growth and development will require some combination of (a) increased energy supply, (b) decreased per capita energy use, and (c) decreased human population. … The ruins of Mohenjo Daro, Mesopotamia, Egypt, Rome, the Maya, Angkor, Easter Island, and many other complex civilizations provide incontrovertible evidence that innovation does not always prevent socioeconomic collapse." 
During the global financial crisis of 2008 and 2009, Global material use actually slowed. Historically, economic recessions provide the only examples of reduced consumption, and here we may recognize the genuine solutions to resource consumption: allow and encourage wealthy economies to stabilize and contract.  The UN report recognizes that "the level of well-being achieved in wealthy industrial countries cannot be generalized globally based on the same system of production and consumption."
This part, they get right. Humanity needs a new economic model that does not require the delusion of endless growth in a finite global habitat.
==============   
References
UNEP Report, PDF: Global Material Flows, Resource Productivity, 2016; limits, overshoot
Energy Skeptic: Limits to Growth? 2016 United Nations report provides best evidence yet
Huffington Post: Consumption Of Earth's Resources > Tripled In 40 Years, UNEP
Climate News: Plunder of Resources 
Grassroots Recycling Network: Waste, Recycling and Climate Change
UN Sustainable Development Goals
Arithmetic, Population, and Energy: Albert Bartlett video lecture on exponential growth
The Way Forward: Survival 2100, William Rees, Solutions Journal, human overshoot and genuine solutions. 
(Soddy 1926, Odum 1971, Georgescu-Roegen 1977, Ruth 1993, Schneider and Kay 1995, Hall et al. 2001, Chen 2005, Smil 2008). 
Energy efficient automobiles increase leisure driving, vehicle size, and suburban sprawl (Jeremy Cherfas, 1991)
Refrigeration efficiency led to larger refrigerators and more electricity consumption (Daniel Khazzoom, 1987). 
Mario Giampietro: http://www.eco2bcn.es/publications_mgiampietro.html
J.H. Brown, et. al., Bioscience: http://bioscience.oxfordjournals.org/content/61/1/19.full
Researchers at Mainz University in Germany have found a link between intelligence and shortsightedness, saying those who wear glasses may often be smarter than those who don't.
China has signed agreements on the mutual recognition of higher education degrees with 19 EU member states, including France, Germany and Italy, according to the Ministry of Education.
The first biography of Adolf Hitler which presented him as "Germany's saviour" and compared him to Jesus may have been written by the future dictator himself, a Scottish historian has claimed. "Adolf Hitler: Sein Leben und seine Reden (Adolf Hitler: His Life and his Speeches)" was the first major profile of Hitler and appeared in 1923, authored by Victor von Koerber. Historian Thomas Weber, from Aberdeen University, has unearthed documents in a South African archive which indicates the book was "almost certainly" written by Hitler himself as a "shameless but clever act of self-promotion".
Much of the responsibility in caring for refugees arriving in Germany has fallen to local authorities. This has brought challenges, but also successful innovations that must be widely shared – and quickly, says Brookings Institution scholar Bruce Katz.
Between January 2015 and July 2016, 1.3 million migrants and refugees fleeing poverty and economic deprivation arrived in Germany. The arrival of so many people, most of them in need of a home, food and healthcare, posed immense humanitarian challenges for the country's leaders and communities as a whole.
A new study by the Brookings Institution found that much of the responsibilities for accommodating refugees in the country fell to those working at a local level. The lessons learned on the front lines of Germany's response to the crisis could have lasting implications for cities around the world, the study says.
The report, called "Cities and Refugees – The German Experience," was released last week during the United Nations General Assembly meeting in New York. Its authors, Bruce Katz, Luise Noring and Natnke Garrelts, examined how refugees have been distributed in Germany in the past 18 months and how cities across the country responded to that challenge.
They concluded that successful handling of the crisis will depend on whether European cities are given a greater voice in international decision making and receive greater financial and political support.
Refugees Deeply spoke with Bruce Katz, Centennial Scholar at the Brookings Institution, about the research.
Refugees Deeply: Nearly 60 percent of refugees today live in urban areas, placing huge responsibilities on local authorities. Yet these cities don't always have the funding or authority to respond adequately. How did that disconnect play out in Germany?
Bruce Katz: Germany is a federal republic with a federal government, 16 states and hundreds of cities and municipalities. Three of the states – Hamburg, Bremen and Berlin – are city-states and combine the functions of a city and a state. Responsibility for substantial domestic activities in Germany, like housing, schools and many of the labor market efforts are locally and state based.
Germany is a highly devolved federal republic and that has meant that cities do have power and agency. Responding to the refugee crisis, Germany's national government has used its powers to open the border, and to reset the rules around citizenship and integration. However, a lot of the responsibility for the response, not just in the delivery of services but also the actual design and financing of them, has fallen to local and state governments, and to a burgeoning network of nonprofits that has emerged in the aftermath of the crisis.
As this crisis goes forward and the focus shifts from short-term response to longer-term integration, there does need to be more of a federal role in investment and finance, and more support so that when one city cracks the code on a particular set of issues or comes up with an innovative response, other cities know about it in rapid fashion.
Refugees Deeply: How did the cities you studied handle the influx of refugees? What were the successes and what were the challenges?
Katz: The challenges were pretty substantial. The federal government distributed refugees according to a formula that was previously used to distribute research money to different states in the federal republic. That led to higher density in the city-states, particularly in Berlin and Hamburg, and affordability issues with housing.
The biggest challenge initially was finding accommodation for refugees that didn't just provide basic, humane shelter but were a platform for moving forward. We've learned, including from the aftermath of natural disasters in the U.S., that it's really critical to bring normalcy to people's lives as quickly as you can. That means running facilities for refugees in places with access to services and a guarantee that families have privacy and children can go to school as quickly as possible. That's what brings back routine to people's lives.
All of these challenges – housing, education, access to services – were magnified in states like Hamburg and Berlin because, as city-states, they have a limited amount of land. To their credit, they moved as quickly as possible to find accommodation and innovative ways to locate facilities. The old American notion that crisis begets innovation is very much apparent when you go to Germany and compare what the crisis looks like today and what it looked like last September.
Refugees Deeply: Could you describe one of the innovations that struck you the most?
Katz: I was struck by an effort in Hamburg called Finding Places, which is a collaboration betweenMIT, Hamburg City University, the city government and the residents of Hamburg. It's an open access data system allowing citizens to look at available land and buildings and verify whether they're really there. Citizens also help think about how their communities can begin to get past nimbyism and how to communally decide how to use assets so refugees aren't concentrated in particular parts of the city, but instead land and buildings are used smartly to distribute refugees and give them a good start.
In Berlin, I saw the use of shipping containers for housing in a very sensitive way. The community was well-landscaped, and it really felt like housing that a family could live in for a substantial amount of time. What we're always looking for when we're seeing the response to refugees is whether some of these lessons and innovations could be used for other issues: for example, the big homelessness problem in the U.S.
Refugees Deeply: David Miliband, president of the IRC(International Rescue Committee), argued at Brookings last week that it makes economic sense to invest in the resettlement of refugees. Have you found that to be the case in your research in Germany?
Katz: Europe definitely faces broader labor market and demographic issues because of the aging of society, but the response to refugees has been for humanitarian reasons first and foremost. I believe Germany really had a moral conviction to open up its borders and help people fleeing conflict. That requires a short-term response and a long-term response, and there are questions about how efficient and effective that response can be when you're faced with the arrival of tens of thousands of people in a very short period of time.
Integrating large numbers of people into your economic system, let alone your social system, requires an intense focus on education and skills. Going forward, the question of schools and skills is both imperative and incredibly challenging. Germany has a highly sophisticated economy with very rigid credentials, and that's a challenging labor market to integrate refugees in. You need to speak in German and you need to have a serious level of skill to access many of the jobs in the productive sector of the German economy.
Refugees Deeply: Many refugees prefer to resettle in areas where fellow nationals have settled. On the other hand, the potential formation of parallel societies with increasingly segregated urban neighborhoods is a major concern for policymakers. What policies could help refugees benefit from the support of a community and network, while at the same time avoiding patterns of segregation?
Katz: This is one of the most serious questions countries like Germany, France, Belgium and Sweden face – already from prior waves of immigration. It's not surprising refugees want to move to an area where there's more comfort and cultural familiarity when they first arrive in a place, particularly when they don't speak the language. The U.S., with its different migration waves, has seen this pattern repeat itself again and again.
One of the challenges is how this relates to the housing markets. We've seen that housing prices in certain parts of Germany are not just forcing people to specific parts of the cities, but are forcing people outside of the city. You'll find large numbers of migrants and refugees, not only in the core cities but in many small municipalities outside the city. Because housing and labor markets are metropolitan it will require a broader metropolitan response. We're undertaking research right now to thinking about multi-municipal responses, particularly in places like Germany where so much power is devolved down.
Where enclaves do exist, we need to think how we can ensure that they're as open and networked as they can possibly be. In the U.S., we've always talked about building neighborhoods of choice and connection. You want people to choose where they want to live, but those communities need to be connected into the broader city and the broader metropolis through labor markets, housing markets and other kinds of services and activities. I'm not saying the U.S. is a shining example, but once we start talking about city innovations, what happens in Houston matters in Hamburg and vice versa. Going forward, in responding to these kinds of humanitarian crises, we're going to see a lot more sharing across cities rather than just beyond national borders.
This interview was edited and condensed for clarity.
"Cities and Refugees – The German Experience" was released at a Brookings Institute event last week. Speakers included U.S. Deputy Secretary of State Antony Blinken, President of the IRC David Miliband and former United Nations High Commissioner for Refugees Antonio Guterres. You can read a summary of the discussion paper here and watch footage of the event below.
This article originally appeared on Refugees Deeply. For weekly updates and analysis about refugee issues, you can sign up to the Refugees Deeply email list.
-- This feed and its contents are the property of The Huffington Post, and use is subject to our terms. It may be used for personal consumption, but may not be distributed on a website.
The oldest known person was Jeanne Calment, a French woman who died in 1997 at age 122. However, the new findings don't mean that researchers know for sure that humans will never live longer than 122 years, said Steven Austad, a professor of biology and aging at the University of Alabama at Birmingham, who was not involved in the study. In the new study, the researchers looked at the Human Mortality Database, an international database with detailed mortality data that's maintained by researchers at the University of California, Berkeley and the Max Plank Institutes in Germany.
The oldest known person was Jeanne Calment, a French woman who died in 1997 at age 122. However, the new findings don't mean that researchers know for sure that humans will never live longer than 122 years, said Steven Austad, a professor of biology and aging at the University of Alabama at Birmingham, who was not involved in the study. In the new study, the researchers looked at the Human Mortality Database, an international database with detailed mortality data that's maintained by researchers at the University of California, Berkeley and the Max Plank Institutes in Germany.
If you're worried about holiday weight gain this year, you might have cause for concern: It seems weight gain surrounding festivities is a nearly universal truth, according to a new study conducted in Germany, the U.S. and Japan. 
Researchers found that citizens of these three countries put on weight at different times of year, each time corresponding to specific holiday celebrations in each country. This may come as a surprise to those who believe that weight gain in the holidays is a unique phenomenon in the U.S., or even only in the West.
The common denominator in all three countries was the Christmas-New Year holiday. The first 10 days after Christmas led to the highest average weight increase for all three groups: Americans gained an average 1.3lbs, 1.8lbs for Germans and 1.1lbs for the Japanese.
But the study also found that Americans gain weight during Thanksgiving, too, while for Germans the equivalent is the period around Easter. And for the Japanese, the bump happens surrounding a holiday period in the beginning of May called the "Golden Week."
Researchers chose the three countries because they represent different continents, said co-author Elina Helander, a postdoctoral researcher at Tampere University of Technology, Finland. 
Her study included 3,000 participants in all three countries who were given wireless digital scales to monitor their weight every day for a full year, starting from August 1, 2012. The researchers then assessed changes in the participants' weight compared to their initial weight.
The most interesting discovery the researchers made was that, while people would shed around half of the weight they gained during the holiday season almost immediately, the other half would remain intact well into summer and even longer.
Of course, seasonal variations in weight could also be at play: Studies show that most people exercise less and eat more during the winter. But the researchers said that holidays specifically accounted for at least some of the weight gain in the study.  
"Holidays are sharper peaks, whereas seasonal (gain) is associated with slowly varying trends," Helander told HuffPost. In other words, we gain weight more abruptly during a holiday period, while weight changes over a season tend to fluctuate more slowly.
Overall, the study confirms what people suspected for a long time: gaining weight over the holidays is real almost everywhere. But instead of frustrating us, this fact might actually help us get more savvy with our food next time we get into festive mood.
-- This feed and its contents are the property of The Huffington Post, and use is subject to our terms. It may be used for personal consumption, but may not be distributed on a website.
In the second installment of Syria Deeply's Experts to Watch series, meet seven doctors and researchers doing incredible work on public health in Syria. 
More than five years into the war, the public health sector in many parts of Syria is on the brink.
Medical infrastructure, particularly in opposition-held areas of the country, has been crippled by frequent, targeted attacks. Medicines and critical provisions are in short supply. Few medical workers are left. In the city of Aleppo, World Health Organization representative Elizabeth Hoff told Syria Deeply, roughly 95 percent of doctors have either fled or been detained or killed since the beginning of the crisis.
The desperate shortages have not only affected the care for victims of war, but also affect millions of patients suffering from chronic diseases, like diabetes, asthma, cancer and kidney and heart diseases. The Syrian American Medical Society estimated in 2014 that at least 200,000 Syrians had died from chronic diseases since 2011.
Meet seven experts working on the complicated and multifaceted health crises Syrians face.
Annie Sparrow
Dr. Annie Sparrow, an associate professor and deputy director of the human rights program at the Icahn School of Medicine at Mount Sinai, currently focuses on the Syrian conflict. Sparrow spends much time on the Turkey-Syrian border, documenting the health crisis and training Syrian medical workers. She has written extensively on the polio epidemic in the country, as well as the Assad regime's use of chemical weapons and its attacks on the Syrian healthcare system. She has also been extremely critical of the approach of some U.N. agencies to relief work during the crisis. Sparrow has been working on the intersection of medicine and human rights for more than a decade. She turned her attention to refugee health after practicing as a pediatrician in London and Perth and spending years in Africa working on topics like HIV, sexual violence in conflict, malaria and tuberculosis. Sparrow's on Twitter at @annie_sparrow.
Fouad M. Fouad
Fouad M. Fouad, a general surgeon in Aleppo, was the coordinator of the Syrian Center for Tobacco Studies and the director of a primary healthcare department in his hometown before the start of the war. Since leaving the country in 2012, he's been working at the American University of Beirut, focusing on health crises related to the conflict. Fouad painted a grim image of the state of Syria's health sector in a 2015 interview with Syria Deeply, explaining that thousands of doctors have left the country, infrastructure has largely been destroyed, medicine is in short supply and chronic illnesses are left untreated.
David Scales
In the summer of 2012, between the end of a postdoc in biomedical informatics at HealthMap.org and the start of his residency in internal medicine at Cambridge Health Alliance, David Scales traveled to Jordan to meet some of the hundreds of thousands of Syrian refugees who had crossed the border into the neighboring country. He spent two months with the Syrian American Medical Society and the National Arab American Medical Association, working with Syrian refugees in the Zaatari camp and at a spinal cord injury center in Jordan. Since then, Scales has written frequently about his work and the refugees he encountered. His academic writing has focused on infectious diseases and the structures and policies that complicate their handling. He tweets at @davidascales.
Elise Baker
Elise Baker is a researcher at Physicians for Human Rights and leads the Syria mapping project, which documents attacks on medical facilities and personnel in the country. She's the author of a July report on the dire conditions in in Madaya, a small, besieged town an hour's drive from Damascus where more than 80 people died of starvation. "The cost of political impasse is death and destruction in Syria," Baker told Syria Deeply in May after fighting intensified in Aleppo. "If Syria's leaders and the international community cannot reach a peace accord, there's no doubt attacks on healthcare will continue and the consequences will be deadly for everyday Syrians." Before joining Physicians for Human Rights, Baker studied the effects of post-conflict restoration and reconciliation in Burundi and Rwanda. Baker is on Twitter at @elise__baker.
Maher Aboumayaleh
Maher Aboumayaleh coordinates the health response of the Aga Khan Development Network to the Syria crisis. Previously, he was a member of the World Bank Civil Society Consultative Group on Health, Nutrition and Population and a director of Primary Healthcare in Latakia, Syria.
Zaidoun al-Zoabi
Dr. Zaidoun al-Zoabi heads the Union of Syrian Medical Relief Organizations, a coalition of humanitarian, nongovernmental and medical organizations providing relief and medical care to victims of the war. The organization was founded by Syrian health workers and is known for its impartiality. It runs several hospitals and medical centers in Syria, trains medical workers and funds medical supplies. Several of the organization's hospitals have been damaged or destroyed in the war. Originally from Daraa, Zoabi now lives in Germany but frequently travels to the region. He made an impassioned plea on CNN last year for the violence in his country to come to an end. "What wrong have we done to endure such a bloody, stupid war?! It is enough for us, for God's sake," he said.
Mahmoud Mustafa
Dr. Mahmoud Mustafa is a field ophthalmologist and the director of Independent Doctors Association (IDA), a Syrian nonprofit organization of Syrian medics providing healthcare services to the population of Aleppo province. A native of Aleppo, Mustafa and his colleagues work to reactivate and rehabilitate health facilities in the opposition-held parts of the region in an effort to cover the health needs of people living in one of Syria's most war-torn regions. Faced with the persistent attacks on health workers in the region, Mahmoud and IDA are strong advocates for the protection of medical workers and facilities in Syria.
This article originally appeared on Syria Deeply. For weekly updates about the war in Syria, you can sign up to the Syria Deeply email list.
-- This feed and its contents are the property of The Huffington Post, and use is subject to our terms. It may be used for personal consumption, but may not be distributed on a website.