Researchers of the Christian-Albrechts-University of Kiel (CAU), Germany, successfully integrated organic tin into semiconducting polymers (plastics) for the first time. Semiconducting polymers can be used, for example, for the absorption of sun light in solar cells. By incorporating organic tin into the plastic, light can be absorbed over a wide range of the solar spectrum. The new polymer is introduced by project leader Professor Anne Staubitz and the Ph. D. student Julian Linshöft in the renowned professional journal "Angewandte Chemie, International Edition."
MIAMI (AP) — A South Florida dermatologist credited with helping develop the first baldness remedy recognized by the U.S. Patent and Trademark Office has died. He was 80.

Dr. Guinter Kahn's daughter Michelle said her father died Sept. 17 at a Miami hospice. His health had been declining since a stroke eight years ago. Kahn's name was added to the patent for minoxidil in 1986 after a 15-year legal struggle with Upjohn Co. Minoxidil is the active ingredient in Rogaine.

Upjohn originally synthesized minoxidil to treat high blood pressure in the early 1960s. When Dr. Charles Chidsey — one of the company's consultants working at the University of Colorado's medical school — noticed the drug stimulated hair growth, Chidsey went to Kahn and his medical assistant, Dr. Paul Grant. Kahn was running the school's dermatology department at the time.

The Miami Herald (http://goo.gl/KZJqqt) reports that Kahn and Grant eventually developed a topical solution for minoxidil in 1971. The pair earned royalties, said to be 2 to 5 percent, from Upjohn's $200 million of wholesale annual revenues from Rogaine in the late 1980s.

While Kahn benefited financially from his discovery, he couldn't actually use it to treat his own baldness.

"He was allergic to it," his daughter told The Herald. "But he loved tinkering around, doing research."

Kahn was born May 11, 1934, to a German-Jewish family in Trier, Germany. He fled the Nazis with his family in 1938 and ended up in Omaha, Nebraska.

Kahn graduated from the University of Nebraska Medical Center in 1958 and later completed a medical residency at the University of Miami School of Medicine. He maintained a private practice in North Miami Beach for more than 30 years.

His funeral was held in Nebraska last week, but his South Florida friends will be able to attend a memorial this weekend in Miami.

Besides his daughter Michelle, Kahn is survived by his longtime partner Judy Felsenstein, his son Bruce, his brother Marcel and grandchildren Nathan and Emma.

___

Information from: The Miami Herald, http://www.herald.com
ELMFIELD School in Stourbridge will be hosting a performance of Shakespeare's Macbeth which is being staged by visiting German students this weekend. The year 11 youngsters from the Schloss Hamborn Rudolf Steiner school near Paderborn, central Germany, will be bringing the Scottish play to life at the Rudolph Steiner school in Love Lane at 7.30pm on Friday September 26 and Saturday September 27. A spokesman for the school said: "Their year 11 students and ours have been visiting each others' schools since 1991 and since 2007 they have performed a Shakespeare play each year.
PRESIDENT Benigno Aquino III was presented the Friedrich-Naumann-Freedom-medal in Berlin, Germany last Saturday for his successful reforms in the areas of education, anti-corruption and rule of law. Dr. Wolfgang Gerhardt, chairman of the Friedrich Naumann Foundation for Freedom , said that Filipinos serve as an inspiration worldwide.
Archaeologists have discovered the remains of a 1,900-year-old Roman fort that once quartered 500 troops in what is today Germany. Researchers knew the area was the site of a village during the first to third centuries, but otherwise, the region's history during the Roman occupation is largely unknown, dig leader Thomas Maurer, an archaeologist at the University of Frankfurt, said in a statement.
As Barbados' economy continues to falter, the country's international image as a business showcase in the developing world is taking a beating.
With high debt, low local savings and a yawning fiscal deficit, the country's global competitiveness ranking has tumbled once again, going to its lowest level in years and triggering a call for an end to the economic deterioration.
The negative picture was painted by the World Economic Forum, the highly respected international body in Switzerland that carries out an annual survey of global competitiveness. In its 2014-15 assessment of conditions in 144 nations, the Forum sent Barbados' ranking plummeting to 55th, a decline of eight places, down from 47th a year ago, making the fall one of the sharpest recorded this year. In 2012-13 Barbados was 44th and was often portrayed as a leading economically competitive place in which to do business. But in the 2014-15 report, the Forum stated noted that Barbados was finding it extremely difficult to halt the downward economic spiral, which began with the international meltdown in 2008-09.
According to the report, Barbados was "still suffering some of the consequences of the global financial crisis" that has affected rich and poor countries alike.  But while some states were recovering, Barbados was not.
"As in the past this drop (in the global rankings) is driven by the persistence of the credit crunch that is regarded as the most problematic  factor for doing business in the country and that is severely hindering the capacity of local businesses to finance their activities by raising new equity," was the way the Forum put it.
Barbados was now 91st on the list of 144 countries when it came business readiness. As for the ability of its firms to get loans or venture capital to "support innovative projects," the situation was dismal, so much so that the island was ranked 101st, putting it among the worst performing countries.    
But that wasn't all. "Concerns about macro-economic conditions persist," a hard fact that put Barbados close to the bottom of list" because it "Barbados boasts one of the highest public deficits in the world." As if that financial condition wasn't bad enough the Forum's drew attention to the high debt and other problems.
For example, it has one of the "lowest savings rates (136th) among the countries surveyed. Its public debt was so high that that it was quickly 100 per cent of the national GDP" (gross domestic product), it explained. "The need to stabilise its macro-economic outlook and ease the flow of financing toward productive investment will be crucial to allow the country to recover the ground lost since the beginning of the crisis."
However, Barbados has some things going for it. "Barbados continues to benefit from a fairly skilled labour force thanks to a high-quality education system (15th in the world) and high enrolment rates in secondary (19th) and tertiary education" which earned it the 42nd spot on the global ranking.
In addition, its institutions were functioning well, so much so that they earned the 33rd rung on the global institutional ladder and that was true despite "some concerns about the government efficiency in managing public spending (57th), stated the Forum. It was also continuing to reap benefits from its "solid infrastructure".
Interestingly, even in the face of its economic troubles, Barbados was the most highly ranked country in Caricom, way ahead of Jamaica, 86th Trinidad and Tobago 89th. Outside of Caricom, Puerto Rico was 32nd and the Dominican Republic was 101st.
The world's most highly rated countries were Switzerland, Singapore, the US, Finland, Germany, Japan, Hong Kong, the Netherlands, the United Kingdom and Sweden while the worst ranked  were Haiti, Sierra Leone, Burundi, Angola, Mauritania, Yemen, Chad and Guinea. Barbados' ranking was higher than Cyprus, Hungary, Mexico, Peru, the Ukraine, Argentina and India.
When the Forum published its global index last year and ranked Barbados 47th, a decline of three places when compared with 2012, it also listed the "credit crunch" as a major obstacle for businesses, complaining that it was "hindering the capacity of local businesses to finance their activities by raising new equipment".
Climate change may expand suitable cropland, particularly in the Northern high latitudes, but tropical regions may becoming decreasingly suitable, according to a study published September 17, 2014 in the open-access journal PLOS ONE by Florian Zabel from Ludwig Maximilians University, Germany and colleagues.
Technical University Munich of Germany developed a drone (compact unmanned helicopter) that can be stabilized by using SLAM (simultaneous localization and mapping) technology and is as light as 25g including a camera mounted on it.
STOCKHOLM, Sept 14 (Reuters) - Sweden's center-left Social Democrat leader Stefan Lofven emerged as victor in Sunday's general election after a voter backlash against tax cuts and trimmed welfare by a center-right government, but he fell short of a parliamentary majority.

The Nordic region's biggest economy and one of the few star performers in Europe now faces a weak minority government with a possible political impasse as the anti-immigrant far right emerged as the third biggest party to hold the balance of power.

Lofven's Social Democrats and two other opposition parties, the Greens and Left, garnered 43.7 percent of the vote, against 39.3 percent for Prime Minister Fredrik Reinfeldt's coalition. That means a government with limited clout to pass bills.

Lofven told supporters he would begin coalition talks with the Greens, but also reach out to other parties.

"We are in serious situation. We have thousands of people unemployed, We have school results that are declining more than in any other OECD country," Lofven said. "There is something that is breaking. Now Sweden has answered that we need a change."

A projection by the election authority showed that the three center left parties - who have not as yet created a formal bloc - won 159 parliamentary seats, short of the 175 need for a majority. The government coalition won 142 seats.

The projection is highly unlikely to change substantially as the final districts are counted.

The far right anti-immigration Sweden Democrats won 12.9 percent in the poll, and 48 seats. Despite holding the balance of power, other parties refuse to work with them.

"You can't avoid taking us into account if you want to run the country," Sweden Democrat leader Jimme Akesson told cheering supporters. "We are holding the absolute balance of power now."

Lofven, a former welder and trade union negotiator, now faces hard and protracted negotiations to form a government. While the Social Democrats are the biggest party, it was one of their worst electoral results in a century.

"It is clear that from a broader perspective that this is difficult for Sweden," said Swedish Finance Minister Anders Borg. "We go from having one of Europe's strongest governments to having a weak government power with considerable uncertainty about economic policy."

In a blow for the center left opposition, the Feminist Initiative Party got 3.2 percent, below the threshold for parliamentary seats.

A win for the center left in a weak minority government could also be another nail in the coffin for reform in the Nordics, where governments in Norway, Finland and Denmark are holding back on trimming their expensive welfare states.

A defeat for Prime Minister Fredrik Reinfeldt would rob the likes of Germany and the United Kingdom of a voice in the troubled bloc for fiscal prudence and reform. Lofven has campaigned for more growth and investment and higher taxes on companies and the wealthy in the European Union.

Under Reinfeldt Sweden lost much of its image as a socialist welfare state. The country's tax burden fell four percentage points, to 45 percent of GDP, under France's. Taxes on inheritance and wealth were lowered or abolished. More Michelin star restaurants than ever opened in Stockholm.

"These have been fantastic years where the Alliance have taken responsibility for Sweden," Reinfeldt told party supporters on announcing his resignation. "My hope is that the journey will continue, but it will be without my participation."

Many Swedes are worried that reforms under Reinfeldt have gone too far, weakening healthcare, allowing business to profit from schools at the expense of results and dividing a nation that has prided itself on equality into haves and have-nots.

Voters have been shocked by scandals over privately-run state welfare - including one case where carers at an elderly home were reportedly weighing diapers to safe money - and bankruptcies of privately run schools.

"We need to re-find our values, those that say we take care of each other, that it is not all about the rich getting it better," said Sofia Bolinder, playing with her young daughter in a playground after voting in the suburb of Skarpnack in southern Stockholm. Bolinder, in her 30s, said she voted for a party "on the left."

UNEMPLOYMENT

Widely admired for its triple A-rated economy, stable government and liberal attitude to immigration, Sweden nevertheless faces significant challenges, which a weak government will struggle to deal with.

Unemployment is high at 8 percent, hitting immigrants and young people especially, and a potential housing bubble threatens economic stability. Widespread riots last year in Stockholm's poor immigrant suburbs highlighted a growing underclass in Sweden, which has had the fastest growing inequality of any OECD nation.

The rise of the far right points to a society starting to question its role as what Reinfeldt calls "a humanitarian superpower".

The number of asylum seekers from countries like Syria is expected to reach 80,000 this year. Even Reinfeldt has said government finances would be strained due to the cost of new arrivals. They were figures that played into the hands of the far right.

The Social Democrats plan to spend around 40 billion crowns ($5.6 billion) to improve education, create jobs and strengthen welfare by raising taxes on restaurants, banks and the wealthy.

The center left parties include the Left Party - formerly Sweden's communist party - which wants to raise income and corporate taxes and exclude profit-making businesses from schools and welfare, policies that the Social Democrats and Greens reject.

The other center left party, the Greens, have campaigned to end nuclear power in Sweden.

The Liberal and Center parties, the two smallest in the current government, have snubbed Lofven's call for a broad-based government, raising the threat of deadlock after the election, or, in the worst case scenario, a new vote.

The Swedish crown weakened around 3 ore versus the euro in early Asian trade after it became clear both sides would be short of forming a majority.

"It is going to be very difficult to form a government," said Swedbank economist Knut Hallberg.

(1 US dollar = 7.1247 Swedish crown) (Additional reporting by Helena Soderpalm, Johannes Hellstrom, and Daniel Dickson, Johan Ahlander and Johan Sennero; editing by Alistair Scrutton)

CHICAGO (AP) – Allegations that Minnesota Vikings running back Adrian Peterson injured one of his sons by spanking him with a tree branch are reviving a debate about corporal punishment in the U.S. where it is on the decline but still widely practiced in homes and schools.
Here is some background about the practice and its prevalence:
Q: Where is it legal?
A: In every state in the U.S., a parent can legally hit their child as long as the force is "reasonable". What's considered reasonable varies from place to place and in many instances the question is left up to a jury in a kind of community-standard test.
Generally, though, the law draws the line when the force causes an injury. The United Nations Committee on the Rights of the Child defines it as any physical punishment intended to cause some degree of pain or discomfort, however light.
In Texas, where Peterson is accused, punishment is abusive if it causes injury. While a blow that causes a red mark that fades in an hour is not likely to be judged abusive, a blow that leaves a bruise, welt, or swelling, or requires medical attention, could be judged abusive.
Q: How is it used in schools?
A: In 19 states, it's still legal for personnel in schools to practice "paddling". An estimated total of 223 190 students were subjected to it in the 2005-2006 school year, according to the most recent data gathered by the U.S. Department of Education's Office for Civil Rights. That was an 18 per cent decline from the previous survey.
One of those states, Alabama, entered the spotlight in September last year when an outraged mother protested over a corporal punishment parental consent form sent home by her child's elementary school. It spelled out a requirement for parents who don't want their children physically disciplined to opt out and inform the principal on an annual basis.
A 2009 study by Human Rights Watch and the American Civil Liberties Union found a disproportionate number of students struck by educators were disabled, at 18.8 per cent of the total during the 2006-2007 school year.
The issue is generally left up to states and individual school districts, but in Congress, U.S. Rep. Carolyn McCarthy, a New York Democrat, re-introduced legislation in June that would withhold federal funds from schools that permit corporal punishment. The bill has not advanced out of committee.
Q: Are parents who were spanked as children more likely to use physical punishment?
A: In defending Peterson's actions, his attorney said he was only exerting the same kind of discipline he experienced as a child growing up in East Texas. That's not an unusual scenario, experts say, and courts will sometimes consider past abuse as a mitigating factor when sentencing a defendant. But it shouldn't be taken as an excuse, says Victor Vieth, an expert in child abuse prevention training.
"Survivors more than others are offended when courts do that because it perpetuates this myth that we are destined to continue abuse in our family and that's not true. We do have a choice," says Vieth, a former prosecutor who directs the Gundersen National Child Protection Training Centre in Winona, Minnesota.
Q: Have views changed over time about the use of corporal punishment?
A: More than state legislatures or the courts, it is ordinary people who are tightening the legal standard on corporal punishment given that it's often a jury that decides whether force was "reasonable". As views change, Vieth says it's become easier to prosecute abuse cases.
"If you get to the point where you're drawing blood and there are multiple cuts and bruises, most prosecutors today would file charges and most jurors would say that's out of bounds because very few parents engage in striking their children at that level anymore," Vieth says.
There are also signs that some religious communities that once considered corporal punishment sanctioned by scripture are turning away from the practice, he says.
Q: How does the U.S. compare with the rest of the world with using corporal punishment?
A: Thirty-nine countries prohibit corporal punishment in all settings, including at home, where most abuse occurs. Those nations range from Sweden and Germany to South Sudan and Turkmenistan.
Worldwide, about six in ten children between the ages of two and 14 are subjected to corporal punishment by caregivers on a regular basis, according to a UNICEF report released this month. The report also found that people with less education and wealth are more likely to support corporal punishment.
Full description=ANSI Common Lisp is a high-level, general-purpose programming language. GNU CLISP is a Common Lisp implementation by Bruno Haible of Karlsruhe University and Michael Stoll of Munich University, both in Germany.
(Phys.org) —A team of researchers with members from the U.S., Germany and the Netherlands has uncovered some new ideas about the nature of morality by using a smartphone app. In their paper published in the journal Science, the researchers describe how they enlisted a large group of people to serve as volunteers in a morality experiment, and what they learned as a result. Jesse Graham, of the University of Southern California offers a Perspective piece in the same journal issue.
Despite relatively positive feedback from an annual OECD report on education, the promise of learning as the key to economic prosperity remains elusive in Germany.
UNICEF Germany has released a report criticizing the conditions faced by refugee children within the country. Medical care, education, and housing provision are singled out as being exceptionally inadequate.
A new trailer has arrived online for David Ayer's WW2 movie, Fury, in which Brad Pitt schools Logan Lerman in the ways of war.

Lerman plays a thoroughly green newbie who finds himself under the wing of Pitt's grizzled sergeant, a particularly badass individual known as Wardaddy.

Along with the rest of their crew, the pair are charged with leading a daring assault on the heart of Nazi Germany… armed only with the one tank.

Take a look at the new trailer, below…



This latest trailer focuses heavily on the dynamic between Pitt and Lerman, and an arresting pair they make too… although Shia LaBeouf's moustache does make a valiant effort to steal the show.

Directed by Ayer and co-starring Jon Bernthal and Michael Peña, Fury will open in the UK on 24 October 2014.
Hundreds of Polish-American veterans and community are expected to gather at the campus of the Orchard Lake Schools for America's largest commemoration of the 1939 invasion of Poland by Nazi Germany and the Soviet Union beginning at 12:30 p.m., Sunday, Sept. 7. Nazi invasion of Poland remembered Sunday Hundreds of Polish-American veterans and community are expected to gather at the campus of the Orchard Lake Schools for America's largest commemoration of the 1939 invasion of Poland by Nazi Germany and the Soviet Union beginning at 12:30 p.m., Sunday, Sept.
PARIS (AP) — New laws make it easier to seize passports. Suspected fighters are plucked from planes. Authorities block finances and shut down radical mosques.

In cyberspace, Silicon Valley firms are wiping extremist content from websites, such as video of the recent beheading of two American journalists. And Western intelligence agencies are exploring new technologies to identify returning fighters at the border. Governments from France to Indonesia have launched urgent drives to cut off one of the Islamic State group's biggest sources of strength: foreign fighters. At the heart of the drive is mounting concern that the organization is training the next generation of international terrorists.

Those fears have gained urgency from the group's horrific methods: A British militant is suspected of beheading two American journalists, and a Frenchman who fought with the Islamic State group is accused in a deadly attack on a Jewish museum in Belgium.

With each video that ricochets around social networks, the militants gain new recruits.

"If neglected, I am certain that after a month they will reach Europe and, after another month, America," Saudi King Abdullah said Friday, calling for a strong international response to the onslaught in Syria and Iraq.

After video emerged online of the killing of an American journalist last month, tech companies drafted plans to scrub the web of such content, and implemented them this week after a second beheading, a Silicon Valley insider said Wednesday. YouTube and Twitter accounts are among those shut down unusually quickly. According to terms of service, violent content is cause for suspension.

Islamic State militants who have migrated to Diaspora, a decentralized social network, are in many cases greeted with banners saying they are unwelcome. But they will find newly sophisticated ways to get a message out, according to Jamie Bartlett of the Demos think tank.

Britain has taken a particularly active role in censoring content deemed to break the country's strict rules against extremist propaganda. U.K. officials recently revealed they have been granted "super flagger" status on sites such as YouTube, meaning their requests to remove videos with grisly content or that encourage terrorism are fast-tracked.

Over the past four years, an Internet-focused counter-terror unit of London's Metropolitan Police instigated the removal of 45,000 pieces of content, the force said last week. Islamic State militants, however, have just as quickly found other, more decentralized platforms.

In the United States, officials are trying to identify potential jihadis by comparing travel patterns with those of people who have already joined the fight, a counterterrorism official said, speaking only on condition of anonymity because he was not authorized to discuss intelligence matters.

A French law to seize passports is being fast-tracked through parliament, and the government is ramping up arrests of increasingly young teenagers making plans for jihad.

That can mean last-minute arrests at the airport, as happened to a 16-year-old girl and her alleged recruiter trying to pass through security in Nice on Saturday, and to a man at Australia's Melbourne Airport who was pulled off a flight last week carrying tens of thousands of dollars in cash and the Islamic State group's black-and-white flag in his luggage.

Britain proposed laws Monday to let police seize the passports of those suspected of having traveled abroad to fight, while the Netherlands is making it easier to strip people of Dutch nationality and go after Internet providers that spread propaganda.

In Bosnia, authorities carried out a major anti-terror sweep on Wednesday. They detained 16 people suspected of fighting in Syria and Iraq and recruiting Balkan men to join Islamic militants there.

Anti-jihadi efforts are being ramped up in traditionally Muslim countries as well: Indonesia is breaking up meetings of Islamic State supporters and seizing T-shirts and other items promoting the group, and Tunisia is shutting down mosques and suspected financiers.

For the radicals who have already reached Syria, the focus of European spy agencies is on trying to identify them when they return. That can mean scouring social media sites for photos of foreign fighters or electronic intercepts for hints of terrorist activity abroad.

Officials are considering the deployment of more advanced techniques like voice recognition to identify suspected jihadis at border control by matching their conversations to those heard on militants' videos, former U.K. counterterrorism chief Bob Quick told The Associated Press earlier this year.

There is huge interest, he said, in "being able to identify these people at the border."

The concern is that returning fighters will launch attacks at home. Australia draws on lessons from Afghanistan a decade ago, saying of the 25 citizens who returned to Australia after fighting against Western interests there, two-thirds became involved in terrorist activities back home. Some remain in prison.

"The Australians and their supporters who have joined terrorist groups in the Middle East are a serious and growing threat to our security," Prime Minister Tony Abbott told Parliament on Monday. "People who kill without compunction in other countries are hardly likely to be law-abiding citizens should they return to Australia."

A compilation of government estimates shows more than 2,000 people with European passports have fought or are fighting in Syria and Iraq - with most looking to join the Islamic State group.

But measures taken so far to keep Europeans from leaving have had no noticeable effect, said Trond Hugubakken, spokesman for the Norwegian security service PST.

"Preventive talks close to their departure doesn't seem to have any effect," he said. "It has an effect on some individuals, but if that's permanent or just delaying their traveling is hard to tell."

More than 1,900 Tunisian jihadis have joined the Islamic State group, according to government figures and Abdellatif Hannachi, a researcher on Islamic movements.

Britain, home to an estimated 400 fighters in Syria and now Iraq, had been emphasizing outreach to universities, religious centers and prisons. On Monday, the government said it hoped to bolster laws to block returning fighters from re-entering the U.K. and strengthen monitoring if they do.

Those proposals, like those under consideration in France and the Netherlands, marked a hard-line shift.

Over the weekend, influential imams in Britain issued an unprecedented fatwa against Islamic State militants, calling the group "a heretical, extremist organization." The religious decree banned British Muslims from joining and said they have an obligation "to actively oppose its poisonous ideology."

There has been little outcry in France - which has sent Europe's largest contingent of jihadi fighters to Syria and Iraq, estimated at 900 - to plans to seize passports of would-be jihadis and make it easier to shut down websites. France came up with the approach last spring, as the numbers of young French Muslims leaving for Syria started rising.

Prosecutors say 329 people are under formal investigation, including a 14-year-old girl who now faces up to five years in prison for allegedly wanting to leave home and fight.

Germany, which counts at least 400 people who have gone to Iraq and Syria, is especially concerned.

"What attracts people is their high brutality, their radicalism, their strictness," Hans-Georg Maassen, head of Germany's domestic intelligence agency, said Sunday. "We have to assume ... that there may well be people who return and commit attacks."

___

Contributors include Danica Kirka in London; Elaine Ganley in Paris; Karl Ritter in Stockholm; Bouazza ben Bouazza in Tunis, Tunisia; Paul Schemm in Rabat, Morocco; Rod McGuirk in Canberra, Australia; Eileen Sullivan in Washington, and Chris Brummitt in Singapore.

___

Follow Lori Hinnant at http://twitter.com/lhinnant
"A Russian gas export embargo during the winter of 2014/15 lasting for more than 6 months would cause supply shortfalls in many European countries, in particular, in central and eastern Europe, including Germany," according to a study published Wednesday by the Institute of Energy Economics at the University of Cologne.
French Prime Minister Manuel Valls insisted on the importance of reducing public deficits at the employers Summer University last week, hoping to reassure Germany over France's mounting debt. EurActiv France reports.
Manuel Valls' speech to French employers, gathered at Jouy-en-Josas for the Medef Summer University, did not bypass the point of contention: the economic and budgetary policies in France and the Eurozone, and the role of Germany.
The exchange of chemical signals between organisms is considered the oldest form of communication. Acting as messenger molecules, pheromones regulate social interactions between conspecifics, for example, the sexual attraction between males and females. Fish rely on pheromones to trigger social responses and to coordinate reproductive behavior in males and females. Scientists at the Marine Science Center at the University of the Algarve in Faro, Portugal, and at the Max Planck Institute for Chemical Ecology in Jena, Germany, have now identified such a signal molecule in the urine of male Mozambique tilapia (Oreochromis mossambicus): this pheromone boosts hormone production and accelerates oocyte maturation in reproductive females. Hence, the Mozambique tilapia is one of the first fish species in which the chemical structure of a pheromone has been identified and the biological basis of its activity elucidated.
Some researchers study carbon nanotubes -- and then there are these guys. Thomas Wagner and his students from Kaiserslautern University in
Germany
have used an Oculus Rift headset to transform a real rollercoaster into an virtual experience. That's...
"The Other Hundred" is a unique photo book project aimed as a counterpoint to the Forbes 100 and other media rich lists by telling the stories of people around the world who are not rich but whose lives, struggles and achievements deserve to be celebrated. Its 100 photo stories move beyond the stereotypes and clichés that fill so much of the world's media to explore the lives of people whose aspirations and achievements are at least as noteworthy as any member of the world's richest 1 percent.
During World War II, many women in Belarus served on the front lines. When
Germany
invaded the Soviet Union in 1941, most of these women were between 16 and 18 years old. For the next four years, they served as nurses, truck drivers, partisans and communications operators. At the end of the war, they were awarded medals and prizes and named "Heroes of the Nation." As they approach the end of their lives, and despite the breakup of the former Soviet Union, their contributions are still remembered with invitations to attend parades and to visit schools to tell children about their experiences.
Belarus
Photographer: Agnieszka Rayss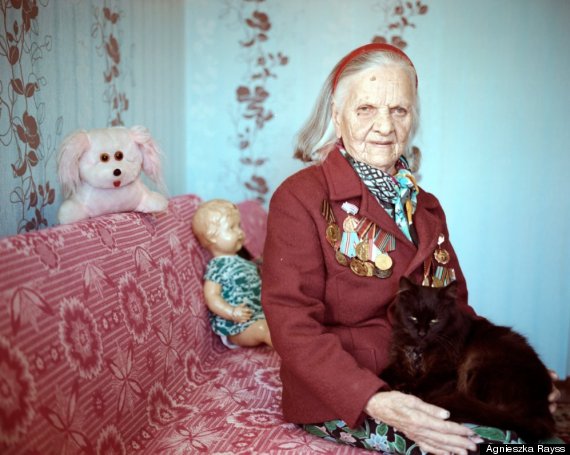 Lida Pietrovna Bondar, nurse.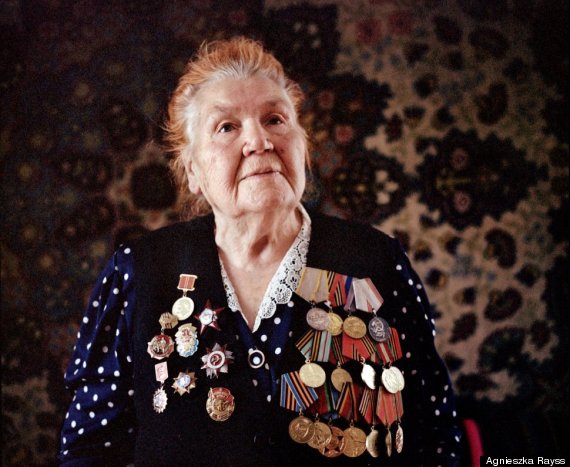 Zinaida Konstantinovna, now of Grodno, Belarus, worked for Soviet Army Communications during the war.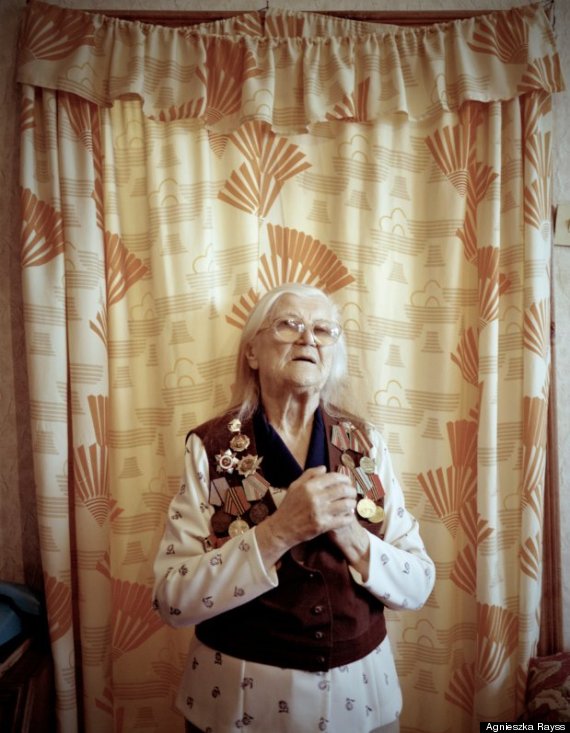 Elizaveta Ivanonvna Zienievich, partisan nurse.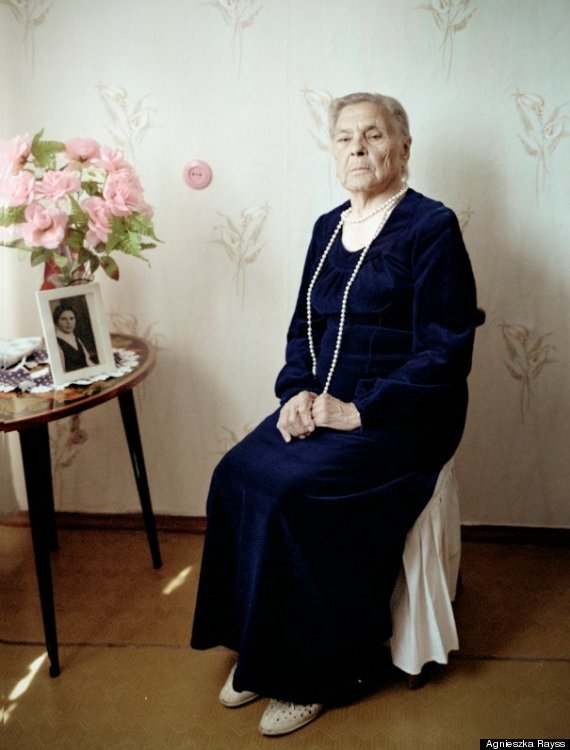 Anastasia Konstantinova Wishnievska, truck driver.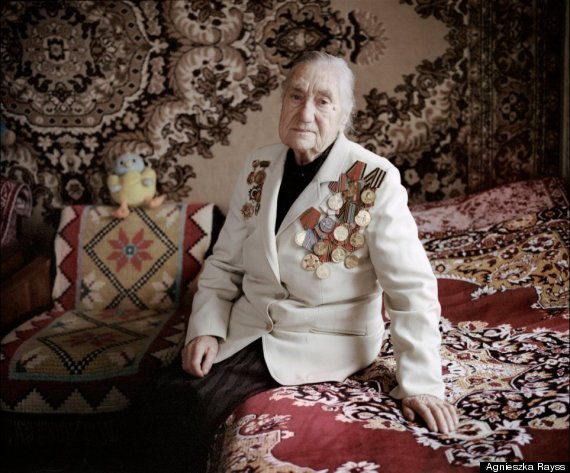 Maria Antonovna Pospielova of Zaskovichi, Belarus. She served in the partisan resistance force against the Nazi occupation.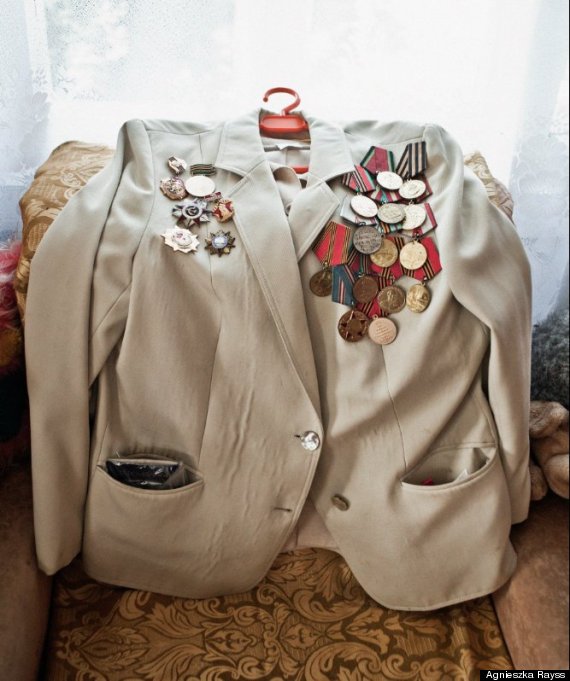 Maria Antonovna Pospielova's dress uniform with her military honors.
God gave me the courage to fight for the truth, and I have never been afraid to speak the truth. I think that if someone is righteous, God sees it and protects him. That's how it was with me. When I was already in the partisan force, I was walking alone through the woods and I got surrounded by a pack of wolves. I thought I wasn't going to make it. I had a pistol with only two bullets. I climbed onto the trunk of a felled pine tree, crossed myself, and they finally left" -- Maria Antonovna Pospielova.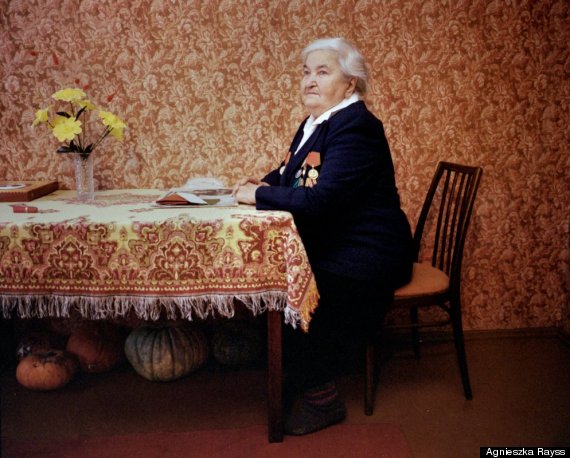 Zinaida Nikolaieva Famienska, partisan.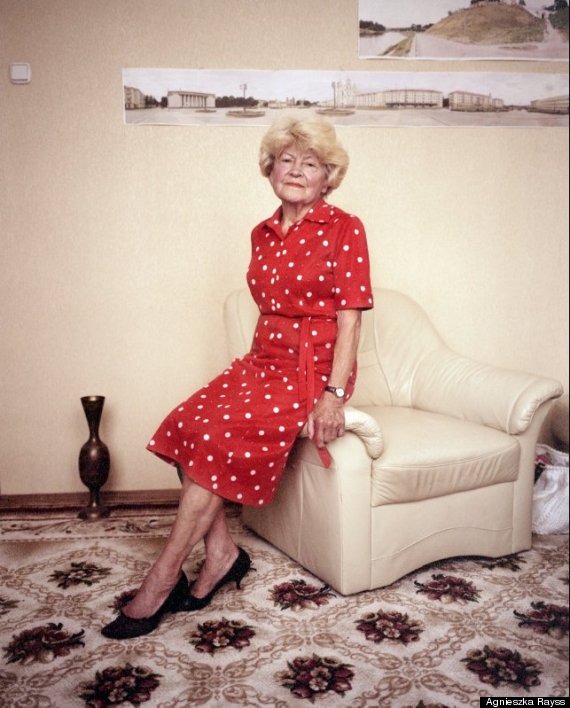 Valentina Pietrovna Baranova, army communications worker, head of the veterans' union in Grodno.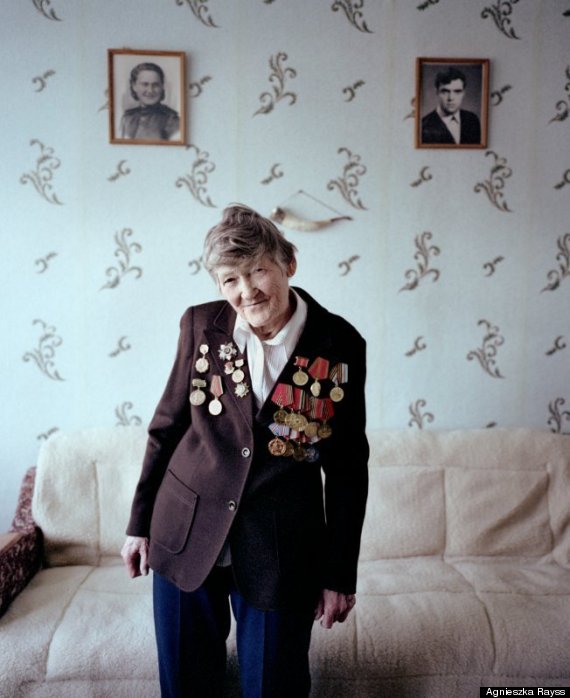 Galina Ivanova Pagarelava of Shchuchyn, Belarus, served as a nurse in the war..
"I was a nurse and I got into the front-bound ambulance train. I was at the front, I collected the wounded and drove them to the hospital. They were heavy -- one had to carry them on one's own arms and back. When we took the wounded away, we were often bombarded by the Germans. We had "death passports," metal tags with our name and last name to identify us in case we were killed. This is how the four years of war went by. I was at the Leningrad front, the Baltic front and the Karelian front all the way beyond the Arctic Circle. It was daylight all the time at the Arctic front. We wrote letters on the train — at night. Belarus is my second homeland. I was born in the Ural, and I have lived in Shchuchyn since 1954. I have no regrets. My son turned out great. I had an interesting life" -- Galina Ivanova Pagarelava.
More from The Other Hundred

Inside Gaza
Cairo's Blind, Female Orchestra
The Reality Of Education In Liberia
Inside North Korea
One Of Europe's Poorest Countries
A Senegalese doctor who contracted Ebola while working for the World Health Organisation (WHO)in Sierra Leone arrived in Hamburg on Wednesday for treatment at a tropical medicine unit, becoming Germany's first patient with the disease. At a news conference on Wednesday the clinic's tropical medicine specialist said the man would not be given new experimental drugs such as ZMapp but that his treatment would at first focus on managing his symptoms. The Senegalese doctor arrived in Germany on a specialist plane and was transferred to the university clinic Hamburg-Eppendorf in a special isolation ambulance, accompanied by a police guard. The WHO had approached the clinic on Saturday to ask if they would accept the patient, Rico Schmidt, health spokesman for Hamburg city senate told reporters.
Decades of experiments have verified the quirky laws of quantum theory again and again. So when scientists in Germany announced in 2012 an apparent violation of a fundamental law of quantum mechanics, a physicist at the University of Rochester was determined to find an explanation.
DONETSK, Russia (AP) — Hundreds of Russian aid trucks returned home from rebel-held eastern Ukraine on Saturday, highlighting a dire need for long-term assistance to the region where homes and livelihoods have been destroyed by months of fighting.

Ahead of a much-anticipated meeting on Tuesday between the presidents of Russia and Ukraine, German Chancellor Angela Merkel held talks in Kiev with Ukrainian officials and expressed hope for a peaceful solution to the conflict that has claimed more than 2,000 lives. Russia unilaterally sent hundreds of aid trucks into Ukraine through a rebel-held border point Friday, saying it had lost patience with Ukraine's delaying tactics, a move that Ukraine promptly described as an invasion.

By mid-afternoon Saturday, all the vehicles had returned to Russia, Paul Picard of the Organization for Security and Cooperation in Europe told reporters in the Russian town of Donetsk. A Russian emergency official said 227 vehicles had taken part.

An AP reporter on the Ukrainian side of the border was able to look inside about 40 of the white-tarpaulined tractor-trailers and confirmed they were empty. Russia said the trucks carried only food, water, generators and sleeping bags to the hard-hit rebel stronghold of Luhansk.

Ukraine and others — including the U.S., the European Union and NATO — denounced the Russian move as a violation of Ukraine's sovereignty. Kiev and Western countries also suggested the convoy could be smuggling in supplies and reinforcements to the pro-Russian separatists fighting the government.

It remained unclear what the Russian convoy had actually delivered, since it only arrived late Friday and unloading all those trucks in just a few hours in a war zone represents a sizeable task. AP journalists following the convoy said rattling sounds Friday indicated many of the trucks were not fully loaded.

In towns and cities recaptured by Ukrainian forces from the rebels, the need for something more long-term than a one-time delivery of food and water is glaring. Assistance has been trickling in from the government and international donors, but it is still not enough.

Residents in the city of Slovyansk, which endured a weekslong siege before the rebels left town in July, were caught between government forces and the separatists for several months and are now largely left on their own after devastating artillery strikes.

Valerie Amos, who oversees U.N. emergency assistance programs, visited Slovyansk on Saturday to inspect aid efforts.

"This is particularly difficult in some areas in the eastern part of the country where there is ongoing fighting," Amos told The Associated Press.

Rebels have rejected overtures by authorities to provide territory under their control with much-needed aid.

Rows of burned-out houses on the northern fringes of Slovyansk stood as a reminder of the impact of the fighting. Owners could be seen Saturday clearing out the debris from their partially damaged or totally charred homes. Few seem confident they will be able to repair their houses anytime soon.

Yevgeny Bezkorovainy, an unemployed 25-year-old resident of Slovyansk, said his household didn't have enough money to repair their shrapnel-scarred roof.

"Somebody said they would help, but it has been two months already, but what help do we see? Everybody is building now off their own back," he said.

One of the countries pledging aid to Ukraine is Germany. Merkel held talks with Ukrainian President Petro Poroshenko in Kiev on Saturday and promised 500 million euros ($660 million) in loan guarantees to support private investment in infrastructure and schools in war-struck areas.

Merkel urged a political solution to the crisis three days before Poroshenko will be meeting Russian President Vladimir Putin in Minsk in their first encounter since June. Merkel said she was looking forward to the outcome of those talks and expressed "hope that at least a step forward will be reached there."

Poroshenko said Ukraine is anxious to bring peace as soon as possible and solve the conflict by negotiations, but "not at the expense of sovereignty, territorial integrity and independence of Ukraine."

Asked what message he intended to convey to Putin, Poroshenko said "take away your armed people from our territory and I can promise peace will come to Ukraine very soon."

U.S. Vice President Joe Biden called Poroshenko to praise Ukraine for its restraint in the face of Russia's "blatant provocation and disregard of Ukraine's sovereignty." The U.S. also expressed shock at the news that Lithuanian Honorary Consul Mykola Zelenec was abducted and murdered by separatists in Luhansk and extended its condolences to his family.

Ukraine has retaken control of much of its eastern territory bordering Russia in the last few weeks, but fierce fighting for the rebel-held cities of Donetsk and Luhansk persists.

In Ukraine's Donetsk, the largest city under rebel control, residents reported artillery strikes throughout Friday night and Saturday. The mayor's office said six people were killed, including two who had been waiting for a bus and three others in an artillery strike on their apartment building.

The stadium of Ukrainian soccer champion Shakhtar Donetsk, a city landmark that had hosted games for the 2012 European championships, was damaged by shelling Saturday.

Unrest in eastern Ukraine began in mid-April, one month after Russia annexed Ukraine's Black Sea peninsula of Crimea. The United Nations says more than 2,000 people have been killed and 340,000 forced to flee their homes during the fighting.

___

Leonard reported from Slovyansk, Ukraine; Nataliya Vasilyeva in Kiev, Mstyslav Chernov in Izvaryne, Jim Heintz in Moscow and Geir Moulson in Berlin contributed to this report.
All across social media, celebrities and regular citizens seem to be dumping ice water on their heads to raise money for and awareness of amyotrophic lateral sclerosis. In fact, the vast majority of Americans have avoided the ice bucket challenge so far, a new
HuffPost/YouGov poll
shows, though they're willing to suggest other individuals get wet.
Sixty percent of Americans said they had "heard a lot" about the challenge. Far fewer said they had actually participated: Just 4 percent said they had donated money, and a mere 3 percent said they had dumped ice water on their heads. Another 2 percent said they'd done both.
Knowledge about ALS, or Lou Gehrig's disease, remains limited as well. Only 21 percent of Americans said they are "very familiar" with ALS, while another 49 percent said they're "somewhat familiar." Twenty percent were "not very familiar" with the disease, and 10 percent were "not at all familiar."
According to the ALS Association, as many as
30,000 Americans have the progressive neurodegenerative disease
at any given time. New cases are diagnosed at a rate of about 15 a day.
Recently, the ice bucket challenge has been criticized by
some observers
as frivolous if the real point is to raise money for research. After all, by the terms of the challenge, dumping cold water on your head is a
way out
of donating.
But the survey shows most Americans aren't buying the bad rap. Sixty-one percent said the ice bucket challenge is "a fun and effective way to raise money and awareness of ALS," while only 28 percent said that "it's silly and it would be better if people just donated money."
Many public figures have posted videos of their cold showers already. Others face limits on their participation. Members of the House of Representatives and the military have been warned that government rules prohibit the use of official resources to promote or references to current military service in ice bucket videos. High-profile State Department diplomats have been barred from participating.
Those rules don't bar us, however, from asking Americans which politicians they'd most like to see doused with ice cold water.
Asked to pick from a list of potential 2016 presidential candidates who they'd most like to see take the ice bucket challenge, Americans made former Secretary of State Hillary Clinton the runaway winner, with 51 percent choosing her. Sixteen percent opted for New Jersey Gov. Chris Christie (R), 15 percent for Vice President Joe Biden, 8 percent for Sen. Rand Paul (R-Ky.), 6 percent for former Florida Gov. Jeb Bush (R), and 5 percent for Sen. Elizabeth Warren (D-Mass.).
Support for Clinton didn't vary much along party lines, though the motives may have differed widely. Fifty-seven percent of Republicans, 51 percent of independents and 46 percent of Democrats chose Clinton as the potential candidate they'd most like to see dump freezing water over her head.
Asked separately to pick a world leader for an international edition of the challenge, a 35 percent plurality of Americans rallied behind President Barack Obama, including 34 percent of both Democrats and Republicans. Unfortunately for them, Obama has
already declined
to dump ice water on his head, opting instead to give money.
Second and third place went to the leaders of countries with which the U.S. already suffers icy relations: North Korea's Kim Jong Un, with 24 percent, and Russia's Vladimir Putin, with 19 percent. Queen Elizabeth II was fourth with 17 percent, narrowly missing a challenge from America, since three nominations are the usual limit. (Both
Putin
and
the queen
have been challenged by others, though neither has responded.)
Germany
's Angela Merkel and Cuba's Raul Castro took just 3 percent and 2 percent, respectively, in the HuffPost poll.
The HuffPost/YouGov poll was conducted Aug. 20-21 among 1,000 U.S. adults using a sample selected from YouGov's opt-in online panel to match the demographics and other characteristics of the adult U.S. population. Factors considered include age, race, gender, education, employment, income, marital status, number of children, voter registration, time and location of Internet access, interest in politics, religion and church attendance.

The Huffington Post has teamed up with YouGov to conduct daily opinion polls. You can learn more about this project and take part in YouGov's nationally representative opinion polling. Data from all HuffPost/YouGov polls can be found here.
MACHAKOS, Kenya (AP) — In an industrial area outside Kenya's capital city, workers in hard hats and white masks take shiny new power drills to computer parts. This assembly line is not assembling, though. It is dismantling some of the estimated 50 million metric tons of hazardous electronic-waste the world generated last year.

The clanking is rhythmic as the workers unscrew, detach and toss motherboards onto piles of gleaming circuitry at the East African Compliant Recycling facility. Workers wipe hard drives with magnets, shred small appliances, and bundle old cables like bales of multi-colored hay. Stacks of dingy gray computer towers — some with now-ancient floppy disk drives — cover much of one wall. The cornerstone is a cardboard box labeled "PCs for Africa."

The amount of electronic waste generated globally last year is enough to fill 100 Empire State Buildings and represents more than 15 pounds (6.8 kilograms) for every living person, according to the U.N. Environmental Program. Much of that e-waste is exported to developing countries like India and Kenya in the form of used goods, where it ends up in landfills or is burned, putting lead, arsenic and mercury into the environment.

Kenyan leaders are working on new laws and regulations requiring proper disposal of e-waste, defined as anything with a battery or a cord.

"A lot of e-waste is shipped to these countries in order to get rid of it," said Ruediger Kuehr, the executive secretary of Solving the E-Waste Problem, a Germany-based organization coordinated by the U.N.

Impoverished Nairobi residents collect end-of-life electronics for processing. In Nairobi's Mukuru slum, women pick through dumpsites or purchase discarded material from electronics repair shops. They earn about $2 for a CRT tube-style television. If dumped, that television would have released 6.5 pounds (3 kilograms) of lead into the environment.

"I can say we have already done something good," waste collector Joyce Nyawira said, referring to cleaning the environment.

Some of this e-waste stems from private Western charities donating products near the end of their life cycles, like the box of "PCs for Africa" sitting in the warehouse. Public initiatives like school computer programs also contribute.

"You can imagine if you are giving one kid a laptop, it's very easy for this laptop to die anytime," said Joshua Patroba, operations manager at East African Compliant Recycling, a company in Machakos, about an hour east of Nairobi, that began business in December and has already collected and sold more than 130,000 pounds of e-waste.

East African Compliant Recycling funds its operations by selling high-tech waste to countries like the U.K., China and Hong Kong with the machinery to isolate the precious metals and rare minerals from the scrap. High-grade motherboards can contain platinum, gold and silver. New products also pose a growing problem, as cheap gadgets become more widespread. Kuehr said more e-waste is generated in developing and transitioning countries than in the developed world. The U.N. says that while the world's 7 billion people have 4.5 billion toilets, they also have 6 billion phones.

"Most people, when their phones are dead, they give them to their children as toys, and then the children break them," said Margaret Kamar, Kenya's Minister of Higher Education, Science & Technology. "People get exposed to a lot of dangerous materials that are used when electronic materials are being manufactured."

President Uhuru Kenyatta in June signed regulations requiring e-waste be disposed of at government-licensed facilities meeting international standards. More detailed regulations written into an environmental act are pending.
From the Division of Cardiovascular Medicine, Radcliffe Department of Medicine , Wellcome Trust Centre for Human Genetics , and Clinical Trial Service Unit and Epidemiological Studies Unit , University of Oxford, Oxford, United Kingdom; and Leibniz-Institut fA1 4r Arterioskleroseforschung an der UniversitA t MA1 4nster, MA1 4nster, Germany .
Computer security researchers from North Carolina State University and Technische Universität Darmstadt/CASED in Germany have developed a modification to the core Android operating system that allows developers and users to plug in new security enhancements. The new Android Security Modules (ASM) framework aims to eliminate the bottleneck that prevents developers and users from taking advantage of new security tools.
From the University of Rochester Medical Center, NY ; Experimental and Clinical Research Center, a Joint Cooperation between the CharitA© Medical Faculty and the Max-Delbrueck Center for Molecular Medicine, Berlin, Germany ; Cardiology Department, Duke University, Durham, NC ; Department of Medicine, University of Iowa Health Care ; Henry Ford ... (more)
"How to Train Your Dragon 2" took off with a $25.9 million opening in China this weekend. That's an eye-popping eight times more than the original film debuted with there.
In all, the DreamWorks Animation family film brought in $37.7 million from 28 foreign markets to up its international total to $366 million. Distributor Fox said Sunday that "Dragon 2" will pass "Rio 2" as the year's biggest animated title at international box office later this week.
Also read: 'Ninja Turtles' Schools Sly Stallone's 'Expendables 3' at Box Office
The film, which was written and directed by Dean DeBlois and stars the voices of Jay Baruchel and Gerard Butler, has made $171 million in the United States — down from the $217 million that the original grossed in the U.S. But its $537 million worldwide total is a big improvement on the $494 million global total of the first film.
Part of the reason for the big disparity between the opening for the sequel and "Dragon 2" in China is the explosion in the number of theaters there. In spring of 2010, when the first "Dragon" debuted to $2.9 million, there were only about 1,000 3D screens in the country, while today there are more than 10,000. "Dragon 2" was in 3,379 locations and got a big boost from IMAX, which provided 12 percent, or $3 million, of the opening. 
Highlighted by a $6 million No. 1 opening in Brazil, "Teenage Mutant Ninja Turtles" rolled up $25.6 million to raise its international total to $67.5 million for Paramount. That's 10 percent above the opening of "Guardians of the Galaxy" there.
Also read: 'Guardians of the Galaxy' Tops $200 Million at Box Office in 15 Days
Meanwhile, the studio's "Transformers: Age of Extinction" added $8.4 million and passed "Iron Man 3" to move into sixth on the list of all-time box-office earners internationally with $811 million. It has taken in $1.05 billion worldwide and ranks 13th on the all-time list, according to Box Office Mojo. It will open in its final territory, Venezuela, next week.
Disney's "Guardians of the Galaxy" earned $33.1 million from 65 territories in its third weekend of overseas release. That ups its foreign total to $196 million, and with $419 million globally, it has already surpassed the $371 million worldwide box office total of "Captain America: The First Avenger."
The leading foreign markets for "Guardians" so far have been the U.K. ($31.5 million) and Russia ($30.4 million), and it still has Germany, Italy, Japan and China to come.
Also read: Sony Pictures Profits Rise Thanks to 'Spider-Man 2' and '22 Jump Street'
Sony's "22 Jump Street" took in $3.3 million from 35 markets to up its overseas haul to $114 million. The Channing Tatum-Jonah Hill comedy sequel has brought in more than $300 million worldwide, way ahead of the $201 million total of "21 Jump Street."
Related stories from TheWrap:
'Ninja Turtles' Schools Sly Stallone's 'Expendables 3' at Box Office
'Guardians of the Galaxy' Tops $200 Million at Box Office in 15 Days
'How to Train Your Dragon 2' Passes $500 Million Box Office Worldwide
This Aug. 18, 2008, file photo shows students of the Institute of Geography of the University of Mainz, Germany, collect data on the Rhone Glacier in the Swiss Alps.
Filed under: Hydrogen
Earlier this week,
Toyota
Motor Sales' senior vice president of automotive operations, Bob Cater, predicted that the
cost to refuel a hydrogen vehicle
would be around $30 to go 300 miles at some point in the future. That's around ten cents a mile, or about what it costs to drive an EV today. This will require hydrogen to cost around $5-to-$7 per kilogram.
How realistic is this? A new analysis from the Institute of Transportation Studies at the University of California, Davis called
The Hydrogen Transition
takes a closer look at some of the numbers involved in the hydrogen economy and reveals it's all a bit murkier than Toyota would have us believe.
"The next three to four years will be critical for determining whether hydrogen vehicles are just a few years behind electric vehicles, rather than decades." - Joan Odgen
For starters, let's acknowledge that the researchers at UC Davis seem to be optimistic about hydrogen's chances. The lead author Joan Ogden (pictured), said in a statement that, "We seem to be tantalizingly close to the beginning of a hydrogen transition." But there's no guarantee. "The next three to four years will be critical for determining whether hydrogen vehicles are just a few years behind electric vehicles, rather than decades," she said. There are three places where the study thinks a "targeted regional investment of $100-$200 million in support of 100 stations for about 50,000 FCVs would be enough to make hydrogen cost-competitive with gasoline on a cost-per-mile basis." You can probably guess the three locations: California, Japan and
Germany
.
As for the timeline, the study predicts that it will take five years to get to $7.50 per kg and 12 to make further progress to $6 per kg. But this has a cost: "The boom in low-cost natural gas makes possible low-cost hydrogen," so if you're not a fan of fracking, then you might want to steer clear of an H2 car. Then there's this: "For the US as a whole, we estimate that about $1 billion investment would be needed in a series of lighthouse cities to bring the cost of hydrogen to $7/kg, a fuel cost roughly competitive with gasoline on a cent per mile basis." In other words, Carter might be right, but there are a lot of details to understand.
For more, read
Ogden's article
, download the 57-page
white paper
(or 8-page
executive summary
) and watch the simplified explanation in the video
below
. It's all well worth your time.
Continue reading Affordable hydrogen will require fracking, cheap natural gas [w/video]
Affordable hydrogen will require fracking, cheap natural gas [w/video] originally appeared on Autoblog Green on Thu, 14 Aug 2014 18:28:00 EST. Please see our terms for use of feeds.
Permalink
 | 
Email this
 | 
Comments
Correspondence: Detlef Zillikens, Department of Dermatology, University of Lübeck, Ratzeburger Allee 160, D-23538 Lübeck, Germany.
A note left behind by a Japanese stem-cell researcher before he took his own life blames the storm of media attention around the retraction of two papers for his suicide, a lawyer working for his family said in a press conference.
In the days following the tragic death of Yoshiki Sasai on 5 August, scientists, journalists, and bloggers in Japan have been speculating about the reasons behind it. Yoshiki Sasai, a 52-year-old world-renowned stem cell scientist at the RIKEN Center for Developmental Biology (CDB) in Kobe, had recently been entangled in a controversy over two papers he co-authored. The papers were published in Nature in January but then retracted in July.
At a press conference on 12 August, Kazuhiro Nakamura, a lawyer representing Sasai's family, summarized contents of the suicide note left by Sasai to his family. In it Sasai said he was "worn out by the unjust bashing in the mass media and the responsibility he felt towards RIKEN and his laboratory". Nakamura would not release a full version of the note, citing Sasai's wishes and concern for Sasai's family.
The two papers described a method for converting mouse bodily cells to embryonic like state by stressing them, for example, by immersion in acid, a method known as stimulus-triggered acquisition of pluripotency, or STAP. Duplicated and manipulated images were soon found in the papers. A RIKEN internal investigation committee found Obokata guilty of scientific misconduct (see the special collection 'The rise and fall of STAP').
The internal committee found Sasai to hold "grave responsibility" for failure of oversight but concluded he was innocent of any direct involvement with the problematic data.
But, in the months after publication, Sasai was hammered in the Japanese media with people reflecting on his responsibility for the papers and delving into his personal life. Many articles made unsubstantiated claims about his motivations, including one article in the 17 April issue of the Shukan Bunshun that tied Sasai's involvement with the STAP research to heartbreak he experienced at university.
But it wasn't just the tabloids that were making unsubstantiated claims about Sasai. In June, an independent RIKEN Reform Committee, tasked with preventing misconduct in the future, released a report that criticized the CDB leaders, especially Masatoshi Takeichi and Sasai, the deputy director, for being so motivated by the desire to eclipse iPS cells technology that they skipped standard recruitment procedures when hiring Obokata.
They also accused Sasai of orchestrating a media blitz that included her wearing an apron given to her by her grandmother to a press conference. It also "surmised" that Sasai was motivated by the lure of grants in pursuing STAP.
Takeichi and Sasai objected to numerous points in the report, including the three aforementioned. The committee did not interview Sasai — or anyone else at the CDB aside from Takeichi — before reaching conclusions about the motivations that drove Sasai. The report itself lacked an explanation for most of the accusations. Nonetheless, it recommended that the CDB be dismantled.
In June, in response to queries from a Nature reporter (note: Nature's news and comment team is editorially independent of its research editorial team) to various committee members, Nakamura forwarded a note from "the RIKEN Reform committee" stating that the committee would not respond, in an attempt to "avoid any unnecessary confusions and/or misunderstanding". It also said the committee had disbanded and thus no one could comment.
University of Tokyo emeritus professor Teruo Kishi, who led the committee, has been commenting elsewhere in the Japanese press, however. In the wake of the suicide, he said Sasai's death could have been avoided if RIKEN had acted more quickly on his committee's recommendations. "The key thing is speed," he said. "By waiting, criticism in the mass media increases, and it has the opposite effect."
According to Nakamura's summary of the causes of the suicide, it was the committee's recommendation to dismantle the CDB in June, not RIKEN's slowness in doing so, that "gave Sasai a tremendous shock".
Kishi says he hopes that "the dismantlement of the CDB, through an even greater reform than the one recommended by the reform committee, would catapult RIKEN to a world-leading position".
Developmental and stem-cell biologists think the CDB already occupies that position, leading to a flood of international support for the CDB since June. Maria Leptin, a molecular biologist and director of the European Molecular Biology Organisation in Heidelberg, Germany, said at the time that the committee's proposals for the CDB "may even be more damaging than the incident itself".
While RIKEN still deliberates over CDB's fate, many are still trying to come to grips with Sasai's death — his family more than anyone else. At the 12 August press conference, Nakamura also released a statement from Sasai's family: "We feel crushed by a deep sorrow. This last six months have been too long, and we too are worn out. We see nothing but despair." The note goes on to wish the CDB members all the best in returning to an environment in which they can do research. It ends with a plea for their privacy to be respected.
This story originally appeared in Nature News.
This September I turn 60. As I enter The Final Third, I find myself dumbfounded about where the last 60 years have gone, and driven to take stock and sort it all out. In addition, I want to hedge my bets for the next 30. With nothing really big calling my name, I don't have much of a bucket-list. All I know is that I want to keep going and keep learning.
A few weeks ago I started researching others who were sharing this milestone with me. I've always paid close attention to the patterns and themes that are woven into the tapestry of life and I was interested in the subtle commonalities my fellow 1954 babies share. We came into the world smack-dab in the middle of the baby boom. This year, 2014, we turn 60. Who did I miss? Write me and tell me, especially if I missed you. I would love to hear about what life is like for you at 60. Here is my list of 60 turning 60.
1. Howard Stern
(January 12, 1954). Controversial shock jock and television host.
2. Robert F. Kennedy, Jr.
(January 17, 1954). Attorney and environmental activist. Bobby Kennedy's son and the President's nephew.
3. Katey Sagal
(January 19, 1954). Actor. Peg Bundy on
Married .... with Children
, Gemma Teller Morrow on
Sons of Anarchy
, etc.
4. Ed Schultz
(January 27, 1954). Liberal radio talk show host.
5. Oprah Winfrey
(January 29, 1954). Is there anyone who doesn't know who she is?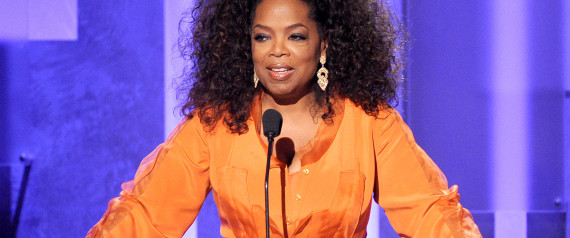 6. Christie Brinkley
(February 2, 1954). Model. She lost me with her ugly and public 2008 divorce.
7. Matt Groening
(February 15, 1954). Cartoonist, creator of
The Simpsons
and
Futurama
. Winner of 12 Emmy Awards.
8. Rene Russo
(February 17, 1954). Actor, former model. Still going with three soon to be released films.
9. John Travolta
(February 18, 1954). Actor.
Welcome Back, Kotter; Saturday Night Fever;
and
Pulp Fiction.
He's an icon.
10. Patty Hearst
(February 20, 1954). Heiress, Stockholm syndrome survivor, and convicted bank robber. Kidnapped in 1974 by the Symbionese Liberation Army, she joined them in a bank heist and ended up in prison. In 2001, Bill Clinton granted her a presidential pardon.
11. Recep Tayyip Erdogan
(February 26, 1954). Prime Minister of Turkey.
12. Ron Howard
(March 1, 1954). Actor, Academy Award winning Director. We've known him our whole lives. First as Opie Taylor on
The Andy Griffith Show
, then as Richie Cunningham on
Happy Days. 13. Nancy Wilson
(March 16, 1954). Musician, singer, songwriter. She and her sister Ann are the core of the rock band
Heart
.
14. Rock and Roll.
Bill Haley's Rock Around the Clock, recorded in April 1954, is generally recognized as starting the Rock and Roll craze.
15. Jackie Chan
(April 7, 1954). Hong Kong born actor, action choreographer, comedian, director, and martial artist.
16. Dennis Quaid
(April 9, 1954). Actor. He seems to have outgrown his bad boy reputation.
17. Ellen Barkin
(April 16, 1954). Actor. Bronx girl. Once married to Revlon billionaire. Critically acclaimed, snubbed by Oscar.
18. Michael Moore
(April 23, 1954). Filmmaker, political activist, critic of corporate greed.
19. Jerry Seinfeld
(April 29, 1954). Comedian, Actor, the King of observational humor.
20. Amy Heckerling
(May 7, 1954). Film director.
Look Who's Talking
and
Clueless
. She launched careers with
Fast Times at Ridgemont High
.
21. Brown v. Board of Education
(347 US 483 1954) (May 17, 1954). The U.S. Supreme Court rules unanimously that segregated schools are unconstitutional.
22. Dennis Haysbert
(June 2, 1954). Actor. Baritone voice. Many movie and TV roles but we may know him best as the face of Allstate Insurance.
23. Osa Holmes
(June 7, 1954). Licensed Clinical Social Worker. Infant Mental Health Specialist.
24. Jim Belushi
(June 15, 1954). Actor, comedian. The younger brother of the late John Belushi.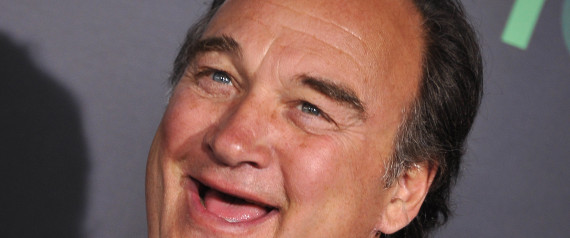 25. Sonia Sotomayor
(June 25, 1954). US Supreme Court Justice.
26. Angela Merkel
(July 17, 1954). Chancellor of
Germany
. The first woman to hold this office.
27
. Ricky Skaggs
(July 18, 1954). Country and bluegrass musician. 14-time Grammy Award winner.
28. Francois Hollande
(August 12, 1954). Current President of France
29. Stanley McChrystal
(August 14, 1954). Retired US Army General. Reportedly said what other military leaders were afraid to say. (A trait shared by other 1954 babies.)
30. James Cameron
(August 16, 1954). Film Director. Directed two of the biggest box office films of all time -
Titanic
and
Avatar.
31. Sports Illustrated
(August 16, 1954). When the first issue went on sale, 300,000 people had already subscribed.
32. Al Roker
(August 20, 1954). TV personality, Weather-anchor. 33. Elvis Costello
(August 25, 1954). Prolific and eclectic English singer and song writer.
34. Alexander Lukashenko
(August 30, 1954). The President of Belarus. Assumed his post in 1994. Some label him Europe's last Dictator, others appreciate that his policies have spared Belarus from poverty and organized crime.
35. Iris Krasnow
(August 31, 1954). Writer. Her books chronicle the experiences of baby-boom era women.
36. Elinor Robin, PhD
(September 4, 1954). Mediator and Mediation Trainer. On a mission to change the way we understand and respond to conflict.
37. Carly Fiorina
(September 6, 1954). Business Executive and Politician. Former Hewlett-Packard CEO and advisor to Republican presidential candidate John McCain.
38. Ruby Bridges
(September 8, 1954). Activist. Known for being the first black child to attend an all-white elementary school in the South. Her first day of school was commemorated by Norman Rockwell's painting The Problem We All Live With.
39. Shinzo Abe
(September 21, 1954). Prime Minister of Japan.
40. The Tonight Show
(September 27, 1954). The longest running talk show in television history. Hosted by Steve Allen (1954-1957), Jack Paar (1957-1962), Johnny Carson (1962-1992), Jay Leno (1992-2009, 2010-2014), Conan O'Brien (2009-2010), and Jimmy Fallon (2014-present).
41. Barry Williams
(September 30, 1954). Child actor. Best known as the
Brady Bunch's
Greg Brady.
42. Lorraine Bracco
(October 2, 1954). Actor.
The Sopranos, GoodFellas
, and more.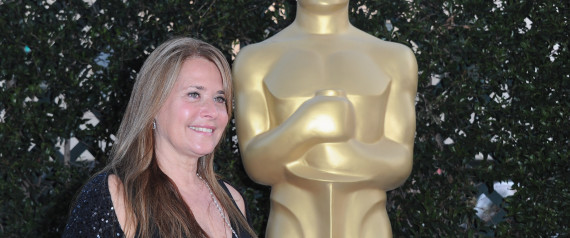 43. Al Sharpton
(October 3, 1954). Minister, Civil Rights Activist, Talk show host. Depending on where you sit he is either a voice for the downtrodden or a radical racial arsonist.
44. Scott Bakula
(October 9, 1954). Actor. You know his handsomeness from
Quantum Leap, Men of a Certain Age, Star Trek: Enterprise
, and a ton of other TV shows and movies.
45. David Lee Roth
(October 10, 1954). Singer, rocker. Best known as the original (1974-1985) and current (2006-present) lead singer of the hard rock band Van Halen.
46. Mordechai Vanunu
(Octover 14, 1954). Former Israeli nuclear technician. He spent 18 years in prison for revealing details of Israel's nuclear capabilities to the British press. Since his 2004 release he's been re-arrested various times for violating his parole restrictions by giving interviews to foreign journalists and attempting to leave Israel. Internationally, Vanunu is sometimes characterized as a hero whistle-blower and prisoner of conscience. In Israel he is considered a crazy traitor.
47. Ang Lee
(October 23, 1954). Film director. Academy Award winner for
Crouching Tiger, Hidden Dragon; Brokeback Mountain
; and
Life of Pi
.
48. PennyLea Mackie
(October 24, 1954). Artist. Creator of sacred images.
49. Henry Morgan
(November 8, 1954). Entrepreneur. My brother.
PensRUs.com.
50. Chris Noth
(November 13, 1954). Actor. Best known for his roles on
Law & Order, Sex and the City,
and
The Good Wife.
51. Condoleezza Rice
(November 14, 1954). Former U.S. Secretary of State. 52. Yanni
(November 14, 1954). Greek-born composer, pianist, and music producer.
53. Joel Coen
(November 29, 1954). One-half of the Coen brothers, Academy Award winning film directors, screenwriters, producers, and editors.
54. Burger King
(December 4, 1954). The first restaurant opened in Miami.
55. Jermaine Jackson
(December 11, 1954). Musician, singer-songwriter, and Michael's older brother.
56. Ray Liotta
(December 18, 1954). Actor. He plays a lot of gangsters.
57. Chris Evert
(December 21, 1954). Former World No 1 professional tennis player.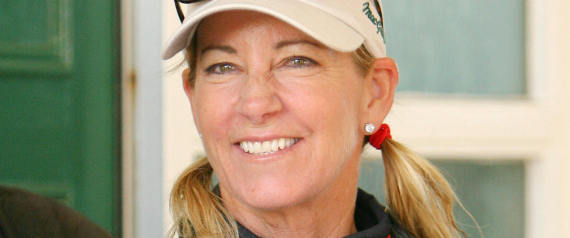 58. Annie Lennox
(December 25, 1954). Scottish soul singer-songwriter, pop icon, activist. Sold over 80 million records worldwide.
Sweet Dreams Are Made of This.
59. Gayle King
(December 28, 1954). TV Personality. Oprah Winfrey's best friend.
60. Denzel Washington
(December 28, 1954). Actor. Academy Award, Golden Globe, and Tony Award winner.
In Memoriam
1. Karen Ann Quinlan
(March 29, 1954-June 11, 1985). Important figure in the history of the right to die controversy in the US. In 1976, after a very public court battle pitted her parents against the hospital, Karen was removed from mechanical ventilation. She lived on in a persistent vegetative state until 1985.
2. Freddie Prinze
(June 22, 1954-January 29, 1977). Actor, stand-up comic. Star of the 1970s sitcom
Chico and the Man
. Father of actor Freddie Prinze, Jr. Suicide at age 22.
3. Vitas Gerulaitis (
July 26, 1954-September 17, 1994). Professional tennis player, ranked #3 in 1978. He died when an improperly installed pool heater seeped carbon monoxide gas into the guesthouse he was staying in.
4. Hugo Chavez
(July 28, 1954-March 5, 2013). President of Venezuela from 1999 until his death in 2013. Was he a dictator or a democrat? It depends who you ask.
5. Stevie Ray Vaughan
(October 3, 1954-August 27, 1990). Musician.
Rolling Stone
ranks him the 12th greatest guitarist of all time. He died in a helicopter accident.
Earlier on Huff/Post50:
Talking on the phone while driving isn't advisable, and texting while driving is downright dangerous. Considering those truths, the fact that we even need to point this out this is incredibly disturbing: taking "selfies" while behind the wheel is exceptionally stupid. But, it's a thing that a third of 18- to 24-year-old British drivers have copped to doing, according to a new study from Ford.
Ford
, through its Driving Skills for Life program, surveyed 7,000 smartphone owners from across Europe, all aged between 18 and 24, and found that young British drivers were more likely to snap a selfie while behind the wheel than their counterparts in
Germany
, France, Romania, Italy, Spain and Belgium.
According to the study, the average selfie takes 14 seconds, which, while traveling at 60 miles per hour, is long enough to travel over the length of nearly four football fields (the Ford study uses soccer fields, but we translated it to football, because, you know, America). That's an extremely dangerous distance to not be focused on the road.
"Taking a 'selfie' has for many young people quickly become an integral part of everyday life - but it's the last thing you should be doing behind the wheel of a car," Jim Graham, of Ford's Driving Skills for Life program said in a statement. "It is deeply worrying that so many young drivers admit to taking a photo while driving and we will be doing all we can to highlight the potential dangers through driver education."
If you're a driver in the UK - or anywhere for that matter - when you're behind the wheel, just put the phone down.
Scroll down for the press release from Ford, as well as a pair of short videos meant to highlight the danger of selfies while driving.
Continue reading Ford-sponsored survey says a third of Brits have snapped a 'selfie' while driving [w/videos]
Ford-sponsored survey says a third of Brits have snapped a 'selfie' while driving [w/videos] originally appeared on Autoblog on Fri, 08 Aug 2014 09:30:00 EST. Please see our terms for use of feeds.
Permalink
 | 
Email this
 | 
Comments
Mount Allison University honours computer science and math student Karen Korstanje recently presented her research at the Fourth International Workshop on Cryptography, Robustness, and Provably Secure Schemes for Female Young Researchers - a conference designed specifically for women in cryptography - in Bochum, Germany.
Although marijuana may have a reputation as a relatively harmless drug, a new case report links it to the deaths of two young men in Germany. In one of the deaths, a 23-year-old man without a history of health problems suddenly collapsed while using public transportation, and died after 40 minutes of unsuccessful resuscitation efforts, according to the case report based on postmortem investigations. The man had a small amount of marijuana in his pockets when he was found, according to the researchers at the Institute of Legal Medicine, University Hospital Duesseldorf in Germany, who reported the case. An ashtray, rolling paper and a sealable plastic bag containing remnants of marijuana were found next to the body.
Be born in Boston and move to New York City. Using a database of more than 2,000 years of notable names, stretching back to King David of Israel and Judah in 1069 B.C., researchers tracked the rise and fall of cultural centers in Europe and North America over hundreds of years. They found that Paris was a magnet for talent, drawing 70 percent of France's notables over the centuries, and that Germany has long consisted of multiple, smaller, cultural centers competing for brains and creativity. "This paper is the first step," study researcher Maximilian Schich, an art historian at the University of Texas at Dallas, told Live Science.
Although enjoying something pleasurable can restore "vitality" after a draining bout of demanding work, researchers found that users of entertainment media will get less benefit if they see the activity as procrastination rather than rest. The spent state following a period of self-control to complete a difficult job is known as ego-depletion, according to the study authors, and people in that condition are likely to crave pleasurable foods and easy, mindless entertainment. "To get a better understanding of what ego depletion means, it is helpful to think of human willpower in terms of a 'muscle.' Whenever we have to use self-control to resist a temptation or to continue an unpleasant task, the strength of this 'muscle' is depleted," Leonard Reinecke told Reuters Health in an email. Reinecke, who led the study, is a researcher with the Johannes Gutenberg University Mainz in Germany A growing body of research suggests that a little hedonistic enjoyment, including indulging in television, movies or computer games, can help people recover from ego-depletion, Reinecke and his coauthors write in the Journal of Communication.
The new plan aims to provide 1,000 additional university lecturers and to build more centres of excellence in Africa, and to boost university links between Africa and Germany and within Africa itself, by 2020.
Incidents of blackface at the 2014 World Cup
predictably stirred up a storm of outrage. But now that the anger has settled, and
FIFA has launched an investigation
, we're still left searching for an explanation of how and why this offensive practice continues in societies around the world.
Blackface in the United States has a unique history tied to the legacy of American slavery and minstrel shows that have had a major effect on race relations in the country thereafter. But the troubling practice is not limited to the states, it is also used prevalently in countries around the world.
To shed some light on the continued use of blackface, we've gathered some recent modern-day examples that prove we still have a lot of work to do to tackle racism around the world.
The Vienna Ball: Austria, 2014
Kim Kardashian was
accosted at The Vienna Ball by Austrian "comedian" Chris Stephan in blackface
for what Kardashian called a "sick joke." Stephan mimicked Kanye West saying "it's me, it's me."
Haribo Gummy Licorice: Germany, 2014
The
Haribo candy company pulled "Blackface" gummy licorice off shelves
after a firestorm of international customer complaints.
Mångkultur, kolonialt arv eller slavhandeln? #haribo skipper mix får mig att fundera på Danmark och mitt danska arv. pic.twitter.com/Sa07S44R9C

— Saam Kapadia (@saamkapadia) May 6, 2013
Tweet translation: "Multiculturalism, colonial legacy or the slave trade? # haribo skipper mix makes me think about Denmark and my Danish heritage."
Zwarte Piet of St. Nicholas Day: Netherlands, 1850's onward.
Since the mid 1900's, annual Christmas celebrations of St. Nicholas Day have almost always included
Dutch citizens dressed in blackface as "Zwarte Piet"
or "Black Pete," Santa Claus' dark-skinned helper.
In July, a Dutch court
ruled that Black Peter perpetuates a negative stereotype,
and that Amsterdam "must rethink its involvement in holiday celebrations involving him."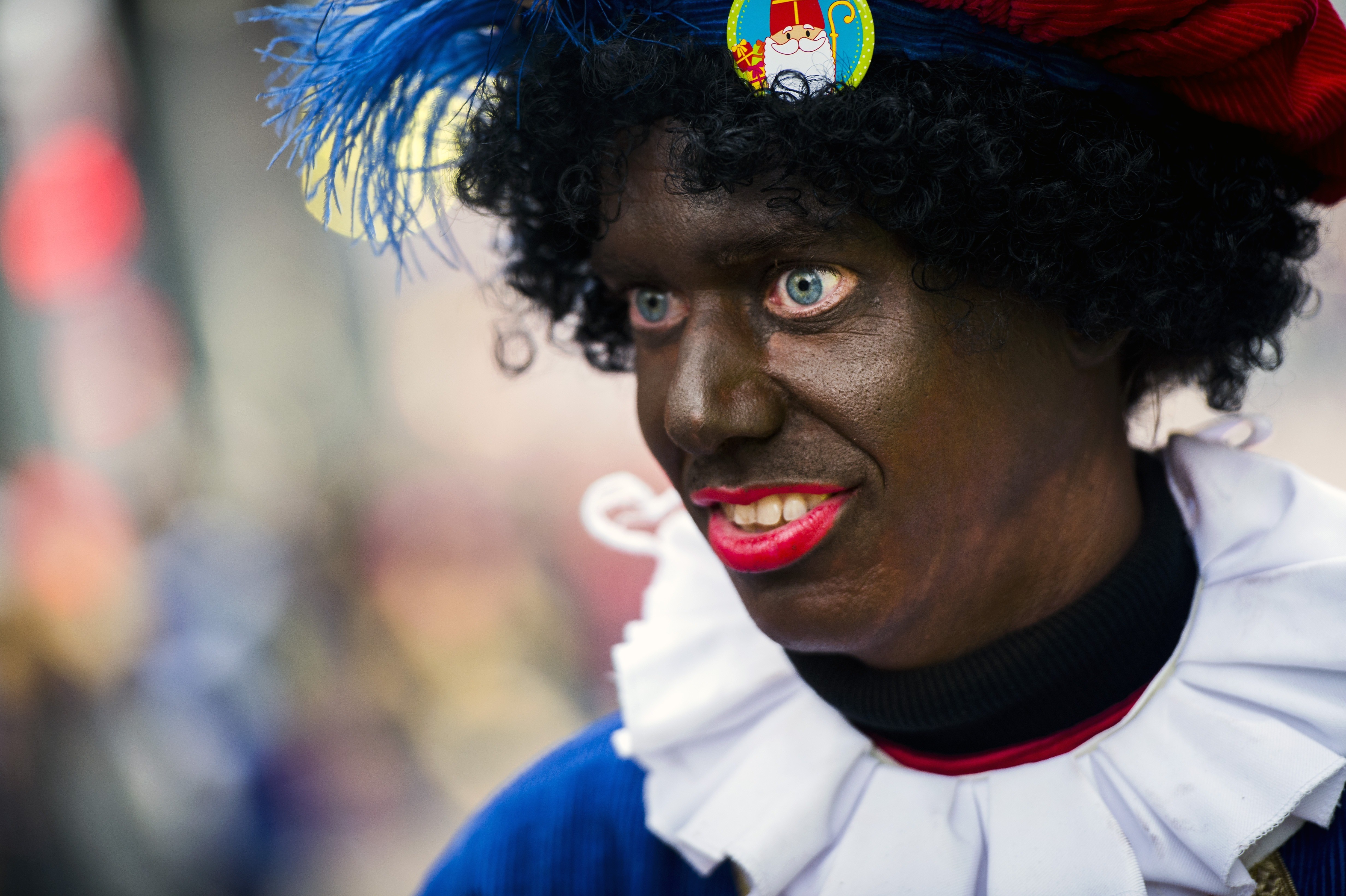 Angela Merkel at a Three King's Day celebration: Germany, 2013
German Chancellor
Angela Merkel was photographed posing with children in blackface,
caroling out front of Berlin's chancellery building. It's not uncommon in
Germany
for carolers to darken their faces when dressed as the Magi, believed to be one of the Three Wise Men who visited Jesus at his birth. UNICEF advertisement: Germany, 2007
A
UNICEF Germany ad campaign featured white children in blackface
demonstrating their "solidarity with their contemporaries in Africa." The captions alongside the photographs made comparisons between the German students and African children without access to schools. One caption read: "I'm waiting for my last day in school, the children in Africa are still waiting for their first one." Another: "In Africa, many kids would be glad to worry about school."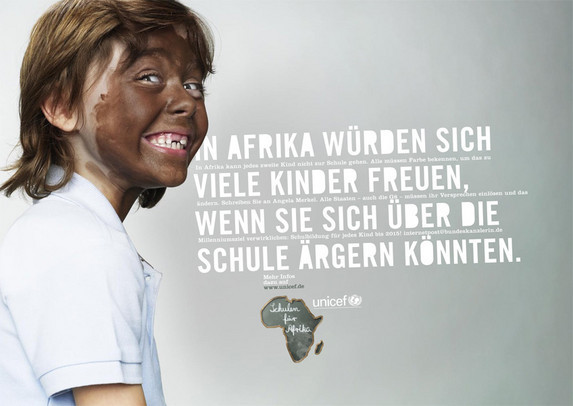 Jackson Jive: Australia, 2009
The Australian variety show "Hey Hey, It's Saturday" ended in 1999 but returned in the early 2000's for a reunion special and featured a
"Jackson 5" cover group called "Jackson Jive."
As if the name weren't bad enough, all but one of the six white Australians donned blackface and Afro wigs. The exception being the lead singer specifically impersonating Michael Jackson, who wore whiteface below his Afro wig.
American Jazz Singer Harry Connick Jr. happened to be a judge on the episode and voiced his displeasure by awarding them a score of zero and commenting, "Man, if they turned up looking like that in the United States, it'd be Hey Hey There's No More Show."
Bubble Sisters: South Korea, 2003
The
"Bubble Sisters"
are a South Korean female, pop music group who don blackface. The video below says everything you need to know.
Lima's Negro Mama: Peru, 2013
"
Negro Mama" is a blackface character
featured on the popular peruvian show "The Humor Special."
Jonah From Tonga: Australia, 2014
Celebrated caucasian comedian Chris Lilley stars in his new show as
"Jonah From Tonga"
in what people are now calling
"brownface."
Crocetta Baseball Club: Italy, 2014
An Italian baseball team, the
Crocetta Baseball Club released a YouTube Video parody
of a scene from the 1989 film "Major League." The original scene features Wesley Snipes, however the Crocetta version ends with the line of a white team member in blackface.
NEW YORK (AP) — Thomas Berger, the witty and eclectic novelist who reimagined the American West in the historical yarn "Little Big Man" and mastered genres ranging from detective stories to domestic farce, has died at age 89.

Berger's literary agent, Cristina Concepcion, said Monday that he died in Nyack Hospital on July 13, just days before his 90th birthday. He had been in failing health, Concepcion said. One of the last major authors to have served in World War II, Berger wrote more than 20 books, including the autobiographical "Rinehart" series, a "Little Big Man" sequel and "The Feud," about warring families in a 1930s Midwest community. "The Feud" was recommended for the 1984 Pulitzer Prize by the fiction jury but was overruled by the board of directors, which awarded another Depression-era novel, William Kennedy's "Ironweed."

Berger's biggest mainstream success was "Little Big Man," published in 1964 and an ultra-wry tale of 111-year-old Jack Crabb, who alleges that he was abducted by Indians as a young boy and later fought with the Cherokees in the Battle of Little Big Horn. The novel was adapted into a 1970 movie of the same name, starring Dustin Hoffman and directed by Arthur Penn. A leading American Indian writer, Sherman Alexie, would cite "Little Big Man" as an influence on his screenplay for the 1998 movie "Smoke Signals."

Other Berger novels made into films include "Neighbors," which starred John Belushi and Dan Aykroyd, and "Meeting Evil," featuring Samuel L. Jackson and Luke Wilson.

Never as famous as such contemporaries and fellow veterans as Norman Mailer and Kurt Vonnegut, Berger became the kind of writer who made fans feel special just for knowing about him. Admirers regarded him as unique and underappreciated, a comic moralist equally attuned to the American past and present.

"Berger's books are accessible and funny and immerse you in the permanent strangeness of his language and attitude, perhaps best encapsulated by Berger's own self-definition as a 'voyeur of copulating words,'" Jonathan Lethem wrote in a 2012 essay. "He offers a book for every predilection: if you like westerns, there's his classic, 'Little Big Man'; so, too, has he written fables of suburban life ('Neighbors'), crime stories ('Meeting Evil'), fantasies, small-town 'back-fence' stories of Middle American life, and philosophical allegories ('Killing Time')."

Berger was born in Cincinnati, the son of a public school business manager and a housewife. He was a dreamer, seeking out new worlds on the nearest bookshelf. His favorite works included the legends of King Arthur and, since he was born close enough to the 19th century to hear firsthand accounts, histories of the Battle of Little Big Horn.

"Very early in life," he once said, "I discovered that for me reality was too often either dull or obnoxious, and while I did play all the popular games that employ a ball, lower hooks into the water, and, especially fire guns, I preferred the pleasure of the imagination to those of experience, and I read incessantly."

Berger served in the Army from 1943 to 1946 and used some of his experiences in Germany for his debut novel, "Crazy in Berlin." He was an undergraduate at the University of Cincinnati, then a graduate student at Columbia University, where he studied under the critic Lionel Trilling and attempted a book on George Orwell, a lasting influence.

Berger worked in libraries as a young man and for a variety of publications, from The New York Times Index to Popular Science Monthly. At a workshop at The New School for Social Research, Berger met such fellow students as Jack Kerouac, Mario Puzo and William Styron and a painter, Jeanne Redpath, who became his wife. He wrote short stories in his 20s but disliked the art form, believing he needed more space "to create my alternative reality."

"Little Big Man" was his third novel. As he told American Heritage magazine, he began the book in 1962 with "the intention of comprising in one man's personal story all the themes of the Old West that have since become legendary."

Jack Crabb was based on a fictional character, the blowhard Kit Carson in William Saroyan's play "The Time of Your Life."

"The book's appeal traces to two main currents: one, it's a tall tale in the great American tradition of Mark Twain, and, second, it's hip, modern and funny and anticipates appreciation and understanding of a vanished Indian culture by decades," the critic Allen Barra wrote for Salon.com in 2006.

In more recent novels, Berger satirized the frustrations of contemporary domestic life. In "Best Friends," he contrasted the overachieving Roy Courtright and the underachieving Sam Grandy, with Grandy's wife trapped in the middle. "The Houseguest" was a comic gangster story in which a thug ingratiates himself with a Long Island family, then keeps them hostage — at least they think he does. In "Adventures of the Artificial Woman," a technician unlucky in love constructs an ideal partner, only to have her leave him and become a movie star.

"I ... have never thought of my work as being funny except incidentally," Berger once said, disputing the idea that he was a comic novelist. "I write as I do because that's the way I instinctively look at things."
From the Department of Biochemistry, Cardiovascular Research Institute Maastricht , Maastricht University, Maastricht, The Netherlands ; CSL Behring GmbH, Marburg, Germany ; Department of Experimental Vascular Medicine, Academic Medical Center, University of Amsterdam, Amsterdam, The Netherlands ; Department of Plasma Proteins, Sanquin, Amsterdam, ... (more)
SAN JUAN (AP) - Pop singer Jennifer Lopez may be thinking life is funny after a group of scientists named a water mite in her honour after discovering a new species near Puerto Rico.
The music of the Bronx, New York-born entertainer who has Puerto Rican roots was a hit with the group while they wrote about their findings, biologist Vladimir Pesic said in an email Wednesday.
"The reason behind the unusual choice of name for the new species is ... simple: J.Lo's songs and videos kept the team in a continuous good mood when writing the manuscript and watching World Cup Soccer 2014," said Pesic, who works at the University of Montenegro.
Pesic calls it a small token of gratitude for the singer of hits such as "Ain't It Funny," "I Luh Ya Papi" and his personal favourite, "All I Have."
He's the corresponding author of the study that was published Tuesday in the peer-reviewed online journal ZooKeys.
Pesic and other scientists collected the newly baptized Litarachna lopezae mite from a coral reef in Mona Passage, a treacherous body of water that separates Puerto Rico and the Dominican Republic. The species was found at a depth of nearly 70 meters (230 feet), the greatest depth that pontarachnid mites have been found until now, according to their study.
The mites were collected during a series of trips from 2010 to 2012 organized by the University of Puerto Rico and the Caribbean Coral Reef Institute.
Over the years, scientists have named dozens of organisms after famous people to honor them. Mick Jagger, for example, has a type of trilobite named after him, while one spider was named after Bono and a marine parasite found only in the Caribbean sea was named after Bob Marley.
Pesic said that while he and other scientists rooted for different teams during the World Cup, they found common ground with Lopez.
"As European, I supported Germany, but the whole team was united with J.Lo songs," he wrote.
From the Department of Forensic Medicine, Nanjing Medical University, Jiangsu, China ; Department of Pharmacology and Toxicology and Vascular Biology Center , Georgia Regents University, Augusta; Vichem Chemie, Ltd, Budapest, Hungary ; Institute for Organic Chemistry, University of Leipzig, Leipzig, Germany ; Institute for Pathology, Hannover ... (more)
SAN JUAN, Puerto Rico (AP) -- Pop singer Jennifer Lopez may be thinking life is funny after a group of scientists named a water mite in her honor after discovering a new species near Puerto Rico.

The music of the Bronx, New York-born entertainer who has Puerto Rican roots was a hit with the group while they wrote about their findings, biologist Vladimir Pesic said in an email Wednesday.

"The reason behind the unusual choice of name for the new species is ... simple: J.Lo's songs and videos kept the team in a continuous good mood when writing the manuscript and watching World Cup Soccer 2014," said Pesic, who works at the University of Montenegro.

Pesic calls it a small token of gratitude for the singer of hits such as "Ain't It Funny," "I Luh Ya Papi" and his personal favorite, "All I Have."

He's the corresponding author of the study that was published Tuesday in the peer-reviewed online journal ZooKeys.

Pesic and other scientists collected the newly baptized Litarachna lopezae mite from a coral reef in Mona Passage, a treacherous body of water that separates Puerto Rico and the Dominican Republic. The species was found at a depth of nearly 70 meters (230 feet), the greatest depth that pontarachnid mites have been found until now, according to their study.

The mites were collected during a series of trips from 2010 to 2012 organized by the University of Puerto Rico and the Caribbean Coral Reef Institute.

Over the years, scientists have named dozens of organisms after famous people to honor them. Mick Jagger, for example, has a type of trilobite named after him, while one spider was named after Bono and a marine parasite found only in the Caribbean sea was named after Bob Marley.

Pesic said that while he and other scientists rooted for different teams during the World Cup, they found common ground with Lopez.

"As European, I supported Germany, but the whole team was united with J.Lo songs," he wrote.
CASTLETON, Va. (AP) — Lorin Maazel, a world-renowned conductor whose prodigious career included seven years at the helm of the New York Philharmonic, died Sunday at his home in Virginia. He was 84.

Maazel died at Castleton Farms from complications following pneumonia, according to a statement by The Castleton Festival, an annual festival Maazel founded with his wife in 2009. Maazel was rehearsing and preparing for the festival at the time of his death, and the death also was announced on Maazel's official website. Known for his relentless energy and passion for precision, Maazel guided nearly 200 orchestras in at least 7,000 opera and concert performances during 72 years at the podium, according to a biography posted on his website.

Maazel, an American born in Paris in 1930, took his first violin lesson at age 5. A dazzling prodigy, he was 7 when he was invited by Arturo Toscanini to conduct the NBC Symphony. His New York Philharmonic debut came five years later, in 1942. By age 15, he had conducted most of the major American orchestras. At 16, he entered the University of Pittsburgh to study language, mathematics and philosophy and played the violin with the Pittsburgh Symphony to help pay his tuition.

In 1960, at age 30, he became the first American to conduct at the Bayreuth Festival in Germany. He served as artistic director and chief conductor of the Deutsche Oper Berlin for five years starting in 1965.

He was music director of the Cleveland Orchestra from 1972 to 1982. He then served briefly as general manager, artistic director and principal conductor of the Vienna State Opera, the first American to do so. He was also music director of the Pittsburgh Symphony from 1988 to 1996.

Maazel also was music director of the Symphony Orchestra of the Bavarian Radio for about a decade until 2002. That year, he was chosen to replace Kurt Masur as music director of the New York Philharmonic — America's oldest orchestra. Maazel served there for seven years and was with the orchestra at the time of its landmark visit to Pyongyang, North Korea in 2008.

"I am deeply saddened and shocked by the news of Lorin Maazel's death," New York Philharmonic Music Director Alan Gilbert said in an emailed statement. "For decades he was a major force in the musical world, and truly an inspiration for generations of American musicians."

Gilbert added: "Personally, I am grateful to him, not only for the brilliant state of the Orchestra that I inherited from him, but for the support and encouragement he extended to me when I took over his responsibilities."

A free concert scheduled Monday in Central Park will be dedicated to Maazel, the New York Philharmonic said in the statement.

Dominique Mayer, director of the Vienna State Opera, also said in an emailed statement that he was deeply saddened by Maazel's passing.

"I knew Lorin Maazel as a versatile artist, magnificent conductor and a ... fine person," Mayer said, calling his work "inspiring."

Maazel also was a composer, although to lesser acclaim. His first opera, "1984," based on George Orwell's novel, met with largely negative reviews.

Maazel founded the Castleton Festival to mentor young musicians and to bring new energy to classical music with performances showcasing young talent. Maazel told the audience on the opening night of this year's festival on June 28 that working with young artists was "more than a labor of love — a labor of joy," the festival's statement said.

Maazel made more than 300 recordings, including works by Beethoven, Brahms, Debussy, Mahler, Schubert, Tchaikovsky, Rachmaninoff, and Richard Strauss. He won 10 Grand Prix du Disques, according to his website.

In addition to his wife Dietlinde Turban Maazel, the conductor is survived by four daughters, three sons and four grandchildren.

He was the second leading conductor to die in 2014 following the death in January of Italian conductor Claudio Abbado, 80, who had held major posts at La Scala in Milan, the Vienna State Opera and the Berlin Philarmonic, among others.
Children's skulls found at the edges of Bronze Age settlements may have been a gruesome gift for the local lake gods.
The children's skulls were discovered encircling the perimeter of ancient villages around lakes in Switzerland and Germany. Some had suffered ax blows and other head traumas.
Though the children probably weren't human sacrifices killed to appease the gods, they may have been offered after death as gifts to ward off flooding, said study co-author Benjamin Jennings, an archaeologist at Basel University in Switzerland.
Lake dwellers
Since the 1920s, archaeologists have known that ancient villages dotted Alpine lakes in Switzerland and Germany. However, it wasn't until the 1970s and 1980s that many of the sites were excavated, yielding hunting tools, animal bones, ceramics, jewelry, watchtowers, gates and more than 160 dwellings. Tree rings on wooden artifacts from the sites suggest people lived there at different periods between 3,800 and 2,600 years ago. [Mummy Melodrama: Top 9 Secrets About Otzi the Iceman]
The Bronze Age lake dwellers regularly faced flooding. Whenever lake levels rose, they would pick up and move to dry land, only to return once the waters receded. To adapt to this watery threat, the people built houses on stilts or on sturdy wooden foundations, and created palisades, or fences, made from bog pine, the researchers wrote in the June issue of the journal Antiquity.
But in addition to finding evidence for such architectural adaptations, archaeologists also unearthed more macabre details of life (and death): children's skulls and skeletal remains encircling the villages at the palisade edges. Many of these ancient skulls were placed there long after their initial burial, at a time when the settlements experienced the worst inundation from rising lake levels, the researchers wrote.
Gift to the gods
In the current study, Jennings and his colleagues took a closer look at the fossil skeletons.
Most were from children under age 10, and though the skeletal remains revealed tooth decay and signs of respiratory ailments, those health troubles would not have been severe enough to warrant a mercy killing, the researchers wrote in the journal article.
The skulls showed evidence of head trauma from battle-axes or clubs, though the injuries don't have the uniformity associated with a ritual killing. As a result, it's more likely the youngsters were felled in warfare, rather than killed as a sacrifice for the gods, the researchers wrote.
Either way, it's clear these weren't ordinary burials, he said.
"Across Europe as a whole there is quite a body of evidence to indicate that throughout prehistory human remains, and particularly the skull, were highly symbolic and socially charged," Jennings told Live Science in an email.
At these sites, "the remains are found at the perimeter of the settlement — not inside and not outside, but at a liminal position on the border between in and out," Jennings added. And at one of the sites, the remains were placed at the high-water mark of the floodwaters. Taken together, the details of the burial suggest the remains were placed as an offering to protect against flooding, Jennings said.
Still, there are many unanswered questions about these mysterious Alpine people.
"There are very few instance or examples of burials in the vicinity of the lake settlements, and so we really do not know where the majority of the lake dwellers are buried, or how they treated their dead," Jennings said.
Follow Tia Ghose on Twitter and Google+. Follow Live Science @livescience, Facebook & Google+. Original article on Live Science.